Gil Gelders, William Junior Lecerf and Warre Vangheluwe will turn pro with the Wolfpack in 2024.
Soudal Quick-Step will reinforce its ranks with three of the most promising young Belgian riders on the U23 circuit, all of whom will be making the step to the World Tour after a solid season in the colors of our feeder team, to whose success they have contributed on numerous occasions since the start of this year.
The first of these is Gil Gelders, the 20-year-old from Meldert who has enjoyed a strong season so far, winning Gent-Wevelgem and the GiroNextGen stage to Cherasco from the breakaway. In addition to these, Gil finished runner-up in Paris-Roubaix, came just outside the podium at National ITT Championships and concluded a solid seventh at Liège-Bastogne-Liège.
"It's truly a dream to become pro, and then to do that in a team with a lot of history is just extra special. I had some beautiful moments this season, especially the hard stage in the GiroNextGen, which I didn't expect to win. My first pro year will be more about helping the leaders, but it will be super nice to ride with so many big names", explained Gil, who signed a two-year contract.
William Junior Lecerf, whose climbing talents were put on display on numerous occasions this year, is another Soudal Quick-Step Devo Team rider who can't wait to join the Wolfpack after a season that saw him win the hilly Course de côte Herbeumont, take an impressive third overall at the Tour du Rwanda and finish fourth at the Tour Alsace and eighth in the U23 Giro d'Italia.
"I have trained hard to be a pro, and now seeing this become reality is just fantastic. I really feel well in this team, in this environment. You can see this also in my results this season. I hope to be up there from the beginning next year, but of course it will be all about learning and gaining experience. Riding in the same team with Remco Evenepoel and all the other great riders there will be very special, and I can't wait for it", said 20-year-old William, who'll stay with the team until at least the end of 2026.
They will be joined by the 22-year-old Warre Vangheluwe, who has racked up spectacular wins at the Youngster Coast Challenge, Hel van Voerendaal and Gullegem Koerse in 2023; his success in Gullegem a couple of months ago was the one that turned heads after he managed to hold off the entire peloton consisting of many World Tour riders after an entire day on the attack.
"Turning pro with Soudal Quick-Step is just incredible. Since I've been watching cycling, I can only remember seeing all these fantastic moments of this top team. I had a very nice season, I really wanted to make the most out of it being my last U23 year. To win so early in the season with the Youngster Coast Challenge gave me a lot of confidence, and then Gullegem I never expected as it was so hard but winning it against so many big names is something I will never forget. Next year I hope to see where I can get in the Classics and help the team where and when needed", said Warre after inking a two-year deal.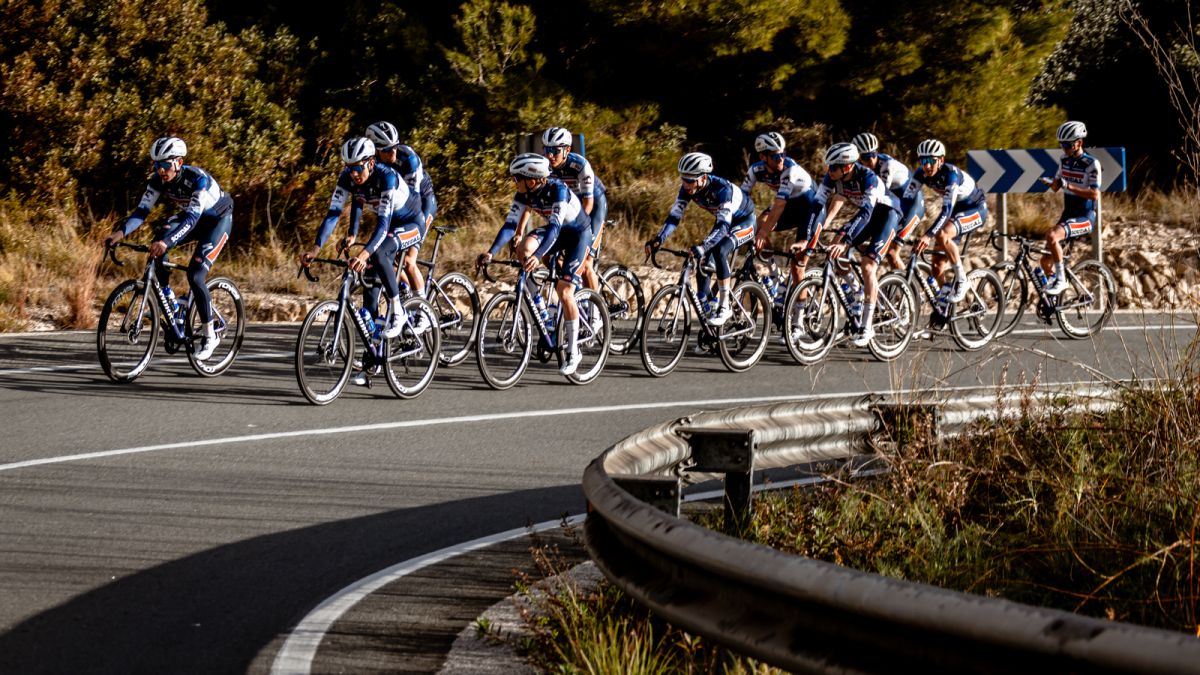 Bart Roosens, manager of the Devo Team, is very proud to see these three talents joining the World Tour squad: "It's special to have these guys making the step to the pro life, and to do it inside The Wolfpack is why we have the Devo Team. They showed they are ready for this next step, they are all promising and can develop, and who knows where their potential will take them."
"Gil, William and Warre becoming pro after a successful spell with the Soudal Quick-Step Devo Team speaks volumes about the excellent job that is being done by our feeder team and how well they develop the young riders inside that structure. All three have had remarkable results this year and they all have the potential to grow, so we can't wait to see them in action starting with next season", said Soudal Quick-Step CEO Patrick Lefevere.
Photo credit: ©Wout Beel