Meet our amazing photographer, the man responsible for the great shots of the Wolfpack in the last four years.
You will see many images of the Soudal Quick-Step riders and staff at races across the world, throughout the season, capturing the essence of the countries towns and villages that we visit, portraying the agony and ecstasy of the sport we all love.
There is one man that you will never see pictures of, though – Wout Beel. That is because Wout is the man behind the lense, capturing many of the beautiful images that you can see on our website, our social media channels, and in the Wolfpack book.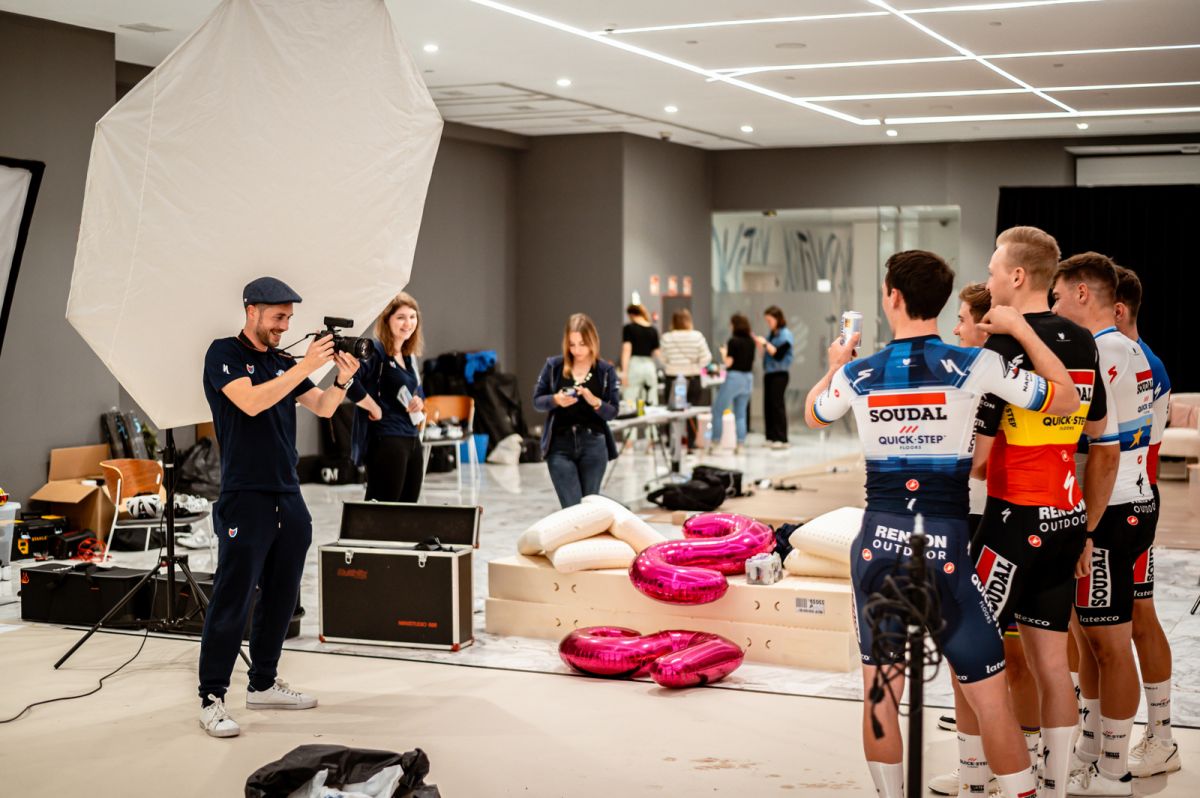 While he was at La Vuelta San Juan, we caught up with Wout to find out how he came to work with the team, how he goes about his art of making the perfect image, and his favourite moments from his time so far with us. Wout has also chosen his favourite picture from his time in Argentina.
"My time with the team came about by accident. I was working with a company that took photography for schools at the time. I had to be a bit of a clown behind the camera, trying to make children smile. They got 5 or 6 seconds each, with a camera and two lamps, and it was a bit of a conveyor belt. I was working with a friend of mine on a side project which meant I worked sometimes with the previous team photographer, Sigfrid Eggers. He gave me a call to help at the Belgian National Championships in 2019, as he was double booked.

The press officer had to guide me, as I knew very little about cycling. It was that day that I learnt who Remco Evenepoel is, because I had never heard his name before - he didn't win that day, but he pulled hard in that race and everybody knew that we had to keep an eye on him. I think they were happy because they asked me back to help with some photos of a hospitality event to make the Tour de France start in Brussels, and then we spoke later in the year about working full-time.
I didn't know anything about the sport, so I took pictures of everything that I saw, which meant sometimes I have 2500 images to work through every night, to find the right shots. I didn't really look at the technical part and judged it on angles and light, as I would before. I had to quickly learn what was special to people in cycling, and what fans might want to see. Sometimes seeing things that others do not see is an advantage, but now I take less images per day, aimed at knowing what is important.

A lot of people arrive at the start village every day and think that they look the same as yesterday, but I notice the differences and I have a creative process. It starts with the team meeting – I do not get to sit in on it every day because it is for the staff and the riders, but sometimes it is good for me to know the narrative of the day, as well as capture those intimate moments. I don't look at the tactics, but knowing if it is a hard mountain day, or a fast sprint day, allows me to set myself up from the day. I then chose other things like, do I want to show some of the landscape, or focus on the people – it all depends on the route and the day, and what feeling we want to show. Emotions are always important, happy or sad, but they are in the moment and not planned.
Argentina has been fantastic for me.
I am a landscape guy and because I am from Belgium, we do not have anything like this. We have the cobbles and the hills in the Ardennes, but this is breathtaking. I have seen some things while travelling with the team in Europe, but this is my first time outside of Europe and some of the scenes are awesome. Most days I have taken more pictures of mountains than I do of riders!

There are so many favourite moments that I can pick from my time in the team. I still remember the first time that I got goosebumps when a rider won, when Julian Alaphilippe won on stage 2 of the Tour de France in 2020. The Tour had been delayed due to the covid pandemic and by that time Julian's father had passed away. I remember the emotion in his face and in the team. I was still fairly new to the team and that was one of the first times I remember the mechanics and the staff grabbing me and having me celebrate as part of the team – it still feels special, even now.
But there are a lot of moments, like the 2021 Tour de France with Mark Cavendish and last year with Remco. But these are the moments that make the job special – as much as I love the landscapes and the scenery, it's these moments that keep me coming back."
Photo credit: ©Wout Beel