The Belgian looked back on his first race week as a Soudal Quick-Step sports director at the Challenge Mallorca.
"How was my first experience in the team car during a race? Well, there was a bit of stress, but I had two good guides by my side. I learned a lot and made a few mistakes, but I think it's normal in the beginning. I experienced both driving the race car and guiding the riders and speaking in the car. At this moment I think driving is more stressful, especially in Mallorca with the bad weather and never straight roads. Also, there's the fact that you feel powerless in the car, sometimes you have something in mind, but now I experienced that it's not always that easy to execute it.
The first days at the training camp I had already made the switch in my mind. In Mallorca I really felt like a sports director, as before I still sometimes thought as a rider.
My bond with the riders is different now.
I feel something has changed, which is normal in the end. As a rider I also looked differently to sports directors than I do now. That was one of the most difficult parts when I arrived at the training camp, it's weird that something like that can change in one day. It's normal, I don't have any problems with it, but it just takes some time to adapt. I also feel like it wouldn't be good if I still were the guy making atmosphere in the team, you can't do it as a sports director, that's why I'm trying to find a good balance in that."
Early mornings and late nights
"Tom and Klaas really helped me last week, I'm grateful for that. Not only in the race, but also outside of it. There are a lot of things that you don't know as a rider. I was also surprised of how long the days are. Early mornings, lots of stuff to do during the day, and you are still busy until late in night. You are constantly busy, after spending hours in the race car you feel really exhausted. You don't do anything physically, but still, you are very tired after a whole day at the race.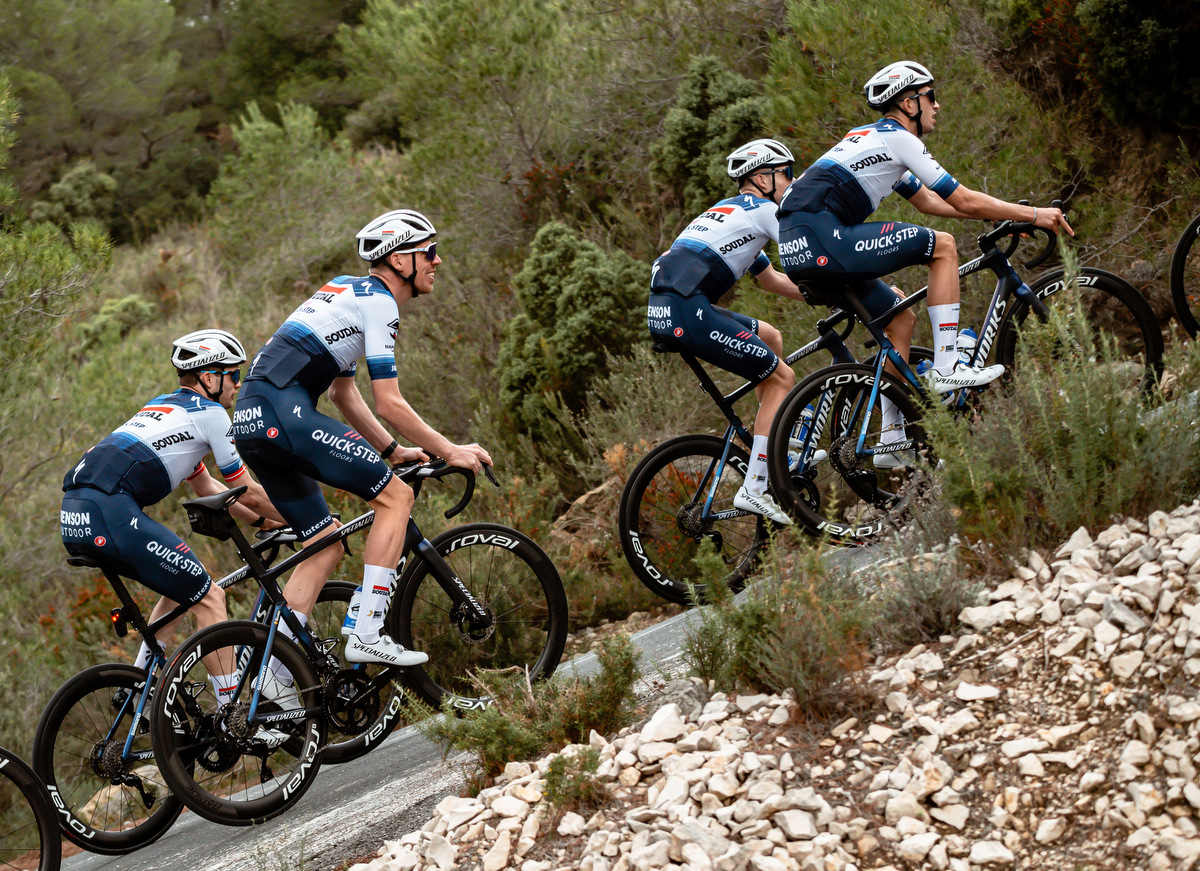 It's completely different in the car than on the bike. But the way you feel the race is a bit the same, I think. Last week sometimes we had car number 19 or 20, which means you don't see anything from the whole day. You don't see the riders or you don't have any connection, and then you know a lot less as a sports director in the car than the people see on TV.
The bar is always set high here. It doesn't matter which race or when, we always want to win. The team was really strong in Mallorca, maybe even the best team most times. We only won one time, but we were also close in all the other races. I think everyone is at a good level, with a bit more luck maybe we could have taken some more wins home. I don't miss the life of a rider yet; at a certain point you just don't enjoy it anymore as you used to. Last year that was the case for me, as I wasn't riding well. I enjoy again what I do now, I feel the stress and have that feeling of a neo-pro. That's important. I miss riding my bike a bit, but the racing itself not."
Winning feeling
"My next races will be in Portugal, the Figueira Classic and the Volta ao Algarve. Then I'm heading to Belgium for the Classics, as third sports director. I'm really looking forward to that. Just to be there and learn, as the one-day races are still something different, if you ask me. The plan is to do La Vuelta at the end of the year; I think this season I need to learn as much as possible and gain experience.
The role of a sports director is definitely what I expected. Last week you felt the tension building up when we hadn't won yet, then on Sunday everything changed, as we took the victory and this gave back that special feeling. That feeling when the team wins is still the same, even if it's not anymore on the bike."
Photo credit: ©Wout Beel