In the latest of our series of blogs from Deceuninck – Quick-Step staff, we hear from our German mechanic, who tells us how he has become renowned as an expert at working with time trial bikes and how his specialist relationship with the race of truth is constantly evolving.
I have come to be known as a specialist at working on Time Trial bikes in recent years.
Many years ago, when I was working for my first team, I decided that I wanted to specialise in my work and the team were looking for someone to take care of their TT bikes. Some of the more senior guys there helped me because they knew that I knew about road racing but also that I was young enough at the time to learn about TT's for myself and we saw an opportunity. I went to my first World Championships with Bert Grabsch, in 2008.
It was my first time at a World Championship, and he won!
From there on I would always be responsible for the TT bikes of Tony Martin and have been back at the event many times. From there I started to work with Specialized and when you work with them in a wind tunnel and research how much development goes into a time trial, you really start thinking about how much the discipline can develop. Specialized started to realise how much I was putting into the process and my reputation grew, which then led to me joining Deceuninck – Quick-Step.
In total I have worked on eight World Championships, winning it four times, and two Olympics, with a silver medal in London – a record which I am proud of. Part of my feeling is, while lots of people concentrate on the fight for seconds, it as much about staying calm. This matters in every race, but in a normal road race a mechanic can relax a little when the race is under way. For a TT is stressful all day, but that is part of the job and when you can get a victory, it is all worth it.
There may be a bit of the famous German precision about my work. I was taught about the mechanics of cycling by two older German mechanics and a German technical team, so there was a big German influence. There is a lot of precession in what I do – you need to know the exact measurements, to know the new regulations and rules from the UCI. It is in my background, but you need to know it and how to adept when changes are required.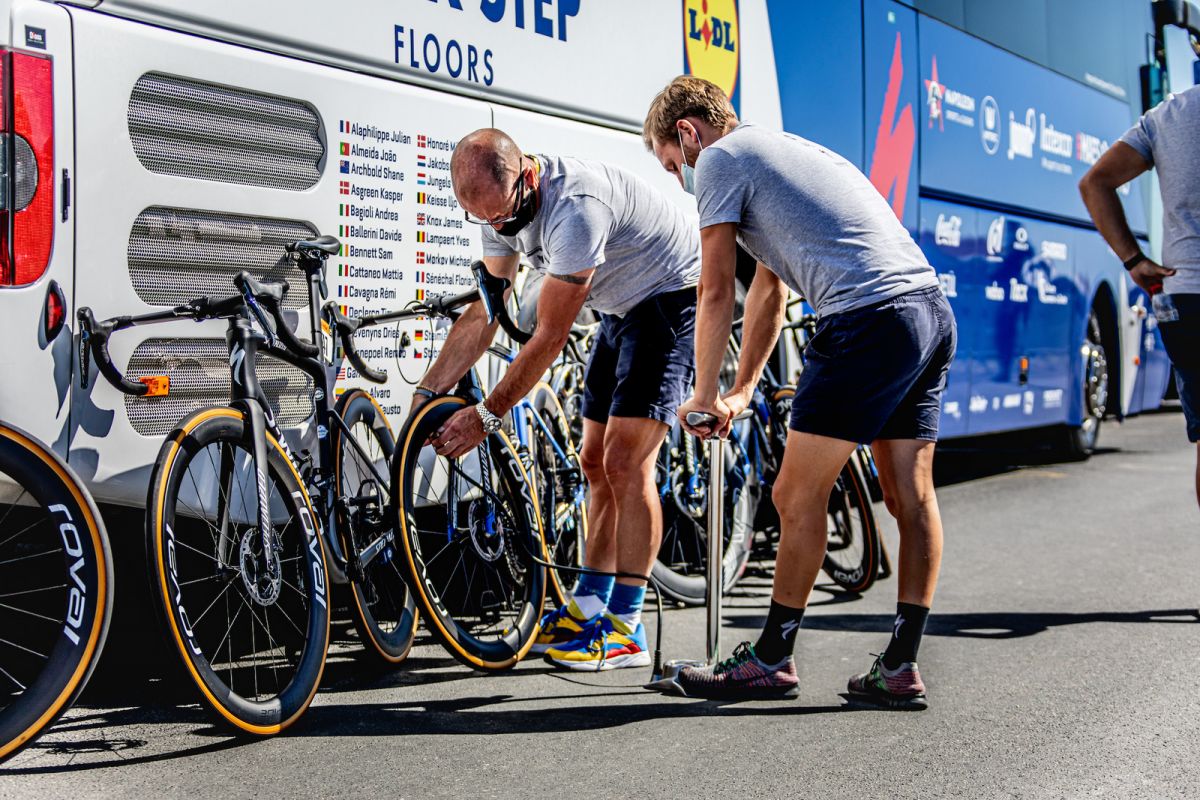 Time trialing has changed a lot over the years. When I first got involved, I used to think that it was just one day of a race but then you realise that you can win some big races based on just one TT. For the riders it has become more and more important. You see it with the likes of Julian, Remco and João, where they can gain seconds that at the end of the race are hugely important. The first time that I really recognised that was at the Giro d'Italia, when we were there with Rigoberto Uran. It was 2014 and he earned the maglia rosa in a TT and held it right until the second last day. It was all about the TT and it made such a difference, to where we could almost win the Giro. It makes a huge difference!
For a time trial day, the preparation starts before we even leave the service course. Along with the sports directors we look at the course and at what materials we will need, depending on if it is a hilly course, technical or just flat out. So, from there we are already preparing the bikes and making small changes. Then once the riders have been on the recon, there can also be another rush to make changes, depending if conditions are different, such as the weather. There can also be a climb where some riders might want to change bikes, which has come in to play in recent years. And it doesn't end until we get back to service course when we have put the bikes back to their standard setup. So, for one day of racing, where each rider may only race for 20 minutes, there can be almost a week of preparation.
Working with our partners, such as Specialized and Roval, is really important, as is understanding the different combinations.
For example, we switched to disc-breaks a couple of years ago. A lot of people asked me, 'Why don't you use a tri-spoke wheel?'. I have to keep telling them that our Shiv TT bikes were designed for the Roval wheels we use. They don't understand that this combination has been tested and that these wheels with the Shiv is faster than it would be with a tri-spoke. You have to know about these combinations, go to the wind tunnel with Specialized and really understand it.
Every winter at the training camp, we go to the Velodrome in Valencia and we do test there, and every year you learn more and more and more. You need to know what you are working with and Specialized are great with that. You need to think about it for yourself, but they give you some much information and we have now reached a point in our partnership where they will ask me what I think. I might say, 'that doesn't look right' and they take it on board. It is nice to be recognised like that, as well as me learning from them.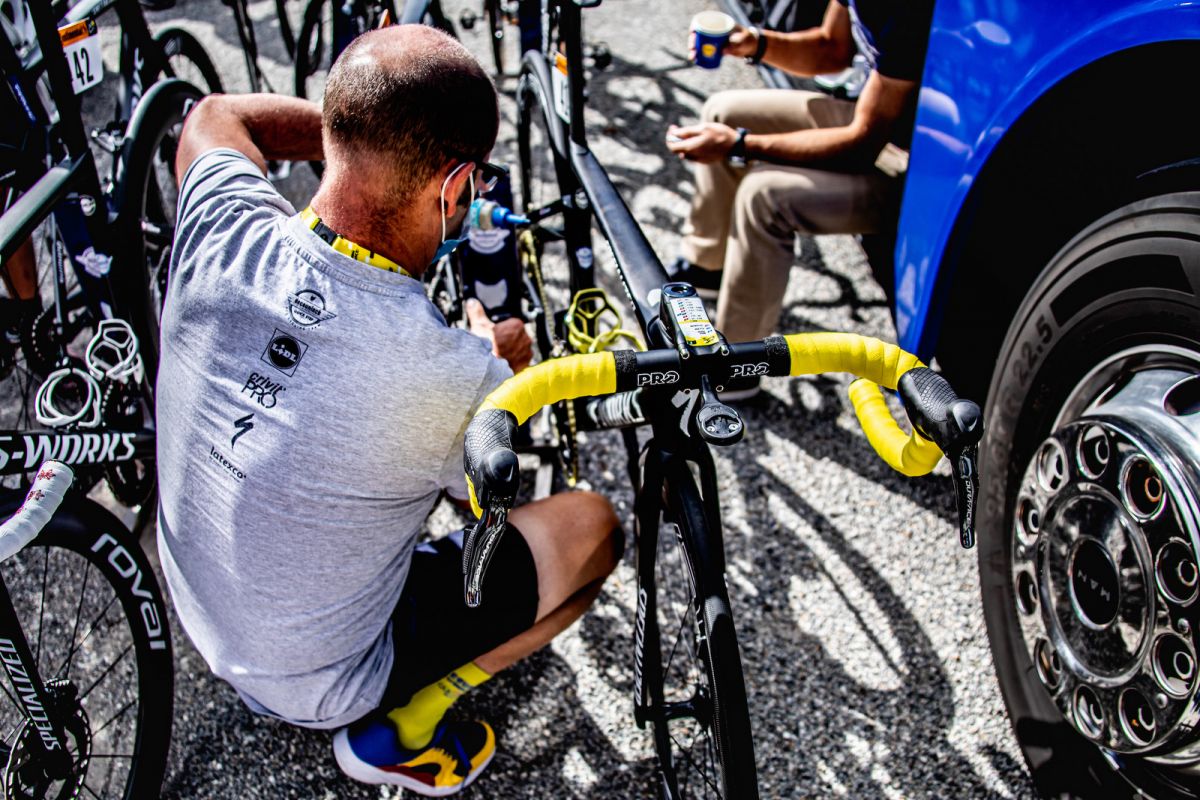 After so long in cycling and as a TT specialist, I have so many great memories. Julian at the Tour de France in Pau, in 2019, was special though. Before the start he asked me to block the front derailleur, so he couldn't fall in to the small chainring. I was surprised because the climb near the end was hard, but he was so confident that he went all the way up on the big ring. It was short but really steep and so close to the finish that they are close to being empty, but he did it and those memories stay with you for a lifetime!
Photo credit: ©Wout Beel