Now in his sixth season as bus driver with the Wolfpack, James talked about his days as a pro, joining Deceuninck – Quick-Step and being on the road with the squad for 200 days a year.
"My story with cycling starts by meeting our team's mechanic Kurt Roose. My mother had a shoe store, which was just 500 meters away from Kurt's home. I had received a small bike from my neighbour and my mother didn't allow me to go far from the store with my bike. So I was doing small laps around the store and suddenly I met Kurt." James' bike was really old and Kurt, who is 6 years older, made him a new one at a fair price.
Kurt was a cyclo-crosser at that time, and James went along to his races and washed his bikes. "That way I rolled into the sport and completed my first races myself. Everywhere there was a race not too far away, I went alone on my bike. In the beginning also with Kurt's parents, but then I started to do it on my own." Going to the races on his own with his bike sometimes brought up difficulties. "I gave away my flowers at the races a lot, as it was too big to take home on my bike in my backpack. I searched for a girl, gave her three kisses and the flowers. In a criterium once I won a wheelbarrow, and of course I couldn't take this back home. I went for my prize money in the local pub and there I sold my prizes. Sometimes it was hard, but it was my life and I never knew it differently."
The first year of James as a rookie, he won almost all the races he participated in.
"I think I only lost 2 out of 15 times. Besides training, races and school, I also helped my uncle, the brother of my mom, who was a farmer and sometimes I worked a bit in the shoe store of my mom." Busy days, but for James it was normal at that time.
Time flies
In 2001 he became a pro. "During my time in the espoirs category, I felt I could make it as a pro. I got an offer and then it went extremely fast and I rode my first season for Michel Pollentier", explains James. He won a couple of beautiful races, as De Gaverstreek and in the classics he got top 8. "I didn't really stand still during the time I was a pro. You don't think about it for example that you have to follow a strict diet, or miss out on other things. When there's a victory, you drink a glass of champagne and that's it. The next day there's another race. Actually, it's a beautiful life, but it flashes past you." James loved the training camps. "You go with the whole team, and there you feel getting better and everything is being done for you. The races also, but at the end of my career already a bit less", James laughs.
In 2014 James had a terrible crash in a descent at the Amstel Gold Race. "We were in front with six and one of the guys took his turn and just avoided a crash, but I couldn't avoid it anymore. There in my head I stopped racing. I broke my shoulder blade, collarbone, pelvis, three vertebrae and twelve ribs. I had a collapsed lung as well."
It was a long way back, with three weeks in the hospital and five months of recovery. After this James never came back to the same level of racing. He still had a contract for one year with Wanty-Groupe Gobert and finished it. "The last three months of my career I was again at a quite good level and the team even asked me to stay longer, but I was a pro for 15 years and that was enough for me. A nice number to stop", James looks back satisfied.
Life after pro career
"I knew Patrick already of course and he asked me what I wanted to do after my pro career. He was searching for a bus driver. But I couldn't drive a bus, so then I learned and took the exam to get the driver's license. I never imagined doing this after my pro career, and I also didn't feel the need to stay in the cycling world."
James' first race as bus driver was Paris-Nice. "I got to the hotel and asked the mechanics where I needed to put my bus. They said I needed to go to the back, and it was best I rode in reverse, this was already something I never did before. Learning to drive at school is still completely different from doing it in real life. Everybody was looking and I think it took me 20 minutes to get there. At dinner of course this was the topic of the evening and everybody was laughing." Now he drives better and more relaxed with his bus than with his car.
Being on the road for about 200 days a year and doing an average of 350 kilometers a day doesn't make James think it's difficult.
"I enjoy being on my own in my bus, with a little bit of music. Thinking about life. But, of course, having a family at home, sometimes it's difficult. You miss out on parts of the lives of the kids. I facetime a lot, during the day I'm focused on the race, but in the evening, I always call them."
Today, James is still sporty and likes to run to switch off his mind. "At races I sometimes do a recon of the final and then I give some info to the sports directors. I don't bike anymore that often, as I don't have a lot of time."
Until the end
The bus is the focus at the start and the finish. The place where all the emotions are let out, after the race. "I try to keep myself out a bit. If a rider comes to sit next to me and wants to talk, then I'm happy to talk to them. But mostly it's about other topics, not about the race", James says. And it's not a surprise that James wants to have the most beautiful bus of the whole bunch.
"My bus has to be spick and span, I like to keep it clean. I also always try to have everything ready for the riders. When someone asks me something and it is not on my bus, then I feel bad", adds James, whose favourite race on the whole calendar is the Vuelta a España.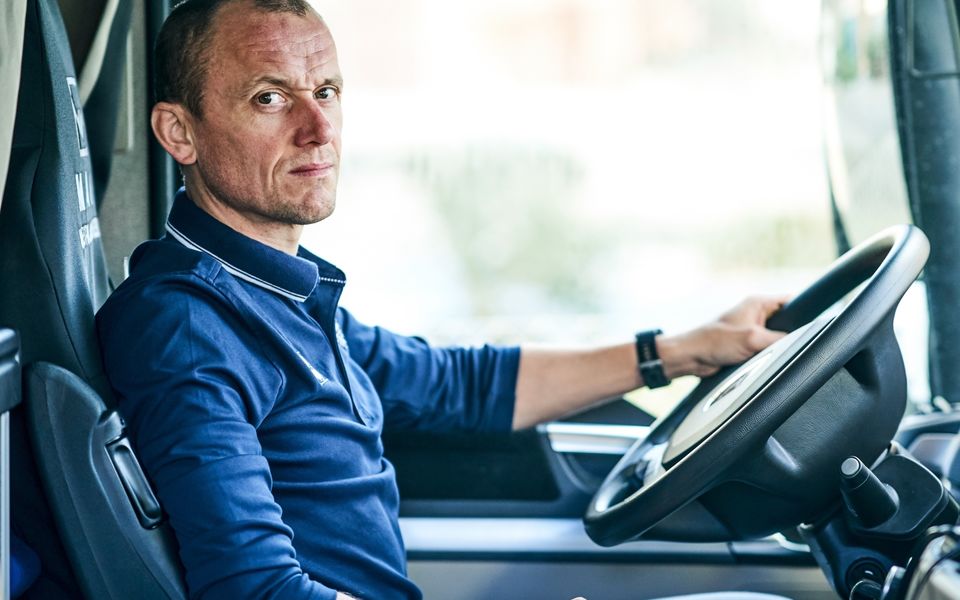 James' dream is still to open a coffee shop, a completely different thing from what he's doing now. "But I want to keep on doing this job as long as the team goes on, until the end. This is the team where my heart is. Tomorrow I can't suddenly start to support a different rider of another team. I know everyone in the team, I can be myself and that's important." The first two months were not that easy though. "I had to knock myself in and to find my own way. I was still learning everything and I had to find out how everything works. But after one year I found my way and I really felt home."
Thinking about this year, James hopes to have a more normal season: "A year with many wins, it would be nice. That, and to get to enjoy the normal things again."
Photo credit: ©Sigfrid Eggers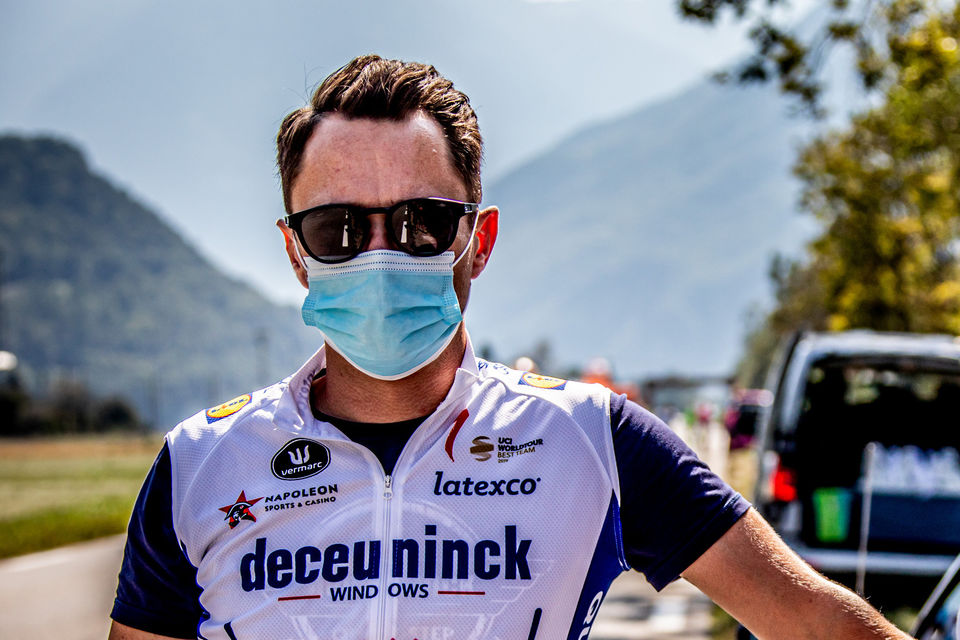 The team behind the team: Anthony Pauwels
07/02/2021
Link