Meet one of the longest-serving members of the Wolfpack.
Before and after the race, the Deceuninck – Quick-Step staff is busy making sure everything is ready for the riders. Among the mechanics who prepare the bikes so they are in flawless condition we can also find Kurt Roose, who joined The Wolfpack from the very beginning. During the Tirreno-Adriatico, we talked with him about how he came into the sport and his memories from those early years, what it means to be on the road for almost 200 days a year and his best moments with the team.
"My journey in cycling started with my father, who cycled himself a lot, and my grandfather who had a bike shop. So at home I really grew up among bikes. I also raced for 11 years, but at some point, you feel that you won't make it as a pro as your engine is just not big enough." Kurt studied something completely different, Woodworking, and then he got the chance to start in a new bike shop, Eurobike. "I had the freedom to take a day off when I needed to race or train. After I came back from military duty, I was put on technical unemployment."
Then Kurt met Walter Verlee, sports director at TVM back then. "I was the house mechanic of Freddy Casteleyn, the owner of Mez Motors. I came to Freddy with a bike, and there I got introduced to Walter. A mechanic had fallen out and a month later I got a phone call if I wanted to help out. My first race was the Tour Méditerranéen." After Kurt did 35 days at TVM in 1997, one year later he got asked to start on a full-time basis. Looking back at his first race, Kurt remembers being super motivated. "Then it was just washing the bikes and going to the hotel, but even that was a dream. In 2001 I got asked by Patrick Lefevere to come to his team. I worked for Farmfrites, and Patrick's team became Domo-Farmfrites. Our team had just stopped, so he asked me to join the squad", Kurt looks back.
Working with several generations
Kurt is now into his 21st season. "You really see how time flashes by when you think that Fitte was still a pro at that time. I raced with Wim Vansevenant, the dad of Mauri, in 2000 I had Wim in the team when he was pro and now I'm working with the bikes of his son."
Last Sunday when Mauri won his first pro race – GP Industria & Artigianato – it was incredible, a very emotional moment.
As long as the team goes on, Kurt would never think of working somewhere else. "The grass always seems greener on the other side. But mostly that isn't the case. A lot of colleagues now became friends. Of course, if one day the team stops, I would need to do something else, but I don't want to think about that now."
And what's the most beautiful memory for Kurt? "A couple of moments stand out for me. If I have to choose, I go for the win of Johan Museeuw in the 2000 Paris-Roubaix and the first win of Tom Boonen at the Ronde van Vlaanderen, in 2005. Tom was a really respectful and down to earth guy", Kurt remembers with a smile. "Inside you are really euphoric, you hug the other mechanics and staff, and congratulate the rider." Mostly Kurt's work is not seen on TV, the hours before and after the race is a real behind the scenes masterpiece. "The riders know how many hours of work we put into the bikes and show us how much they appreciate it."
Heart for Italian races and Flemish Classics
Kurt feels at his best in Italy with the Strade Bianche, Tirreno-Adriatico and Il Giro, but of course, he has a soft spot also for the Northern Classics. "Paris-Roubaix in particular is special for me. From 1998 until now, I always did the race. Last year was the first time I wouldn't have done Roubaix, but it was cancelled. I already could experience winning Roubaix eight times, so that's really a race that stands out for me." Kurt has a good relationship with a lot of riders. "If I meet former pro riders with whom I worked with, like Museeuw, Van Petegem, or Boonen, they will always say hi. We try to avoid being the personal mechanic of one of the riders, we just give our all for everyone and try to keep every rider happy."
"Of course, when there's something wrong with the material, they always look in the direction of the mechanics. There's always the possibility that something breaks or goes wrong, although you make sure that everything is at 200%. In a classic if you don't win it with the team, but there were no mechanical problems, that's still a good feeling for the mechanics. In case somebody doesn't win because you did something wrong, of course you will not sleep well for a few days." But after all those years Kurt gained a lot of experience. "The older you get, the more relaxed you become. If you do your first Ronde van Vlaanderen it's normal that you are super nervous, but if you did it 15 times already you can put things into perspective."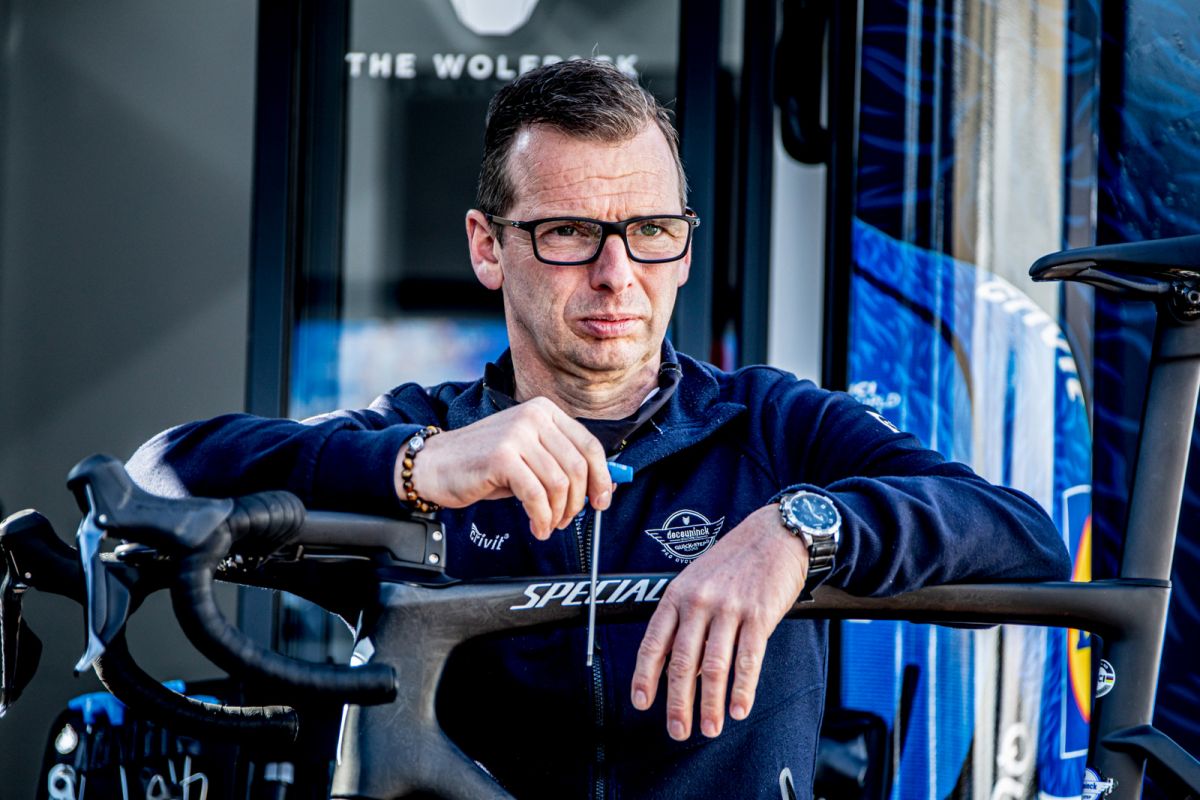 Missing home
Kurt is aware of how lucky he is to be doing this job, which is in the first place his passion. But there are also hard days when you miss being home with your family. "In the beginning the hardest part was being away from my two sons. If you are 180 days away from home, you miss a big part of them growing up. You need to give them a lot of attention, but you can't do that. Then you also need a strong wife behind you, that supports you all the time."
"My sons are now 18 and 21, my oldest one also races. Sometimes it hurts, as I miss a lot of his races. When I go to one, I'm even more nervous because I'm thinking that something could go wrong or happen. And when I'm home I like to listen to their stories, so actually we don't talk a lot about cycling then, just about the everyday things in life."
The lockdown took Kurt back on his bike, after ten years. "If I find a moment, I go out with the bike for two hours and I feel fresh coming back home. Also at the races, going for a run with the colleagues is really nice." Kurt already lived a lot of special moments, like the Olympic Games in Beijing and the European Games in Azerbaijan, so he doesn't have a lot of things on his check-list left. "I also did multiple World Championships, I did all the Classics so far. To win a Grand Tour, maybe with Remco in the future, would be a great moment to finish off my career as a mechanic."
Photo credit: ©Wout Beel