Quick-Step Floors have enjoyed a record-breaking year, with 73 UCI wins scored by 14 riders in 22 countries. During the off-season we look back on the 10 biggest moments for the team, and today we focus on our resounding triumph against the clock in Innsbruck.
For one final time, the trade teams battled for glory and medals at the World TTT Championships, and at the end of the day, after an intense and nerve-wreaking afternoon, it was Quick-Step Floors who took the spoils and the plaudits, thanks to a flawless effort and mighty performance of neo-pro Kasper Asgreen, Laurens De Plus, Bob Jungels, Yves Lampaert, Maximilian Schachmann and Niki Terpstra.
Victorious in 2012 (Valkenburg), 2013 (Florence) and 2016 (Doha), Quick-Step Floors rode with huge confidence on that day as they left the start house in Ötzal, posting the third-fastest time at the first intermediate and using the 4.6km-climb averaging 5.6% which featured inside the last 20 kilometers of the 62.8km-long course to their advantage, pulling back time from the teams which lied ahead on the leaderboard and blasting through the last checkpoint just hundreds of a second behind first place.
On the fast descent to Innsbruck, the team hit crazy speeds of over 100 kilometers on their trusted Specialized Shiv bikes and by the time they arrived at the finish, improved the fastest time by a mile, going into the hot seat. With three more squads left on the course, the waiting was long and tense, but as soon as the last outfit crossed the line, the Quick-Step Floors riders and staff erupted in joy knowing the victory was theirs and the result they got propelled the team in the history books, as the only one to have won the crown on four occasions.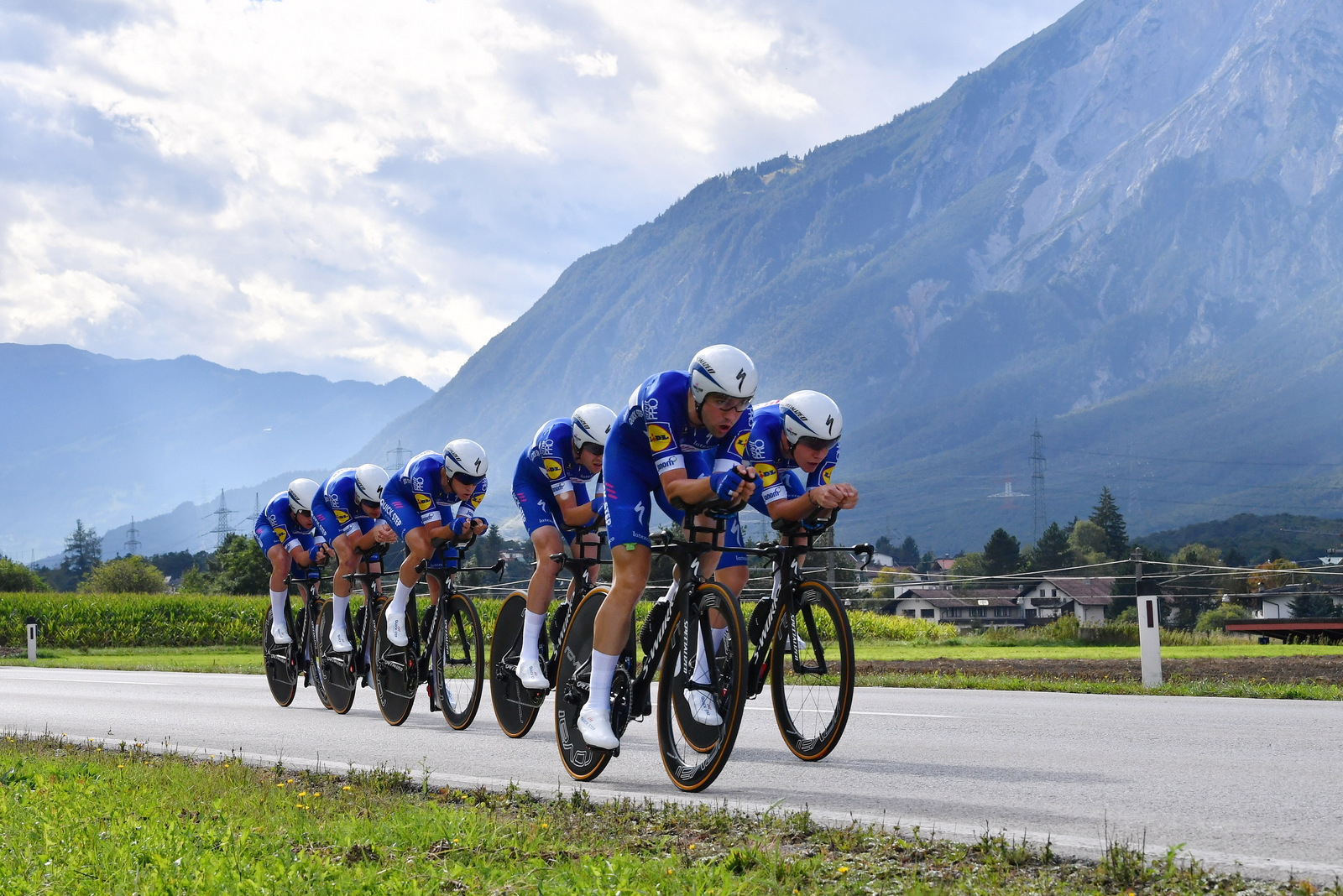 Sports director Tom Steels, the man who guided the squad to all these memorable triumphs which underlined Quick-Step Floors' remarkable prowess against the clock, explained what that win meant for him on a personal level.
"The race was hard and we knew there was a certain amount of pressure on us ahead of the start, but the boys gave everything and showed the amazing Wolfpack spirit of the team. We rode hard on the flat, later on the first 1500 meters of the climb we saved some energy while keeping a steady pace, before speeding it up and then flying on the descent. We weren't the big favourites, but that's what made the victory so special."
Also for Quick-Step Floors CEO Patrick Lefevere, the win in Innsbruck was one of the most memorable in the history of the team: "Even now, thinking and talking of that day, gives me a lot of emotion. It was one of the best team tactical efforts of the entire season, a monumental ride which brought us all tremendous joy and happiness, at the same time strengthening our legacy in the sport."
Photo credit: ©Justin Setterfield/ Getty Images