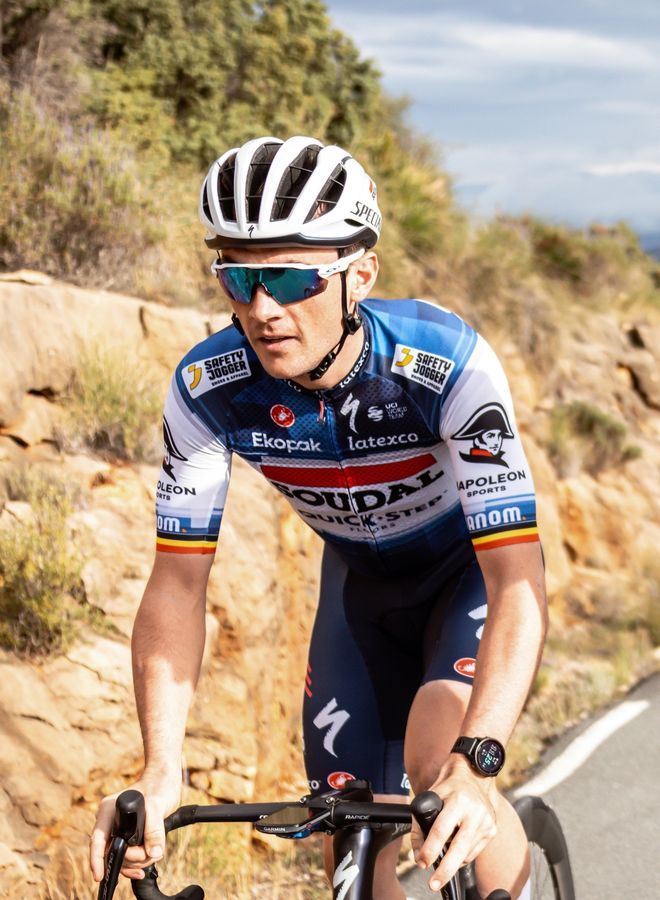 Yves Lampaert
aka. Lampy
Birthdate 10/04/1991
Nationality Belgium
Birth place Izegem
Weight 75 kg
Height 180 cm
Pro since 2013
Pro wins 15
Favorite race Paris-Roubaix
Biography
The 31-year-old from Izegem has had a memorable 2022, with most remembering the unfortunate crash at his beloved Paris-Roubaix, which cost him a probable podium place. Equally emotional was the opening stage of the Tour de France, where Yves powered his way to victory in the individual time trial in Copenhagen and took the famous and coveted yellow jersey.
Having joined the team in 2015, Yves' new contact reaches through 2025, meaning it will see him complete a decade with the Wolfpack, where he has carved a niche for himself as a classic specialist, a powerful time trialist and a reliable domestique and teammate.
His career has seen him take 15 individual victories so far, with as well as the aforementioned Tour de France stage victory, his palmares including wins also at the Vuelta a España, Tour de Suisse, Tour of Britain, Dwars door Vlaanderen (2017 and 2018) and Classic Brugge-De Panne. He is also part of an elite club of riders to have held both the Belgian National Road Race (2018) and Time Trial titles (2017 and 2021).
Overall stats
78 UCI Ranking

15 # top-10 positions

12086 km Race distance

71 Days of racing
Previous teams
2023 - Soudal - Quick Step (WT)
| Date | Result | Race | Distance |
| --- | --- | --- | --- |
| 03/10 | 60 | Binche - Chimay - Binche / Mémorial Frank Vandenbroucke | 198.6 km |
| 01/10 | 25 | Lotto Famenne Ardenne Classic | 188.1 km |
| 28/09 | 8 | Circuit Franco-Belge | 190.6 km |
| 24/09 | 17 | European Continental Championships ME - Road Race | 199.8 km |
| 20/09 | 9 | European Continental Championships ME - ITT | 28.7 km |
| 16/09 | 43 | SUPER 8 Classic | 203.6 km |
| 15/09 | 70 | Kampioenschap van Vlaanderen | 165.1 km |
| 10/09 | 110 | GP de Fourmies / La Voix du Nord | 197.6 km |
| 23/08 - 27/08 | | Renewi Tour | |
| | 7 | Points classification | |
| | 3 | General classification | |
| 23/08 | 10 | Stage 5 | 187.3 km |
| 23/08 | 50 | Stage 4 | 179.4 km |
| 23/08 | 9 | Stage 3 | 171.2 km |
| 23/08 | 3 | Stage 2 (ITT) | 13.6 km |
| 23/08 | 40 | Stage 1 | 182.9 km |
| 20/08 | 6 | BEMER Cyclassics | 205.6 km |
| 06/08 | 44 | World Championships ME - Road Race | 271.1 km |
| 01/07 - 23/07 | | Tour de France | |
| | 104 | General classification | |
| 01/07 | 12 | Stage 21 | 115.1 km |
| 01/07 | 85 | Stage 20 | 133.5 km |
| 01/07 | 63 | Stage 19 | 172.8 km |
| 01/07 | 53 | Stage 18 | 184.9 km |
| 01/07 | 110 | Stage 17 | 165.7 km |
| 01/07 | 69 | Stage 16 (ITT) | 22.4 km |
| 01/07 | 104 | Stage 15 | 179 km |
| 01/07 | 52 | Stage 14 | 151.8 km |
| 01/07 | 65 | Stage 13 | 137.8 km |
| 01/07 | 92 | Stage 12 | 168.8 km |
| 01/07 | 63 | Stage 11 | 179.3 km |
| 01/07 | 91 | Stage 10 | 167.2 km |
| 01/07 | 103 | Stage 9 | 182.4 km |
| 01/07 | 50 | Stage 8 | 200.7 km |
| 01/07 | 128 | Stage 7 | 169.9 km |
| 01/07 | 164 | Stage 6 | 144.9 km |
| 01/07 | 171 | Stage 5 | 162.7 km |
| 01/07 | 121 | Stage 4 | 181.8 km |
| 01/07 | 134 | Stage 3 | 193.5 km |
| 01/07 | 157 | Stage 2 | 208.9 km |
| 01/07 | 110 | Stage 1 | 182 km |
| 25/06 | 51 | National Championships Belgium ME - Road Race | 230.7 km |
| 14/06 - 18/06 | | Baloise Belgium Tour | |
| | 10 | Points classification | |
| | 4 | General classification | |
| 14/06 | 31 | Stage 5 | 194.8 km |
| 14/06 | 8 | Stage 4 | 172.6 km |
| 14/06 | 2 | Stage 3 (ITT) | 15.2 km |
| 14/06 | 54 | Stage 2 | 175.7 km |
| 14/06 | 36 | Stage 1 | 164.9 km |
| 11/06 | 64 | Elfstedenronde Brugge | 190.3 km |
| 10/06 | 4 | Duracell Dwars door het Hageland | 177 km |
| 10/05 - 14/05 | | Tour de Hongrie | |
| | 3 | Mountains classification | |
| | 31 | General classification | |
| 10/05 | 17 | Stage 4 | 206.4 km |
| 10/05 | 43 | Stage 3 | 179.9 km |
| 10/05 | 38 | Stage 2 | 175.3 km |
| 10/05 | 110 | Stage 1 | 168.6 km |
| 09/04 | 24 | Paris-Roubaix | 256.6 km |
| 02/04 | 41 | Ronde van Vlaanderen - Tour des Flandres | 273.4 km |
| 26/03 | 67 | Gent-Wevelgem in Flanders Fields ME | 260.9 km |
| 24/03 | 16 | E3 Saxo Classic | 204.1 km |
| 22/03 | 3 | Classic Brugge-De Panne | 211 km |
| 18/03 | 20 | Milano-Sanremo | 294 km |
| 05/03 - 12/03 | | Paris - Nice | |
| | 50 | General classification | |
| 05/03 | 54 | Stage 8 | 117.2 km |
| 05/03 | 52 | Stage 7 | 142.9 km |
| 05/03 | 90 | Stage 5 | 212.4 km |
| 05/03 | 62 | Stage 4 | 164.7 km |
| 05/03 | 7 | Stage 3 (TTT) | 32.2 km |
| 05/03 | 71 | Stage 2 | 163.7 km |
| 05/03 | 48 | Stage 1 | 169.4 km |
| 26/02 | 76 | Kuurne - Bruxelles - Kuurne | 193.1 km |
| 25/02 | 71 | Omloop Het Nieuwsblad ME | 207.3 km |
| 22/01 - 29/01 | | Vuelta a San Juan Internacional | |
| | 20 | General classification | |
| 22/01 | 75 | Stage 7 | 112 km |
| 22/01 | 53 | Stage 6 | 144.9 km |
| 22/01 | 25 | Stage 5 | 173.7 km |
| 22/01 | 4 | Stage 4 | 196.5 km |
| 22/01 | 8 | Stage 3 | 170.9 km |
| 22/01 | 36 | Stage 2 | 201.1 km |
| 22/01 | 63 | Stage 1 | 143.9 km |
2022 - Quick-Step Alpha Vinyl Team (WT)
| Date | Result | Race | Distance |
| --- | --- | --- | --- |
| 25/09 | 48 | World Championships ME - Road Race | 266.9 km |
| 18/09 | 9 | World Championships ME - ITT | 34.2 km |
| 11/09 | 6 | GP de Fourmies / La Voix du Nord | 197.6 km |
| 24/08 - 28/08 | | Deutschland Tour | |
| | 23 | Points classification | |
| | 92 | General classification | |
| 24/08 | 93 | Stage 4 | 186.6 km |
| 24/08 | 93 | Stage 3 | 148.9 km |
| 24/08 | 108 | Stage 2 | 200.7 km |
| 24/08 | 106 | Stage 1 | 171.7 km |
| 24/08 | 5 | Prologue | 2.6 km |
| 21/08 | 108 | BEMER Cyclassics | 204.7 km |
| 01/07 - 24/07 | | Tour de France | |
| | 57 | Points classification | |
| | 119 | General classification | |
| 01/07 | 102 | Stage 21 | 115.6 km |
| 01/07 | 112 | Stage 20 (ITT) | 40.7 km |
| 01/07 | 17 | Stage 19 | 188.3 km |
| 01/07 | 138 | Stage 18 | 143.2 km |
| 01/07 | 125 | Stage 17 | 129.7 km |
| 01/07 | 98 | Stage 16 | 178.5 km |
| 01/07 | 124 | Stage 15 | 202.5 km |
| 01/07 | 126 | Stage 14 | 192.5 km |
| 01/07 | 117 | Stage 13 | 192.6 km |
| 01/07 | 155 | Stage 12 | 165.1 km |
| 01/07 | 151 | Stage 11 | 151.7 km |
| 01/07 | 125 | Stage 10 | 148.1 km |
| 01/07 | 148 | Stage 9 | 192.9 km |
| 01/07 | 110 | Stage 8 | 186.3 km |
| 01/07 | 112 | Stage 7 | 176.3 km |
| 01/07 | 55 | Stage 6 | 219.9 km |
| 01/07 | 22 | Stage 5 | 157 km |
| 01/07 | 34 | Stage 4 | 171.5 km |
| 01/07 | 36 | Stage 3 | 182 km |
| 01/07 | 15 | Stage 2 | 202.2 km |
| 01/07 | 1 | Stage 1 (ITT) | 13.2 km |
| 26/06 | 22 | National Championships Belgium ME - Road Race | 208.7 km |
| 23/06 | 2 | National Championships Belgium ME - ITT | 34.8 km |
| 15/06 - 19/06 | | Baloise Belgium Tour | |
| 15/06 | | Stage 5 | 179.9 km |
| 15/06 | 8 | Stage 4 | 172.2 km |
| 15/06 | 1 | Stage 3 (ITT) | 11.8 km |
| 15/06 | 58 | Stage 2 | 175.6 km |
| 15/06 | 17 | Stage 1 | 165 km |
| 12/06 | 34 | Elfstedenronde Brugge | 192.3 km |
| 11/06 | 24 | Dwars door het Hageland | 177 km |
| 17/04 | 10 | Paris-Roubaix | 257.2 km |
| 05/04 - 08/04 | | Circuit Cycliste Sarthe - Pays de la Loire | |
| | 21 | Points classification | |
| | 49 | General classification | |
| 05/04 | 6 | Stage 4 | 136.4 km |
| 05/04 | 74 | Stage 3 | 176.5 km |
| 05/04 | 77 | Stage 2 | 174.7 km |
| 05/04 | 89 | Stage 1 | 192.3 km |
| 03/04 | 30 | Ronde van Vlaanderen - Tour des Flandres ME | 272.5 km |
| 30/03 | 27 | Dwars door Vlaanderen - A travers la Flandre ME | 183.7 km |
| 27/03 | 39 | Gent-Wevelgem in Flanders Fields ME | 248.8 km |
| 06/03 - 13/03 | | Paris - Nice | |
| 06/03 | | Stage 5 | 188.8 km |
| 06/03 | 23 | Stage 4 (ITT) | 13.4 km |
| 06/03 | 67 | Stage 3 | 190.8 km |
| 06/03 | 38 | Stage 2 | 159.2 km |
| 06/03 | 72 | Stage 1 | 159.8 km |
| 27/02 | 76 | Kuurne - Bruxelles - Kuurne | 195.1 km |
| 26/02 | 72 | Omloop Het Nieuwsblad ME | 204.2 km |
| 16/02 - 20/02 | | Volta ao Algarve em Bicicleta | |
| | 16 | Mountains classification | |
| | 83 | General classification | |
| 16/02 | 54 | Stage 5 | 173 km |
| 16/02 | 42 | Stage 4 (ITT) | 32.2 km |
| 16/02 | 129 | Stage 3 | 211.4 km |
| 16/02 | 139 | Stage 2 | 182.4 km |
| 16/02 | 28 | Stage 1 | 199.1 km |
| 02/02 - 06/02 | | Volta a la Comunitat Valenciana | |
| | 19 | Mountains classification | |
| | 74 | General classification | |
| 02/02 | 66 | Stage 5 | 92 km |
| 02/02 | 49 | Stage 4 | 193.1 km |
| 02/02 | 91 | Stage 3 | 155.1 km |
| 02/02 | 77 | Stage 2 | 171.5 km |
| 02/02 | 108 | Stage 1 | 166.7 km |
2021 - Deceuninck - Quick Step (WT)
| Date | Result | Race | Distance |
| --- | --- | --- | --- |
| 03/10 | 5 | Paris-Roubaix | 257.7 km |
| 26/09 | 61 | World Championships ME - Road Race | 268.3 km |
| 22/09 | 7 | World Championships - Mixed Relay TTT | 44.5 km |
| 18/09 | 6 | Primus Classic | 197.7 km |
| 05/09 - 12/09 | | Tour of Britain | |
| | 19 | Mountains classification | |
| | 16 | Points classification | |
| | 24 | General classification | |
| 05/09 | 56 | Stage 8 | 173 km |
| 05/09 | 1 | Stage 7 | 194.8 km |
| 05/09 | 13 | Stage 6 | 198 km |
| 05/09 | 69 | Stage 5 | 152.2 km |
| 05/09 | 43 | Stage 4 | 210 km |
| 05/09 | 2 | Stage 3 (TTT) | 18.2 km |
| 05/09 | 26 | Stage 2 | 183.9 km |
| 05/09 | 48 | Stage 1 | 180.8 km |
| 26/08 - 29/08 | | Deutschland Tour | |
| | 11 | Points classification | |
| | 24 | General classification | |
| 26/08 | 33 | Stage 4 | 156.3 km |
| 26/08 | 48 | Stage 3 | 193.9 km |
| 26/08 | 10 | Stage 2 | 180.6 km |
| 26/08 | 4 | Stage 1 | 191.4 km |
| 20/08 | 78 | Grote Prijs Marcel Kint | 196.3 km |
| 10/08 - 14/08 | | PostNord Danmark Rundt - Tour of Denmark | |
| 10/08 | | Stage 2 | 189.6 km |
| 10/08 | 11 | Stage 1 | 175.3 km |
| 31/07 | 2 | Heylen Vastgoed Heistse Pijl | 192.8 km |
| 20/07 - 24/07 | | Tour de Wallonie | |
| | 68 | General classification | |
| 20/07 | 55 | Stage 5 | 192.4 km |
| 20/07 | 25 | Stage 4 | 206 km |
| 20/07 | 95 | Stage 3 | 177 km |
| 20/07 | 87 | Stage 2 | 120 km |
| 20/07 | 104 | Stage 1 | 185.7 km |
| 20/06 | 12 | National Championships Belgium ME - Road Race | 221.3 km |
| 16/06 | 1 | National Championships Belgium ME - ITT | 37.6 km |
| 09/06 - 13/06 | | Baloise Belgium Tour | |
| | 18 | Points classification | |
| | 2 | General classification | |
| 09/06 | 38 | Stage 5 | 178.7 km |
| 09/06 | 30 | Stage 4 | 152.7 km |
| 09/06 | 57 | Stage 3 | 174.4 km |
| 09/06 | 2 | Stage 2 (ITT) | 11.2 km |
| 09/06 | 12 | Stage 1 | 175.3 km |
| 06/06 | 98 | Elfstedenronde | 193.1 km |
| 05/06 | 3 | Dwars door het Hageland | 177 km |
| 14/04 | 40 | De Brabantse Pijl - La Flèche Brabançonne | 201.7 km |
| 04/04 | 17 | Ronde van Vlaanderen - Tour des Flandres ME | 254.3 km |
| 31/03 | 4 | Dwars door Vlaanderen - A travers la Flandre ME | 184.1 km |
| 28/03 | 14 | Gent-Wevelgem in Flanders Fields ME | 250 km |
| 26/03 | 13 | E3 Saxo Bank Classic | 203.9 km |
| 20/03 | 54 | Milano-Sanremo | 299 km |
| 07/03 - 14/03 | | Paris - Nice | |
| | 30 | Points classification | |
| | 48 | General classification | |
| 07/03 | 9 | Stage 8 | 92.7 km |
| 07/03 | 65 | Stage 7 | 119.2 km |
| 07/03 | 78 | Stage 6 | 202.4 km |
| 07/03 | 118 | Stage 5 | 200.2 km |
| 07/03 | 52 | Stage 4 | 187.6 km |
| 07/03 | 9 | Stage 3 (ITT) | 14.4 km |
| 07/03 | 26 | Stage 2 | 188 km |
| 07/03 | 133 | Stage 1 | 165.8 km |
| 28/02 | 68 | Kuurne - Bruxelles - Kuurne | 197 km |
| 27/02 | 56 | Omloop Het Nieuwsblad ME | 200.5 km |
| 11/02 - 14/02 | | Tour de la Provence | |
| | 113 | General classification | |
| 11/02 | 101 | Stage 4 | 163.2 km |
| 11/02 | 80 | Stage 3 | 153.9 km |
| 11/02 | 137 | Stage 2 | 174.7 km |
| 11/02 | 57 | Stage 1 | 182.3 km |
2020 - Deceuninck - Quick Step (WT)
| Date | Result | Race | Distance |
| --- | --- | --- | --- |
| 21/10 | 1 | AG Driedaagse Brugge-De Panne ME | 188.6 km |
| 18/10 | 5 | Ronde van Vlaanderen - Tour des Flandres ME | 243.3 km |
| 14/10 | 153 | Scheldeprijs | 173.3 km |
| 11/10 | 7 | Gent-Wevelgem in Flanders Fields ME | 232.5 km |
| 29/09 - 03/10 | | BinckBank Tour | |
| | 14 | Points classification | |
| | 4 | General classification | |
| 29/09 | 7 | Stage 5 | 183.6 km |
| 29/09 | 8 | Stage 4 (ITT) | 8.14 km |
| 29/09 | 26 | Stage 3 | 157 km |
| 29/09 | 30 | Stage 1 | 132.1 km |
| 22/09 | 21 | National Championships Belgium ME - Road Race | 235.8 km |
| 16/09 - 19/09 | | Okolo Slovenska / Tour de Slovaquie | |
| | 26 | Points classification | |
| | 8 | General classification | |
| 16/09 | 49 | Stage 4 | 171.7 km |
| 16/09 | 43 | Stage 3 | 181.3 km |
| 16/09 | 26 | Stage 2 | 206.6 km |
| 16/09 | 43 | Stage 1a | 106.4 km |
| 16/09 | 9 | Stage 1b (ITT) | 7.1 km |
| 05/08 | | Milano-Torino | 198 km |
| 28/07 - 01/08 | | Vuelta a Burgos | |
| | 57 | General classification | |
| 28/07 | 70 | Stage 5 | 158 km |
| 28/07 | 22 | Stage 4 | 163 km |
| 28/07 | 66 | Stage 3 | 150 km |
| 28/07 | 109 | Stage 2 | 168 km |
| 28/07 | 37 | Stage 1 | 157 km |
| 08/03 - 15/03 | | Paris - Nice | |
| 08/03 | | Stage 7 | 166.5 km |
| 08/03 | 55 | Stage 6 | 161.5 km |
| 08/03 | 98 | Stage 5 | 227 km |
| 08/03 | 40 | Stage 4 (ITT) | 15.1 km |
| 08/03 | 76 | Stage 3 | 212.5 km |
| 08/03 | 105 | Stage 2 | 166.5 km |
| 08/03 | 10 | Stage 1 | 154 km |
| 01/03 | 52 | Kuurne-Bruxelles-Kuurne | 201 km |
| 29/02 | 2 | Omloop Het Nieuwsblad ME | 200 km |
| 19/02 - 23/02 | | Volta ao Algarve em Bicicleta | |
| | 75 | General classification | |
| 19/02 | 8 | Stage 5 (ITT) | 20.3 km |
| 19/02 | 42 | Stage 4 | 169.7 km |
| 19/02 | 125 | Stage 3 | 201.9 km |
| 19/02 | 92 | Stage 2 | 183.9 km |
| 19/02 | 166 | Stage 1 | 195.6 km |
| 05/02 - 09/02 | | Volta a la Comunitat Valenciana | |
| | 79 | General classification | |
| 05/02 | 106 | Stage 5 | 97.7 km |
| 05/02 | 74 | Stage 4 | 167 km |
| 05/02 | 61 | Stage 3 | 174.5 km |
| 05/02 | 111 | Stage 2 | 181 km |
| 05/02 | 48 | Stage 1 | 180 km |
2019 - Deceuninck - Quick Step (WT)
| Date | Result | Race | Distance |
| --- | --- | --- | --- |
| 08/10 | | Binche - Chimay - Binche / Mémorial Frank Vandenbroucke | 198.6 km |
| 29/09 | 32 | World Championships ME - Road Race | 260.7 km |
| 25/09 | 48 | World Championships ME - ITT | 54 km |
| 18/09 - 21/09 | | Okolo Slovenska / Tour de Slovaquie | |
| | 9 | Points classification | |
| | 1 | General classification | |
| 18/09 | 15 | Stage 4 | 142.1 km |
| 18/09 | 5 | Stage 3 | 200.6 km |
| 18/09 | 2 | Stage 2 | 226.6 km |
| 18/09 | 10 | Stage 1a | 138.2 km |
| 18/09 | 2 | Stage 1b (ITT) | 7.4 km |
| 07/09 | 21 | Brussels Cycling Classic | 190.5 km |
| 29/08 - 01/09 | | Deutschland Tour | |
| | 4 | Points classification | |
| | 3 | General classification | |
| 29/08 | 2 | Stage 4 | 159.5 km |
| 29/08 | 4 | Stage 3 | 189 km |
| 29/08 | 3 | Stage 2 | 202 km |
| 29/08 | 13 | Stage 1 | 167 km |
| 25/08 | 63 | EuroEyes Cyclassics Hamburg | 216.7 km |
| 11/08 | 2 | European Continental Championships ME - Road Race | 172.6 km |
| 08/08 | 7 | European Continental Championships ME - ITT | 22.4 km |
| 06/07 - 28/07 | | Tour de France | |
| | 133 | General classification | |
| 06/07 | 53 | Stage 21 | 128 km |
| 06/07 | 147 | Stage 20 | 59.5 km |
| 06/07 | | Stage 19 | 89 km |
| 06/07 | 139 | Stage 18 | 208 km |
| 06/07 | 155 | Stage 17 | 200 km |
| 06/07 | 62 | Stage 16 | 177 km |
| 06/07 | 104 | Stage 15 | 185 km |
| 06/07 | 114 | Stage 14 | 111 km |
| 06/07 | 55 | Stage 13 (ITT) | 27.2 km |
| 06/07 | 158 | Stage 12 | 209.5 km |
| 06/07 | 148 | Stage 11 | 167 km |
| 06/07 | 33 | Stage 10 | 217.5 km |
| 06/07 | 158 | Stage 9 | 170.5 km |
| 06/07 | 132 | Stage 8 | 200 km |
| 06/07 | 77 | Stage 7 | 230 km |
| 06/07 | 154 | Stage 6 | 160.5 km |
| 06/07 | 111 | Stage 5 | 175.5 km |
| 06/07 | 167 | Stage 4 | 213.5 km |
| 06/07 | 109 | Stage 3 | 215 km |
| 06/07 | 3 | Stage 2 (TTT) | 27.6 km |
| 06/07 | 50 | Stage 1 | 194.5 km |
| 30/06 | 10 | National Championships Belgium ME - Road Race | 224 km |
| 27/06 | 2 | National Championships Belgium ME - ITT | 38.3 km |
| 15/06 - 23/06 | | Tour de Suisse | |
| 15/06 | | Stage 9 | 101.5 km |
| 15/06 | 1 | Stage 8 (ITT) | 19.2 km |
| 15/06 | 73 | Stage 7 | 216.6 km |
| 15/06 | 121 | Stage 6 | 120.2 km |
| 15/06 | 104 | Stage 5 | 177 km |
| 15/06 | 64 | Stage 4 | 163.9 km |
| 15/06 | 141 | Stage 3 | 162.3 km |
| 15/06 | 58 | Stage 2 | 159.6 km |
| 15/06 | 15 | Stage 1 (ITT) | 9.5 km |
| 07/06 - 09/06 | | Hammer Limburg | |
| | 1 | General classification | |
| 07/06 | 4 | Stage 3 | 49.6 km |
| 07/06 | 1 | Stage 2 | 99.3 km |
| 07/06 | 1 | Stage 1 | 69.1 km |
| 28/05 - 02/06 | | Tour of Norway | |
| | 9 | Points classification | |
| | 23 | General classification | |
| 28/05 | 6 | Stage 6 | 175.1 km |
| 28/05 | 5 | Stage 5 | 159.7 km |
| 28/05 | 7 | Stage 4 | 224.4 km |
| 28/05 | 13 | Stage 3 | 179.7 km |
| 28/05 | 51 | Stage 2 | 174 km |
| 28/05 | 36 | Stage 1 | 168.2 km |
| 24/05 - 26/05 | | Hammer Stavanger | |
| | 6 | General classification | |
| 24/05 | 6 | Stage 3 | 48.9 km |
| 24/05 | 1 | Stage 2 | 87.3 km |
| 24/05 | 7 | Stage 1 | 85.6 km |
| 14/04 | 3 | Paris-Roubaix | 257 km |
| 07/04 | 17 | Ronde van Vlaanderen - Tour des Flandres ME | 267 km |
| 03/04 | 8 | Dwars door Vlaanderen - A travers la Flandre ME | 182.6 km |
| 31/03 | 77 | Gent-Wevelgem in Flanders Fields ME | 249.5 km |
| 29/03 | 18 | E3 BinckBank Classic | 204 km |
| 23/03 | 66 | Milano-Sanremo | 291 km |
| 13/03 - 19/03 | | Tirreno-Adriatico | |
| | 25 | Points classification | |
| | 61 | General classification | |
| 13/03 | 5 | Stage 7 (ITT) | 10.1 km |
| 13/03 | 61 | Stage 6 | 195 km |
| 13/03 | 56 | Stage 5 | 180 km |
| 13/03 | 61 | Stage 4 | 221 km |
| 13/03 | 74 | Stage 3 | 226 km |
| 13/03 | 127 | Stage 2 | 195 km |
| 13/03 | 4 | Stage 1 (TTT) | 21.5 km |
| 09/03 | 11 | Strade Bianche | 184 km |
| 03/03 | 5 | Kuurne-Bruxelles-Kuurne | 201.1 km |
| 02/03 | 7 | Omloop Het Nieuwsblad ME | 200 km |
| 20/02 - 24/02 | | Volta ao Algarve em Bicicleta | |
| | 33 | General classification | |
| 20/02 | 35 | Stage 5 | 173.5 km |
| 20/02 | 138 | Stage 4 | 198.3 km |
| 20/02 | 3 | Stage 3 (ITT) | 20.3 km |
| 20/02 | 49 | Stage 2 | 187.4 km |
| 20/02 | 39 | Stage 1 | 199.1 km |
| 14/02 - 17/02 | | Tour de La Provence | |
| | 10 | Points classification | |
| | 37 | General classification | |
| 14/02 | 6 | Stage 4 | 162.2 km |
| 14/02 | 32 | Stage 3 | 181.1 km |
| 14/02 | 89 | Stage 2 | 191.6 km |
| 14/02 | 6 | Stage 1 (ITT) | 8.9 km |
2018 - Quick-Step Floors (WT)
| Date | Result | Race | Distance |
| --- | --- | --- | --- |
| 07/10 | 73 | Paris - Tours Elite | 214.5 km |
| 02/10 | 2 | Binche - Chimay - Binche / Memorial Frank Vandenbroucke | 197 km |
| 23/09 | 1 | World Championships - TTT | 62.4 km |
| 12/09 - 16/09 | | Okolo Slovenska | |
| | 15 | Mountains classification | |
| | 4 | Points classification | |
| | 31 | General classification | |
| 12/09 | 32 | Stage 4 | 161.8 km |
| 12/09 | 3 | Stage 3 | 180.6 km |
| 12/09 | 2 | Stage 2 | 191.7 km |
| 12/09 | 41 | Stage 1 | 169.9 km |
| 12/09 | 2 | Prologue | 1.9 km |
| 01/09 | 41 | Brussels Cycling Classic | 201.4 km |
| 24/08 | 5 | Great War Remembrance Race | 192.7 km |
| 13/08 - 19/08 | | BinckBank Tour | |
| | 31 | Points classification | |
| | 14 | General classification | |
| 13/08 | 25 | Stage 7 | 215.6 km |
| 13/08 | 41 | Stage 6 | 182.2 km |
| 13/08 | 23 | Stage 5 | 204.4 km |
| 13/08 | 34 | Stage 4 | 165.5 km |
| 13/08 | 40 | Stage 3 | 174.9 km |
| 13/08 | 10 | Stage 2 (ITT) | 12.7 km |
| 13/08 | 126 | Stage 1 | 177.3 km |
| 08/08 | 4 | European Continental Championships ME - ITT | 45.7 km |
| 07/07 - 29/07 | | Tour de France | |
| | 20 | Points classification | |
| | 80 | General classification | |
| 07/07 | 30 | Stage 21 | 116 km |
| 07/07 | 86 | Stage 20 (ITT) | 31 km |
| 07/07 | 125 | Stage 19 | 200.5 km |
| 07/07 | 11 | Stage 18 | 171 km |
| 07/07 | 81 | Stage 17 | 65 km |
| 07/07 | 82 | Stage 16 | 218 km |
| 07/07 | 125 | Stage 15 | 181 km |
| 07/07 | 27 | Stage 14 | 188 km |
| 07/07 | 6 | Stage 13 | 169.5 km |
| 07/07 | 104 | Stage 12 | 175.5 km |
| 07/07 | 107 | Stage 11 | 108.5 km |
| 07/07 | 99 | Stage 10 | 158.5 km |
| 07/07 | 3 | Stage 9 | 156.5 km |
| 07/07 | 9 | Stage 8 | 181 km |
| 07/07 | 102 | Stage 7 | 231 km |
| 07/07 | 150 | Stage 6 | 181 km |
| 07/07 | 126 | Stage 5 | 204.5 km |
| 07/07 | 63 | Stage 4 | 195 km |
| 07/07 | 3 | Stage 3 (TTT) | 35.5 km |
| 07/07 | 118 | Stage 2 | 182.5 km |
| 07/07 | 33 | Stage 1 | 201 km |
| 24/06 | 1 | National Championships Belgium - Road Race | 223.6 km |
| 21/06 | 3 | National Championships Belgium ME - ITT | 43.2 km |
| 09/06 - 17/06 | | Tour de Suisse | |
| | 27 | Points classification | |
| | 52 | General classification | |
| 09/06 | 19 | Stage 9 (ITT) | 34 km |
| 09/06 | 76 | Stage 8 | 123 km |
| 09/06 | 46 | Stage 7 | 170 km |
| 09/06 | 58 | Stage 6 | 186 km |
| 09/06 | 72 | Stage 5 | 155 km |
| 09/06 | 3 | Stage 4 | 189 km |
| 09/06 | 100 | Stage 3 | 182 km |
| 09/06 | 49 | Stage 2 | 155 km |
| 09/06 | 3 | Stage 1 (TTT) | 18 km |
| 01/06 - 03/06 | | Hammer Sportzone Limburg | |
| | 1 | General classification | |
| 01/06 | 4 | Stage 3 | 37 km |
| 01/06 | 2 | Stage 2 | 99.3 km |
| 01/06 | 3 | Stage 1 | 76.3 km |
| 01/05 | 26 | Eschborn-Frankfurt | 212.5 km |
| 08/04 | 28 | Paris-Roubaix | 257 km |
| 01/04 | 29 | Ronde van Vlaanderen - Tour des Flandres ME | 264.7 km |
| 28/03 | 1 | Dwars door Vlaanderen - A travers la Flandre ME | 180 km |
| 25/03 | 20 | Gent-Wevelgem in Flanders Fields ME | 251.1 km |
| 23/03 | 17 | Record Bank E3 Harelbeke | 206.5 km |
| 16/03 | 66 | Handzame Classic | 204.1 km |
| 04/03 - 11/03 | | Paris - Nice | |
| | 40 | General classification | |
| 04/03 | 13 | Stage 8 | 110 km |
| 04/03 | 74 | Stage 7 | 175 km |
| 04/03 | 32 | Stage 6 | 198 km |
| 04/03 | 118 | Stage 5 | 163.5 km |
| 04/03 | 26 | Stage 4 (ITT) | 18.4 km |
| 04/03 | 95 | Stage 3 | 210 km |
| 04/03 | 105 | Stage 2 | 187 km |
| 04/03 | 46 | Stage 1 | 135 km |
| 25/02 | 12 | Kuurne-Bruxelles-Kuurne | 200.1 km |
| 24/02 | 36 | Omloop Het Nieuwsblad ME | 196.2 km |
| 14/02 - 18/02 | | Volta ao Algarve em Bicicleta | |
| | 8 | Mountains classification | |
| | 36 | Points classification | |
| | 106 | General classification | |
| 14/02 | 88 | Stage 5 | 173.5 km |
| 14/02 | 11 | Stage 4 | 199.2 km |
| 14/02 | 23 | Stage 3 (ITT) | 20.3 km |
| 14/02 | 144 | Stage 2 | 187.9 km |
| 14/02 | 9 | Stage 1 | 192.6 km |
| 06/02 - 10/02 | | Dubai Tour | |
| | 20 | General classification | |
| 06/02 | 24 | Stage 5 | 129 km |
| 06/02 | 28 | Stage 4 | 172 km |
| 06/02 | 53 | Stage 3 | 183 km |
| 06/02 | 46 | Stage 2 | 190 km |
| 06/02 | 51 | Stage 1 | 167 km |
2017 - Quick-Step Floors (WT)
| Date | Result | Race | Distance |
| --- | --- | --- | --- |
| 08/10 | 7 | Paris-Tours Elite | 234.5 km |
| 03/10 | 25 | Sparkassen Münsterland Giro | 198.7 km |
| 01/10 | 30 | Tour de l'Eurométropole | 188.6 km |
| 30/09 | 15 | Omloop Eurometropool | 177 km |
| 20/09 | 23 | World Championships ME - ITT | 31 km |
| 17/09 | 4 | World Championships - TTT | 42.5 km |
| 19/08 - 10/09 | | Vuelta a España | |
| | 32 | Points classification | |
| | 136 | General classification | |
| 19/08 | 78 | Stage 21 | 117.6 km |
| 19/08 | 129 | Stage 20 | 117.5 km |
| 19/08 | 126 | Stage 19 | 149.7 km |
| 19/08 | 104 | Stage 18 | 169 km |
| 19/08 | 130 | Stage 17 | 180.5 km |
| 19/08 | 13 | Stage 16 (ITT) | 40.2 km |
| 19/08 | 114 | Stage 15 | 129.4 km |
| 19/08 | 123 | Stage 14 | 175 km |
| 19/08 | 104 | Stage 13 | 198.4 km |
| 19/08 | 117 | Stage 12 | 160.1 km |
| 19/08 | 145 | Stage 11 | 187.5 km |
| 19/08 | 100 | Stage 10 | 164.8 km |
| 19/08 | 143 | Stage 9 | 174 km |
| 19/08 | 130 | Stage 8 | 199.5 km |
| 19/08 | 69 | Stage 7 | 207 km |
| 19/08 | 152 | Stage 6 | 204.4 km |
| 19/08 | 155 | Stage 5 | 157.7 km |
| 19/08 | 76 | Stage 4 | 198.2 km |
| 19/08 | 163 | Stage 3 | 158.5 km |
| 19/08 | 1 | Stage 2 | 203.4 km |
| 19/08 | 2 | Stage 1 (TTT) | 13.7 km |
| 07/08 - 13/08 | | BinckBank Tour | |
| | 24 | Points classification | |
| | 52 | General classification | |
| 07/08 | 46 | Stage 7 | 193.5 km |
| 07/08 | 55 | Stage 6 | 196.9 km |
| 07/08 | 47 | Stage 5 | 164.9 km |
| 07/08 | 39 | Stage 4 | 160.7 km |
| 07/08 | 22 | Stage 3 | 186 km |
| 07/08 | 6 | Stage 2 (ITT) | 9 km |
| 07/08 | 113 | Stage 1 | 179.7 km |
| 03/08 | | European Continental Championships ME - ITT | 46 km |
| 30/07 | 21 | Prudential RideLondon-Surrey Classic | 185.9 km |
| 19/07 | 24 | Grand Prix Cerami | 208.5 km |
| 25/06 | 8 | National Championships Belgium - Road Race | 238 km |
| 22/06 | 1 | National Championships Belgium ME - ITT | 38.1 km |
| 10/06 - 18/06 | | Tour de Suisse | |
| | 88 | General classification | |
| 10/06 | 22 | Stage 9 (ITT) | 28.6 km |
| 10/06 | 68 | Stage 8 | 100 km |
| 10/06 | 69 | Stage 7 | 166.3 km |
| 10/06 | 113 | Stage 6 | 166.7 km |
| 10/06 | 102 | Stage 5 | 222 km |
| 10/06 | 104 | Stage 4 | 143.2 km |
| 10/06 | 105 | Stage 3 | 159.3 km |
| 10/06 | 119 | Stage 2 | 172.7 km |
| 10/06 | 14 | Stage 1 (ITT) | 6 km |
| 02/06 - 04/06 | | Hammer Sportzone Limburg | |
| | 9 | General classification | |
| 02/06 | 3 | Stage 3 | 44.7 km |
| 02/06 | 9 | Stage 2 | 99.2 km |
| 02/06 | 7 | Stage 1 | 77 km |
| 24/05 - 28/05 | | Baloise Belgium Tour | |
| | 33 | Points classification | |
| | 16 | General classification | |
| 24/05 | 38 | Stage 5 | 169.6 km |
| 24/05 | 28 | Stage 4 | 167.8 km |
| 24/05 | 7 | Stage 3 (ITT) | 13.4 km |
| 24/05 | 29 | Stage 2 | 199 km |
| 24/05 | 14 | Stage 1 | 178 km |
| 01/05 | | Eschborn-Frankfurt 'Rund um den Finanzplatz' | 215.7 km |
| 09/04 | 82 | Paris-Roubaix | 257 km |
| 02/04 | 36 | Ronde van Vlaanderen / Tour des Flandres ME | 260 km |
| 26/03 | 49 | Gent-Wevelgem in Flanders Fields ME | 249 km |
| 22/03 | 1 | Dwars door Vlaanderen / A travers la Flandre ME | 203.4 km |
| 17/03 | 53 | Handzame Classic | 192.7 km |
| 05/03 - 12/03 | | Paris - Nice | |
| | 36 | Mountains classification | |
| | 47 | General classification | |
| 05/03 | 107 | Stage 8 | 115.5 km |
| 05/03 | 71 | Stage 7 | 177 km |
| 05/03 | 95 | Stage 6 | 193.5 km |
| 05/03 | 75 | Stage 5 | 199.5 km |
| 05/03 | 15 | Stage 4 (ITT) | 14.5 km |
| 05/03 | 64 | Stage 3 | 190 km |
| 05/03 | 50 | Stage 2 | 195 km |
| 05/03 | 14 | Stage 1 | 148.5 km |
| 26/02 | 83 | Kuurne-Bruxelles-Kuurne | 200.7 km |
| 25/02 | 97 | Omloop Het Nieuwsblad ME | 198.3 km |
| 14/02 - 19/02 | | Tour of Oman | |
| | 42 | Points classification | |
| | 87 | General classification | |
| 14/02 | 15 | Stage 6 | 130.5 km |
| 14/02 | 109 | Stage 5 | 152.5 km |
| 14/02 | 9 | Stage 4 | 118 km |
| 14/02 | 108 | Stage 3 | 162 km |
| 14/02 | 130 | Stage 2 | 142 km |
| 14/02 | 21 | Stage 1 | 176.5 km |
| 01/02 - 05/02 | | Volta a la Comunitat Valenciana | |
| | 82 | General classification | |
| 01/02 | 4 | Stage 5 | 49.5 km |
| 01/02 | 98 | Stage 4 | 180 km |
| 01/02 | 4 | Stage 3 | 161 km |
| 01/02 | 104 | Stage 2 | 180.6 km |
| 01/02 | 3 | Stage 1 (TTT) | 37.9 km |
2016 - Etixx - Quick Step (WT)
| Date | Result | Race | Distance |
| --- | --- | --- | --- |
| 12/10 | 7 | World Championships ME - ITT | 40 km |
| 09/10 | 1 | World Championships - TTT | 40 km |
| 02/10 | 14 | Tour de l'Eurométropole | 195.6 km |
| 15/09 | 6 | European Continental Championships ME - ITT | 45.5 km |
| 20/08 - 11/09 | | Vuelta a España | |
| | 70 | Points classification | |
| | 113 | General classification | |
| 20/08 | 42 | Stage 21 | 104.1 km |
| 20/08 | 110 | Stage 20 | 193.2 km |
| 20/08 | 4 | Stage 19 (ITT) | 37 km |
| 20/08 | 11 | Stage 18 | 200.6 km |
| 20/08 | 129 | Stage 17 | 177.5 km |
| 20/08 | 80 | Stage 16 | 156.4 km |
| 20/08 | 95 | Stage 15 | 118.5 km |
| 20/08 | 153 | Stage 14 | 196 km |
| 20/08 | 6 | Stage 13 | 213.4 km |
| 20/08 | 122 | Stage 12 | 193.2 km |
| 20/08 | 127 | Stage 11 | 168.6 km |
| 20/08 | 171 | Stage 10 | 188.7 km |
| 20/08 | 150 | Stage 9 | 164.5 km |
| 20/08 | 148 | Stage 8 | 181.5 km |
| 20/08 | 103 | Stage 7 | 158.5 km |
| 20/08 | 149 | Stage 6 | 163.2 km |
| 20/08 | 86 | Stage 5 | 171.3 km |
| 20/08 | 175 | Stage 4 | 163.5 km |
| 20/08 | 167 | Stage 3 | 176.4 km |
| 20/08 | 16 | Stage 2 | 160.8 km |
| 20/08 | 5 | Stage 1 (TTT) | 27.8 km |
| 02/08 - 06/08 | | Vuelta a Burgos | |
| | 22 | Points classification | |
| | 87 | General classification | |
| 02/08 | 102 | Stage 5 | 163 km |
| 02/08 | 83 | Stage 4 | 145 km |
| 02/08 | 6 | Stage 3 | 198 km |
| 02/08 | 3 | Stage 2 (TTT) | 10.72 km |
| 02/08 | 67 | Stage 1 | 158 km |
| 23/07 - 27/07 | | Tour de Wallonie | |
| | 32 | Mountains classification | |
| | 61 | General classification | |
| 23/07 | 74 | Stage 5 | 188 km |
| 23/07 | 45 | Stage 4 | 178.8 km |
| 23/07 | 92 | Stage 3 | 200.6 km |
| 23/07 | 32 | Stage 2 | 180 km |
| 23/07 | 72 | Stage 1 | 178.3 km |
| 20/07 | 18 | Grand Prix Cerami | 211 km |
| 26/06 | 13 | National Championships Belgium - Road Race | 231 km |
| 23/06 | 2 | National Championships Belgium ME - ITT | 38 km |
| 11/06 - 19/06 | | Tour de Suisse | |
| 11/06 | | Stage 9 | 57 km |
| 11/06 | 20 | Stage 8 (ITT) | 16.8 km |
| 11/06 | 124 | Stage 7 | 224.3 km |
| 11/06 | 91 | Stage 6 | 162.8 km |
| 11/06 | 146 | Stage 5 | 126.4 km |
| 11/06 | 143 | Stage 4 | 193 km |
| 11/06 | 114 | Stage 3 | 192.6 km |
| 11/06 | 89 | Stage 2 | 187.6 km |
| 11/06 | 11 | Stage 1 (ITT) | 6.4 km |
| 04/06 | 22 | Heistse Pijl - Heist op den Berg | 195.2 km |
| 25/05 - 29/05 | | Baloise Belgium Tour | |
| | 18 | Points classification | |
| | 9 | General classification | |
| 25/05 | 95 | Stage 4 | 174.2 km |
| 25/05 | 67 | Stage 2 | 200.9 km |
| 25/05 | 34 | Stage 1 | 174.5 km |
| 25/05 | 5 | Prologue | 6 km |
| 04/05 - 08/05 | | 4 Jours de Dunkerque / Tour du Nord-pas-de-Calais | |
| | 20 | General classification | |
| 04/05 | 26 | Stage 5 | 159.7 km |
| 04/05 | 21 | Stage 4 | 178.2 km |
| 04/05 | 120 | Stage 3 | 174 km |
| 04/05 | 44 | Stage 2 | 188.3 km |
| 04/05 | 28 | Stage 1 | 191.4 km |
| 01/05 | 5 | Rund um den Finanzplatz Eschborn-Frankfurt | 206.8 km |
| 23/03 | | Dwars door Vlaanderen / A travers la Flandre | 199.7 km |
| 09/03 - 15/03 | | Tirreno-Adriatico | |
| | 27 | Youth classification | |
| | 164 | General classification | |
| 09/03 | 14 | Stage 7 (ITT) | 10.05 km |
| 09/03 | 113 | Stage 6 | 210 km |
| 09/03 | 170 | Stage 4 | 222 km |
| 09/03 | 179 | Stage 3 | 176 km |
| 09/03 | 155 | Stage 2 | 207 km |
| 09/03 | 2 | Stage 1 (TTT) | 22.7 km |
| 05/03 | | Strade Bianche | 176 km |
| 17/02 - 21/02 | | Volta ao Algarve em Bicicleta | |
| 17/02 | | Stage 5 | 169 km |
| 17/02 | 168 | Stage 4 | 194 km |
| 17/02 | 19 | Stage 3 (ITT) | 18 km |
| 17/02 | 154 | Stage 2 | 198.6 km |
| 17/02 | 188 | Stage 1 | 163.6 km |
| 03/02 - 07/02 | | Volta a la Comunitat Valenciana | |
| | 73 | General classification | |
| 03/02 | 26 | Stage 5 | 105.7 km |
| 03/02 | 106 | Stage 4 | 141.3 km |
| 03/02 | 37 | Stage 3 | 173.5 km |
| 03/02 | 86 | Stage 2 | 163.3 km |
| 03/02 | 15 | Stage 1 (ITT) | 16.25 km |
| 31/01 | 18 | Trofeo Playa de Palma - Palma | 161.5 km |
| 30/01 | | Trofeo Serra de Tramuntana | 149.9 km |
| 29/01 | | Trofeo Pollenca - Port de Andratx | 162.6 km |
2015 - Etixx - Quick Step (WT)
| Date | Result | Race | Distance |
| --- | --- | --- | --- |
| 11/10 | 6 | Paris - Tours Elite | 231 km |
| 06/10 | | Binche - Chimay - Binche / Mémorial Frank Vandenbroucke | 194.5 km |
| 03/10 | 23 | Sparkassen Münsterland Giro | 179.9 km |
| 23/09 | 31 | World Championships ME - ITT | 53.5 km |
| 20/09 | 2 | World Championships - TTT | 38.6 km |
| 13/09 | 64 | Grand Prix Cycliste de Montréal | 205.6 km |
| 11/09 | 68 | Grand Prix Cycliste de Québec | 201.6 km |
| 06/09 | 78 | GP de Fourmies / La Voix du Nord | 205 km |
| 05/09 | 31 | Brussels Cycling Classic | 200.8 km |
| 30/08 | 123 | GP Ouest France - Plouay | 229.1 km |
| 10/08 - 16/08 | | Eneco Tour | |
| | 21 | Points classification | |
| | 47 | General classification | |
| 10/08 | 3 | Stage 7 | 193.8 km |
| 10/08 | 69 | Stage 6 | 198 km |
| 10/08 | 40 | Stage 5 | 179.6 km |
| 10/08 | 31 | Stage 4 (ITT) | 13.9 km |
| 10/08 | 41 | Stage 3 | 171.9 km |
| 10/08 | 33 | Stage 2 | 180 km |
| 10/08 | 28 | Stage 1 | 183.5 km |
| 02/08 | 10 | | 200 km |
| 28/06 | | National Championships Belgium - Road Race | 252 km |
| 26/06 | 2 | National Championships Belgium ME - ITT | 49.2 km |
| 17/06 - 21/06 | | Ster ZLM Toer GP Jan van Heeswijk | |
| | 3 | Points classification | |
| | 2 | General classification | |
| 17/06 | 9 | Stage 4 | 183.1 km |
| 17/06 | 2 | Stage 3 | 186.7 km |
| 17/06 | 4 | Stage 2 | 190.5 km |
| 17/06 | 8 | Stage 1 | 183.4 km |
| 17/06 | 6 | Prologue | 6.4 km |
| 14/06 | 9 | Rund um Köln | 196.7 km |
| 27/05 - 31/05 | | Baloise Belgium Tour | |
| | 13 | Points classification | |
| | 14 | General classification | |
| 27/05 | 25 | Stage 4 | 199.2 km |
| 27/05 | 67 | Stage 3 | 158.5 km |
| 27/05 | 43 | Stage 2 | 201.1 km |
| 27/05 | 9 | Stage 1 | 178.5 km |
| 27/05 | 8 | Prologue | 6.85 km |
| 10/05 - 17/05 | | Amgen Tour of California | |
| | 80 | General classification | |
| 10/05 | 48 | Stage 8 | 105 km |
| 10/05 | 73 | Stage 7 | 128.7 km |
| 10/05 | 40 | Stage 6 (ITT) | 10.62 km |
| 10/05 | 66 | Stage 5 | 154 km |
| 10/05 | 109 | Stage 4 | 173.1 km |
| 10/05 | 73 | Stage 3 | 169.8 km |
| 10/05 | 114 | Stage 2 | 193.7 km |
| 10/05 | 48 | Stage 1 | 203.1 km |
| 15/04 | | De Brabantse Pijl - La Flèche Brabançonne | 205.4 km |
| 12/04 | 7 | Paris - Roubaix | 253.5 km |
| 08/04 | 111 | Scheldeprijs | 200 km |
| 05/04 | 24 | Ronde van Vlaanderen / Tour des Flandres ME | 264.9 km |
| 31/03 - 02/04 | | Driedaagse De Panne-Koksijde | |
| | 27 | Points classification | |
| | 9 | General classification | |
| 31/03 | 9 | Stage 3b (ITT) | 14.2 km |
| 31/03 | 19 | Stage 3a | 114.4 km |
| 31/03 | 32 | Stage 2 | 217.2 km |
| 31/03 | 25 | Stage 1 | 189.1 km |
| 27/03 | 21 | E3 Harelbeke | 215.3 km |
| 25/03 | 17 | Dwars door Vlaanderen / A travers la Flandre | 200.2 km |
| 21/03 | 4 | Ronde van Zeeland Seaports | 196.1 km |
| 20/03 | 29 | Handzame Classic | 198.6 km |
| 18/03 | 81 | Nokere Koerse - Danilith Classic | 197.7 km |
| 06/03 - 08/03 | | Driedaagse van West-Vlaanderen | |
| | 1 | Youth classification | |
| | 8 | Mountains classification | |
| | 1 | Points classification | |
| | 1 | General classification | |
| 06/03 | 11 | Stage 2 | 184.5 km |
| 06/03 | 1 | Stage 1 | 174.1 km |
| 06/03 | 4 | Prologue | 7 km |
| 04/03 | 5 | Le Samyn | 201 km |
| 01/03 | 72 | Kuurne-Bruxelles-Kuurne | 193 km |
| 18/02 - 22/02 | | Volta ao Algarve em Bicicleta | |
| | 148 | General classification | |
| 18/02 | 139 | Stage 5 | 184.3 km |
| 18/02 | 128 | Stage 4 | 215.7 km |
| 18/02 | 11 | Stage 3 (ITT) | 19 km |
| 18/02 | 159 | Stage 2 | 197.2 km |
| 18/02 | 131 | Stage 1 | 166.7 km |
| 01/02 | 24 | Cadel Evans Great Ocean Road Race | 174 km |
| 20/01 - 25/01 | | Santos Tour Down Under | |
| | 16 | Youth classification | |
| | 88 | General classification | |
| 20/01 | 22 | Stage 6 | 90 km |
| 20/01 | 110 | Stage 5 | 151.5 km |
| 20/01 | 74 | Stage 4 | 144.5 km |
| 20/01 | 90 | Stage 3 | 143.2 km |
| 20/01 | 90 | Stage 2 | 150.5 km |
| 20/01 | 114 | Stage 1 | 132.6 km |
2014 - Topsport Vlaanderen - Baloise (PCT)
| Date | Result | Race | Distance |
| --- | --- | --- | --- |
| 14/10 | | Nationale Sluitingprijs Putte-Kapellen | 179.1 km |
| 03/10 | 103 | Sparkassen Münsterland Giro | 205 km |
| 24/09 | | Omloop van het Houtland | 199.5 km |
| 21/09 | 17 | World Championships - TTT | 57.12 km |
| 17/09 | 12 | Grand Prix de Wallonie | 198.2 km |
| 14/09 | 101 | Grote Prijs Jef Scherens - Rondom Leuven | 183.3 km |
| 22/08 | 1 | Arnhem Veenendaal Classic | 195.7 km |
| 19/08 | | GP Stad Zottegem | 189 km |
| 11/08 - 17/08 | | Eneco Tour | |
| | 21 | Points classification | |
| | 47 | General classification | |
| 11/08 | 3 | Stage 7 | 183.4 km |
| 11/08 | 48 | Stage 6 | 173.3 km |
| 11/08 | 32 | Stage 5 | 160.3 km |
| 11/08 | 146 | Stage 4 | 183.3 km |
| 11/08 | 24 | Stage 3 (ITT) | 9.6 km |
| 11/08 | 113 | Stage 2 | 177.4 km |
| 11/08 | 98 | Stage 1 | 181.9 km |
| 03/08 | 62 | La Poly Normande | 157 km |
| 26/07 - 30/07 | | Tour de Wallonie | |
| | 19 | Youth classification | |
| | 28 | Mountains classification | |
| | 11 | Points classification | |
| | 62 | General classification | |
| 26/07 | 2 | Stage 5 | 180.6 km |
| 26/07 | 89 | Stage 4 | 174.9 km |
| 26/07 | 13 | Stage 3 | 174.1 km |
| 26/07 | 19 | Stage 2 | 193.1 km |
| 26/07 | 107 | Stage 1 | 147.9 km |
| 29/06 | 5 | National Championships Belgium - Road Race | 250.2 km |
| 25/06 | 9 | Halle - Ingooigem | 199.9 km |
| 18/06 - 22/06 | | Ster ZLM Toer GP Jan van Heeswijk | |
| | 24 | General classification | |
| 18/06 | 65 | Stage 4 | 173.7 km |
| 18/06 | 38 | Stage 3 | 186.7 km |
| 18/06 | 39 | Stage 2 | 190.5 km |
| 18/06 | 11 | Stage 1 | 183.9 km |
| 18/06 | 21 | Prologue | 7 km |
| 07/06 | 6 | Ronde van Zeeland Seaports | 202.7 km |
| 28/05 - 01/06 | | Baloise Belgium Tour | |
| | 12 | Youth classification | |
| | 38 | General classification | |
| 28/05 | 48 | Stage 5 | 178.7 km |
| 28/05 | 31 | Stage 4 | 184 km |
| 28/05 | 13 | Stage 3 (ITT) | 16.7 km |
| 28/05 | 109 | Stage 2 | 170.4 km |
| 28/05 | 29 | Stage 1 | 173.6 km |
| 24/05 - 25/05 | | World Ports Classic | |
| | 43 | Youth classification | |
| | 84 | General classification | |
| 24/05 | 65 | Stage 2 | 159 km |
| 24/05 | 133 | Stage 1 | 195 km |
| 13/04 | 108 | Paris - Roubaix | 257 km |
| 06/04 | | Ronde van Vlaanderen / Tour des Flandres ME | 259.1 km |
| 01/04 - 03/04 | | VDK-Driedaagse De Panne-Koksijde | |
| | 28 | Points classification | |
| | 11 | General classification | |
| 01/04 | 27 | Stage 3a | 109.7 km |
| 01/04 | 14 | Stage 3b (ITT) | 14.3 km |
| 01/04 | 14 | Stage 2 | 206 km |
| 01/04 | 45 | Stage 1 | 201 km |
| 30/03 | | Gent-Wevelgem In Flanders Fields ME | 233 km |
| 28/03 | 36 | E3 Harelbeke | 211 km |
| 26/03 | 27 | Dwars door Vlaanderen / A travers la Flandre | 201 km |
| 21/03 | | Handzame Classic | 198.3 km |
| 19/03 | 93 | Nokere Koerse - Danilith Classic | 199.3 km |
| 16/03 | 50 | Energiewacht Dwars door Drenthe | 202.7 km |
| 15/03 | 5 | Albert Achterhes Pet Ronde van Drenthe | 204.7 km |
| 07/03 - 09/03 | | Driedaagse van West-Vlaanderen | |
| | 8 | Youth classification | |
| | 19 | General classification | |
| 07/03 | 46 | Stage 2 | 185.9 km |
| 07/03 | 59 | Stage 1 | 182.9 km |
| 07/03 | 16 | Prologue | 7 km |
| 02/03 | 4 | Kuurne-Bruxelles-Kuurne | 197 km |
| 19/02 - 23/02 | | Vuelta a Andalucia Ruta Ciclista Del Sol | |
| | 55 | General classification | |
| 19/02 | 60 | Stage 4 | 159.8 km |
| 19/02 | 51 | Stage 3 | 182.7 km |
| 19/02 | 45 | Stage 2 | 197.1 km |
| 19/02 | 91 | Stage 1 | 186.8 km |
| 19/02 | 22 | Prologue | 7.3 km |
| 05/02 - 09/02 | | Etoile de Bessèges | |
| | 38 | Points classification | |
| | 21 | General classification | |
| 05/02 | 27 | Stage 5 (ITT) | 10.7 km |
| 05/02 | 119 | Stage 4 | 156.3 km |
| 05/02 | 67 | Stage 3 | 152.6 km |
| 05/02 | 14 | Stage 2 | 149.3 km |
| 05/02 | 49 | Stage 1 | 154.5 km |
2013 - Topsport Vlaanderen - Baloise (PCT)
| Date | Result | Race | Distance |
| --- | --- | --- | --- |
| 03/10 - 06/10 | | Tour de l'Eurométropole | |
| | 65 | General classification | |
| 03/10 | 75 | Stage 4 | 153.8 km |
| 03/10 | 77 | Stage 3 | 164.2 km |
| 03/10 | 96 | Stage 2 | 172.5 km |
| 03/10 | 18 | Stage 1 | 194.8 km |
| 25/09 | | Omloop van het Houtland | 190.6 km |
| 23/09 | 14 | World Championships MU - ITT | 43.49 km |
| 18/09 | | Grand Prix de Wallonie | 203.1 km |
| 15/09 | 12 | Chrono Champenois Masculin International | 33.4 km |
| 08/09 | 109 | GP de Fourmies / La Voix du Nord | 205 km |
| 25/08 | 5 | Châteauroux Classic de l'Indre Trophée Fenioux | 200.4 km |
| 21/08 | 9 | Druivenkoers - Overijse | 194 km |
| 16/08 - 18/08 | | Tour des Fjords | |
| | 6 | Youth classification | |
| | 10 | General classification | |
| 16/08 | 22 | Stage 4 | 183 km |
| 16/08 | 3 | Stage 3 (TTT) | 24 km |
| 16/08 | 26 | Stage 2 | 100 km |
| 16/08 | 17 | Stage 1 | 202 km |
| 11/08 | 5 | National Championships Belgium ME - ITT | 44.4 km |
| 31/07 - 04/08 | | Post Danmark Rundt - Tour of Denmark | |
| | 9 | Youth classification | |
| | 36 | Points classification | |
| | 54 | General classification | |
| 31/07 | 9 | Stage 6 | 165 km |
| 31/07 | 19 | Stage 5 (ITT) | 12.1 km |
| 31/07 | 73 | Stage 4 | 105 km |
| 31/07 | 45 | Stage 3 | 200 km |
| 31/07 | 27 | Stage 2 | 180 km |
| 31/07 | 12 | Stage 1 | 181.5 km |
| 21/07 | 13 | European Continental Championships MU - Road Race | 165 km |
| 19/07 | 13 | European Continental Championships MU - ITT | 23 km |
| 11/07 | 1 | GP van de stad Geel | 163.9 km |
| 23/06 | | National Championships Belgium - Road Race | 220.8 km |
| 12/06 - 16/06 | | Ster ZLM Toer GP Jan van Heeswijk | |
| | 13 | Mountains classification | |
| | 32 | Points classification | |
| | 39 | General classification | |
| 12/06 | 10 | Stage 5 | 176.2 km |
| 12/06 | 45 | Stage 4 | 186 km |
| 12/06 | 70 | Stage 3 | 188.3 km |
| 12/06 | 83 | Stage 2 | 175.7 km |
| 12/06 | 32 | Prologue | 8 km |
| 09/06 | 100 | Garmin ProRace Berlin | 184.6 km |
| 02/06 | 15 | Ronde van Zeeland Seaports | 197.2 km |
| 22/05 - 26/05 | | Baloise Belgium Tour | |
| 22/05 | | Stage 5 | 175.6 km |
| 22/05 | 18 | Stage 4 | 156.3 km |
| 22/05 | 47 | Stage 3 (ITT) | 15 km |
| 22/05 | 12 | Stage 2 | 181 km |
| 22/05 | 72 | Stage 1 | 194.2 km |
| 18/05 | 130 | Grand Prix Criquielion | 181.4 km |
| 12/05 | 98 | Rund um Köln | 192.6 km |
| 09/05 | 74 | Ronde van Limburg | 206 km |
| 01/05 - 05/05 | | 4 Jours de Dunkerque - Tour du Nord-Pas-de-Calais | |
| | 10 | Youth classification | |
| | 4 | Mountains classification | |
| | 46 | Points classification | |
| | 25 | General classification | |
| 01/05 | 38 | Stage 5 | 165.2 km |
| 01/05 | 37 | Stage 4 | 181.6 km |
| 01/05 | 34 | Stage 3 | 179.1 km |
| 01/05 | 88 | Stage 2 | 178.2 km |
| 01/05 | 26 | Stage 1 | 155.5 km |
| 14/04 | 76 | Tro-Bro Léon | 203.8 km |
| 13/04 | | Tour du Finistère | 185.4 km |
| 11/04 | 29 | GP de Denain Porte du Hainaut | 199 km |
| 03/04 | 84 | Scheldeprijs | 204 km |
| 30/03 | | Volta Limburg Classic | 196 km |
| 26/03 - 28/03 | | Driedaagse De Panne-Koksijde | |
| | 12 | General classification | |
| 26/03 | 55 | Stage 3a | 109.7 km |
| 26/03 | 12 | Stage 3b (ITT) | 14.75 km |
| 26/03 | 74 | Stage 2 | 208.9 km |
| 26/03 | 58 | Stage 1 | 199.8 km |
| 22/03 | | E3 Prijs Vlaanderen - Harelbeke | 211 km |
| 20/03 | 37 | Dwars door Vlaanderen | 199.7 km |
| 15/03 | 75 | Handzame Classic | 196 km |
| 10/03 | 28 | Kattekoers | 174 km |
| 01/03 - 03/03 | | Driedaagse van West-Vlaanderen | |
| 01/03 | | Stage 2 | 181.8 km |
| 01/03 | 10 | Stage 1 | 185.1 km |
| 01/03 | 28 | Prologue | 7 km |
| 17/02 - 20/02 | | Vuelta a Andalucia Ruta Ciclista Del Sol | |
| | 23 | Points classification | |
| | 82 | General classification | |
| 17/02 | 103 | Stage 3 | 182.7 km |
| 17/02 | 10 | Stage 2 | 190.7 km |
| 17/02 | 57 | Stage 1 | 163.9 km |
| 17/02 | 32 | Prologue | 6 km |
2012 - EFC Expo - EXQI (CLUB)
| Date | Result | Race | Distance |
| --- | --- | --- | --- |
| 07/10 | 7 | Paris-Tours Espoirs | 183 km |
| 22/09 | 84 | De Kustpijl | 170.8 km |
| 17/09 | 16 | World Championships MU - ITT | 36 km |
| 12/09 | 48 | Grand Prix de Wallonie | 203.1 km |
| 09/09 | 18 | Chrono Champenois Masculin International | 33.4 km |
| 19/08 | 121 | National Championships Belgium MU - Road Race | 173 km |
| 15/08 | 1 | National Championships Belgium MU - ITT | 27.6 km |
| 12/08 | 25 | European Continental Championships MU - Road Race | 172 km |
| 11/07 | 14 | GP van de stad Geel | 155 km |
| 08/07 | 16 | GP de Pont a Marcq - La Ronde Pévèloise | 189.5 km |
| 27/05 | 2 | Paris-Roubaix Espoirs | 179 km |
| 20/05 | 19 | Grand Prix Criquielion | 179.6 km |
| 14/04 | 39 | ZLM tour | 189.8 km |
| 30/03 - 01/04 | | Le Triptyque des Monts et Châteaux | |
| | 12 | General classification | |
| 30/03 | 43 | Stage 3 | 160 km |
| 30/03 | 8 | Stage 2b | 125 km |
| 30/03 | 13 | Stage 2a (ITT) | 9.3 km |
| 30/03 | 10 | Stage 1 | 170 km |
| 11/03 | 25 | Kattekoers | 178 km |