Quick-Step Alpha Vinyl's 22-year-old Belgian – who returns to racing at the Tour of Norway – looked back on his biggest victory to date and talked about his expectations for this week.
"The last month, since my win in Liège–Bastogne–Liège, has actually been quite relaxing."
"In the week after the race, I took some time off and spent some time with my family and my friends, and did the things that I had to cancel in the months previously, because I was always away racing or training. Then I had two weeks of hard training in Spain, which has brought me here to Norway, where I am about to start racing again. So, it was a really relaxing time after such a big win and maybe it will be the month that I will enjoy most during the season."
"It still feels like it was the perfect day, apart from Julian and Ilan's crash. I was never in trouble and my positioning was good all of the time, and I felt confident in the guys. Pieter and Tim worked really hard to deliver me to the bottom of La Redoute, and then Louis and Mauri brought me to the top."
"The attack was exactly like we planned it to be – an all-out effort in a straight line, and then when I got to the right corner, Klaas said on the radio that I had 15 seconds and I decided to continue. Luckily, I had really strong legs that afternoon and I was able to finish it off in Liège, on one of the most beautiful days on my bike, in my life. I won't have many days in my career that go that well and I had to maximize on feeling that good."
I think winning there has made me feel more relaxed.
"My training and the work I have had to do since then have gone really smoothly, and nothing has felt like an obligation. I think it allows me to approach things in a different way, because I had worked so hard for that win in the months leading up to Liege, even since my first training camp in December and the races since, it was all in function of that win in Liège. The way that I won it is how I wanted to win it, and to be able to show myself in that way, it will help me know that I can just have fun on the bike in the future."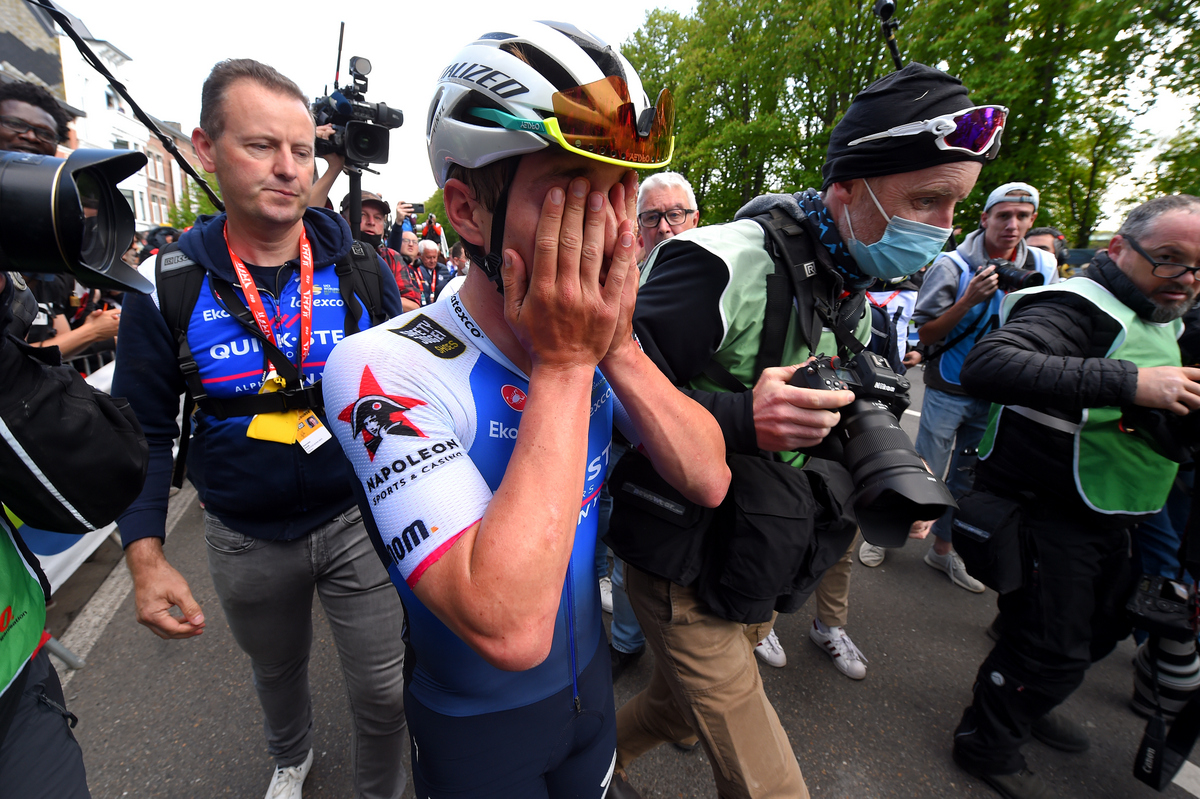 "When I was having dinner with some friends, my family and my girlfriend, it dawned on me that I had won a Monument and that added a different perspective. I had won San Sebastian in the past, which was really special, but this was different – it is a historic race, the oldest Monument in the world, and to be the youngest winner in more than 50 years is special. Still to this day it is difficult to realise. For example, in the last 200 meters it didn't really feel like I was riding over a finish line and it was like I was in a dream, riding on a cloud. And now when I see a friend or I am riding with someone they are saying 'Hey, you know you won Liège!' and then you realise it is something really special."
It is a memory for life, I think.
"I saw the video that the team made. I obviously couldn't see what was going on behind the scenes because I was in the race, but when I arrived at the finish to see Patrick, the other riders, the team staff and my family – everybody had tears in their eyes. I couldn't help but cry myself and all of the emotions came out in that moment. The team had a difficult spring and I hope that this victory can give everyone a boost for the rest of the season. For everybody involved it was a big relief because we are known as a Classics team and even though we still won two, it wasn't the season we had been expecting, and hopefully now we can push on."
"It is really exciting to start racing again in Norway, a country where I also raced three years ago, in my debut season. It is going to be a really difficult parcours and the weather is not good, but that will make it a difficult challenge. I would like to leave here with a good result and some good feelings in my legs, because I have some big challenges coming up. After two weeks of hard training, I think I will be ready and I hope I will be fresh enough to compete every day. With my coaches and the team management we made good training plans for my last two weeks to help me to prepare to compete against the best guys, where I hope I can take a stage win and maybe the GC, but also look to take a sprint with Ethan."
Photo credit: ©Bas Czerwinski / Getty Images