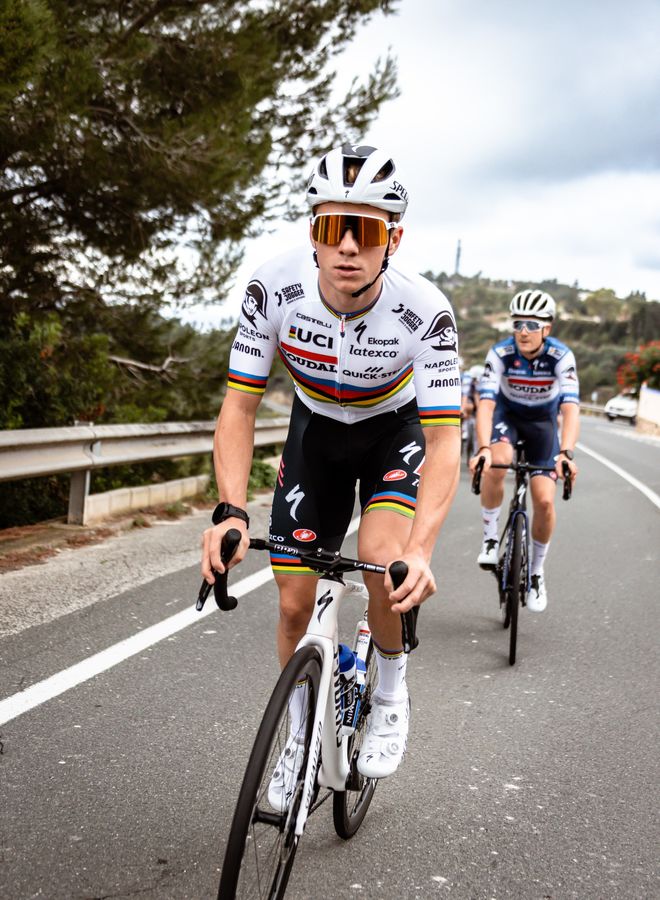 Remco Evenepoel
Birthdate 25/01/2000
Nationality Belgium
Birth place Aalst
Weight 61 kg
Height 171 cm
Pro since 2019
Pro wins 50
Favorite race Grand Tours, Liège–Bastogne–Liège, Strade Bianche
Biography
Where do we start? What a year it's been for the Belgian phenomenon, who rewrote the history books in spectacular fashion, while at all times demonstrating calmness, a clinical mindset, improved racing acumen and a fantastic ability to thrive under pressure.
Liège–Bastogne–Liège, Vuelta a España and the World Championships made of 2022 one of the best seasons a rider has enjoyed this side of the century and confirmed that Remco is a one-in-a-generation talent, a rider capable of dazzling each time he pins on a number. The first Belgian in 44 years to be crowned Grand Tour winner, Evenepoel collected a total of 15 wins and was rewarded for his dream season by receiving some of cycling's most prestigious awards, from the Kristallen Fiets to the Velo d'Or.
"I am really happy and proud to wear this jersey so early in my career. I know it's going to be a special year, with a lot of pressure and a different type of racing with this jersey. But I'm just going to let everything come to me and try to deal with it as relaxed as possible and enjoy this beautiful jersey. That's the best thing I can do, go with the flow", said Remco, who'll have his sights this year on the Giro d'Italia.
Overall stats
3 UCI Ranking

14 # wins

40 # top-10 positions

10312 km Race distance

68 Days of racing
Previous teams
2023 - Soudal - Quick Step (WT)
| Date | Result | Race | Distance |
| --- | --- | --- | --- |
| 15/10 | 2 | Chrono des Nations | 45.43 km |
| 07/10 | 9 | Il Lombardia | 238 km |
| 26/08 - 17/09 | | La Vuelta Ciclista a España | |
| | 5 | Youth classification | |
| | 1 | Mountains classification | |
| | 2 | Points classification | |
| | 12 | General classification | |
| 26/08 | 8 | Stage 21 | 101.5 km |
| 26/08 | 2 | Stage 20 | 207.8 km |
| 26/08 | 76 | Stage 19 | 177.1 km |
| 26/08 | 1 | Stage 18 | 178.9 km |
| 26/08 | 26 | Stage 17 | 124.4 km |
| 26/08 | 148 | Stage 16 | 120.1 km |
| 26/08 | 4 | Stage 15 | 158.3 km |
| 26/08 | 1 | Stage 14 | 156.2 km |
| 26/08 | 60 | Stage 13 | 134.7 km |
| 26/08 | 24 | Stage 12 | 150.6 km |
| 26/08 | 28 | Stage 11 | 163.2 km |
| 26/08 | 2 | Stage 10 (ITT) | 25.8 km |
| 26/08 | 20 | Stage 9 | 184.5 km |
| 26/08 | 2 | Stage 8 | 165 km |
| 26/08 | 51 | Stage 7 | 200.8 km |
| 26/08 | 24 | Stage 6 | 183.1 km |
| 26/08 | 26 | Stage 5 | 186.2 km |
| 26/08 | 12 | Stage 4 | 184.6 km |
| 26/08 | 1 | Stage 3 | 158.5 km |
| 26/08 | 92 | Stage 2 | 181.8 km |
| 26/08 | 4 | Stage 1 (TTT) | 14.8 km |
| 11/08 | 1 | World Championships ME - ITT | 47.8 km |
| 06/08 | 25 | World Championships ME - Road Race | 271.1 km |
| 29/07 | 1 | Donostia San Sebastian Klasikoa | 230.3 km |
| 25/06 | 1 | National Championships Belgium ME - Road Race | 230.7 km |
| 22/06 | 4 | National Championships Belgium ME - ITT | 42 km |
| 11/06 - 18/06 | | Tour de Suisse | |
| | 3 | Youth classification | |
| | 15 | Mountains classification | |
| | 2 | Points classification | |
| | 3 | General classification | |
| 11/06 | 2 | Stage 8 (ITT) | 25.7 km |
| 11/06 | 1 | Stage 7 | 183.5 km |
| 11/06 | 991 | Stage 6 | 140.9 km |
| 11/06 | 10 | Stage 5 | 211 km |
| 11/06 | 2 | Stage 4 | 152.5 km |
| 11/06 | 4 | Stage 3 | 143.8 km |
| 11/06 | 44 | Stage 2 | 173.7 km |
| 11/06 | 2 | Stage 1 (ITT) | 12.7 km |
| 06/05 - 28/05 | | Giro d'Italia | |
| 06/05 | | Stage 10 | 196 km |
| 06/05 | 1 | Stage 9 (ITT) | 35 km |
| 06/05 | 19 | Stage 8 | 207 km |
| 06/05 | 4 | Stage 7 | 218 km |
| 06/05 | 41 | Stage 6 | 162 km |
| 06/05 | 156 | Stage 5 | 171 km |
| 06/05 | 19 | Stage 4 | 175 km |
| 06/05 | 15 | Stage 3 | 213 km |
| 06/05 | 26 | Stage 2 | 202 km |
| 06/05 | 1 | Stage 1 (ITT) | 19.6 km |
| 23/04 | 1 | Liège-Bastogne-Liège | 258.1 km |
| 20/03 - 26/03 | | Volta Ciclista a Catalunya | |
| | 1 | Youth classification | |
| | 1 | Mountains classification | |
| | 2 | Points classification | |
| | 2 | General classification | |
| 20/03 | 1 | Stage 7 | 135.8 km |
| 20/03 | 5 | Stage 6 | 174.1 km |
| 20/03 | 2 | Stage 5 | 176.6 km |
| 20/03 | 26 | Stage 4 | 188.2 km |
| 20/03 | 1 | Stage 3 | 180.6 km |
| 20/03 | 3 | Stage 2 | 165.4 km |
| 20/03 | 2 | Stage 1 | 164.6 km |
| 20/02 - 26/02 | | UAE Tour | |
| | 1 | Youth classification | |
| | 2 | Points classification | |
| | 1 | General classification | |
| 20/02 | 2 | Stage 7 | 153 km |
| 20/02 | 31 | Stage 6 | 166 km |
| 20/02 | 44 | Stage 5 | 170 km |
| 20/02 | 33 | Stage 4 | 174 km |
| 20/02 | 2 | Stage 3 | 185 km |
| 20/02 | 1 | Stage 2 (TTT) | 17.3 km |
| 20/02 | 8 | Stage 1 | 151 km |
| 22/01 - 29/01 | | Vuelta a San Juan Internacional | |
| | 7 | General classification | |
| 22/01 | 46 | Stage 7 | 112 km |
| 22/01 | 44 | Stage 6 | 144.9 km |
| 22/01 | 7 | Stage 5 | 173.7 km |
| 22/01 | 41 | Stage 4 | 196.5 km |
| 22/01 | 38 | Stage 3 | 170.9 km |
| 22/01 | 25 | Stage 2 | 201.1 km |
| 22/01 | 81 | Stage 1 | 143.9 km |
2022 - Quick-Step Alpha Vinyl Team (WT)
| Date | Result | Race | Distance |
| --- | --- | --- | --- |
| 04/10 | 108 | Binche - Chimay - Binche / Mémorial Frank Vandenbroucke | 198.6 km |
| 25/09 | 1 | World Championships ME - Road Race | 266.9 km |
| 18/09 | 3 | World Championships ME - ITT | 34.2 km |
| 19/08 - 11/09 | | La Vuelta ciclista a España | |
| | 1 | Youth classification | |
| | 5 | Mountains classification | |
| | 4 | Points classification | |
| | 1 | General classification | |
| 19/08 | 40 | Stage 21 | 96.7 km |
| 19/08 | 6 | Stage 20 | 181 km |
| 19/08 | 40 | Stage 19 | 138.3 km |
| 19/08 | 1 | Stage 18 | 192 km |
| 19/08 | 14 | Stage 17 | 162.3 km |
| 19/08 | 97 | Stage 16 | 189.4 km |
| 19/08 | 10 | Stage 15 | 152.6 km |
| 19/08 | 8 | Stage 14 | 160.3 km |
| 19/08 | 25 | Stage 13 | 168.4 km |
| 19/08 | 15 | Stage 12 | 192.7 km |
| 19/08 | 76 | Stage 11 | 191.2 km |
| 19/08 | 1 | Stage 10 (ITT) | 30.9 km |
| 19/08 | 4 | Stage 9 | 171.4 km |
| 19/08 | 5 | Stage 8 | 153.4 km |
| 19/08 | 36 | Stage 7 | 190 km |
| 19/08 | 2 | Stage 6 | 181.2 km |
| 19/08 | 72 | Stage 5 | 187.2 km |
| 19/08 | 8 | Stage 4 | 152.5 km |
| 19/08 | 54 | Stage 3 | 193.2 km |
| 19/08 | 14 | Stage 2 | 175.1 km |
| 19/08 | 3 | Stage 1 (TTT) | 23.3 km |
| 30/07 | 1 | Donostia San Sebastian Klasikoa | 224.8 km |
| 26/06 | 37 | National Championships Belgium ME - Road Race | 208.7 km |
| 23/06 | 1 | National Championships Belgium ME - ITT | 34.8 km |
| 12/06 - 19/06 | | Tour de Suisse | |
| | 2 | Youth classification | |
| | 29 | Mountains classification | |
| | 6 | Points classification | |
| | 11 | General classification | |
| 12/06 | 1 | Stage 8 (ITT) | 25.6 km |
| 12/06 | 12 | Stage 7 | 194.6 km |
| 12/06 | 22 | Stage 6 | 177.5 km |
| 12/06 | 28 | Stage 5 | 190.1 km |
| 12/06 | 45 | Stage 4 | 190.8 km |
| 12/06 | 47 | Stage 3 | 176.9 km |
| 12/06 | 51 | Stage 2 | 198 km |
| 12/06 | 15 | Stage 1 | 177.6 km |
| 24/05 - 29/05 | | Tour of Norway | |
| | 1 | Youth classification | |
| | 2 | Mountains classification | |
| | 4 | Points classification | |
| | 1 | General classification | |
| 24/05 | 24 | Stage 6 | 149.3 km |
| 24/05 | 1 | Stage 5 | 181.7 km |
| 24/05 | 30 | Stage 4 | 232.1 km |
| 24/05 | 1 | Stage 3 | 175.8 km |
| 24/05 | 13 | Stage 2 | 123.8 km |
| 24/05 | 1 | Stage 1 | 173.6 km |
| 24/04 | 1 | Liège-Bastogne-Liège | 257.2 km |
| 20/04 | 43 | La Flèche Wallonne | 202.1 km |
| 13/04 | 6 | De Brabantse Pijl - La Flèche Brabançonne | 205.1 km |
| 04/04 - 09/04 | | Itzulia Basque Country | |
| | 1 | Youth classification | |
| | 12 | Mountains classification | |
| | 3 | Points classification | |
| | 4 | General classification | |
| 04/04 | 7 | Stage 6 | 135.7 km |
| 04/04 | 3 | Stage 5 | 163.76 km |
| 04/04 | 34 | Stage 4 | 185.6 km |
| 04/04 | 13 | Stage 3 | 181.7 km |
| 04/04 | 9 | Stage 2 | 207.92 km |
| 04/04 | 2 | Stage 1 (ITT) | 7.51 km |
| 07/03 - 13/03 | | Tirreno-Adriatico | |
| | 3 | Youth classification | |
| | 27 | Mountains classification | |
| | 5 | Points classification | |
| | 11 | General classification | |
| 07/03 | 69 | Stage 7 | 159 km |
| 07/03 | 13 | Stage 6 | 215 km |
| 07/03 | 9 | Stage 5 | 155 km |
| 07/03 | 4 | Stage 4 | 202 km |
| 07/03 | 39 | Stage 3 | 170 km |
| 07/03 | 37 | Stage 2 | 219 km |
| 07/03 | 2 | Stage 1 (ITT) | 13.9 km |
| 16/02 - 20/02 | | Volta ao Algarve em Bicicleta | |
| | 1 | Youth classification | |
| | 17 | Mountains classification | |
| | 8 | Points classification | |
| | 1 | General classification | |
| 16/02 | 5 | Stage 5 | 173 km |
| 16/02 | 1 | Stage 4 (ITT) | 32.2 km |
| 16/02 | 28 | Stage 3 | 211.4 km |
| 16/02 | 6 | Stage 2 | 182.4 km |
| 16/02 | 7 | Stage 1 | 199.1 km |
| 02/02 - 06/02 | | Volta a la Comunitat Valenciana | |
| | 1 | Youth classification | |
| | 4 | Mountains classification | |
| | 5 | Points classification | |
| | 2 | General classification | |
| 02/02 | 45 | Stage 5 | 92 km |
| 02/02 | 52 | Stage 4 | 193.1 km |
| 02/02 | 8 | Stage 3 | 155.1 km |
| 02/02 | 7 | Stage 2 | 171.5 km |
| 02/02 | 1 | Stage 1 | 166.7 km |
2021 - Deceuninck - Quick Step (WT)
| Date | Result | Race | Distance |
| --- | --- | --- | --- |
| 17/10 | 5 | Chrono des Nations | 44.5 km |
| 09/10 | 19 | Il Lombardia | 239 km |
| 04/10 | 1 | Coppa Bernocchi - GP BPM | 197.15 km |
| 02/10 | 5 | Giro dell'Emilia | 195.3 km |
| 26/09 | 62 | World Championships ME - Road Race | 268.3 km |
| 19/09 | 3 | World Championships ME - ITT | 43.3 km |
| 12/09 | 2 | European Continental Championships ME - Road Race | 179.2 km |
| 09/09 | 3 | European Continental Championships ME - ITT | 22.4 km |
| 30/08 - 05/09 | | Benelux Tour | |
| 30/08 | | Stage 5 | 192 km |
| 30/08 | 90 | Stage 4 | 166.1 km |
| 30/08 | 115 | Stage 3 | 168.3 km |
| 30/08 | 18 | Stage 2 (ITT) | 11.1 km |
| 30/08 | 67 | Stage 1 | 169.6 km |
| 28/08 | 1 | Brussels Cycling Classic | 205.3 km |
| 26/08 | 1 | Druivenkoers - Overijse | 192 km |
| 10/08 - 14/08 | | PostNord Danmark Rundt - Tour of Denmark | |
| | 1 | Youth classification | |
| | 2 | Points classification | |
| | 1 | General classification | |
| 10/08 | 1 | Stage 5 (ITT) | 10.8 km |
| 10/08 | 27 | Stage 4 | 188.4 km |
| 10/08 | 1 | Stage 3 | 219.2 km |
| 10/08 | 20 | Stage 2 | 189.6 km |
| 10/08 | 29 | Stage 1 | 175.3 km |
| 28/07 | 9 | Olympic Games - ITT | 44.2 km |
| 24/07 | 49 | Olympic Games Road Race | 234 km |
| 20/06 | 3 | National Championships Belgium ME - Road Race | 221.3 km |
| 16/06 | 2 | National Championships Belgium ME - ITT | 37.6 km |
| 09/06 - 13/06 | | Baloise Belgium Tour | |
| | 3 | Points classification | |
| | 1 | General classification | |
| 09/06 | 20 | Stage 5 | 178.7 km |
| 09/06 | 14 | Stage 4 | 152.7 km |
| 09/06 | 45 | Stage 3 | 174.4 km |
| 09/06 | 1 | Stage 2 (ITT) | 11.2 km |
| 09/06 | 2 | Stage 1 | 175.3 km |
| 06/06 | 113 | Elfstedenronde | 193.1 km |
| 08/05 - 30/05 | | Giro d'Italia | |
| 08/05 | | Stage 18 | 231 km |
| 08/05 | 132 | Stage 17 | 193 km |
| 08/05 | 58 | Stage 16 | 153 km |
| 08/05 | 60 | Stage 15 | 147 km |
| 08/05 | 19 | Stage 14 | 205 km |
| 08/05 | 41 | Stage 13 | 198 km |
| 08/05 | 40 | Stage 12 | 212 km |
| 08/05 | 26 | Stage 11 | 162 km |
| 08/05 | 63 | Stage 10 | 139 km |
| 08/05 | 4 | Stage 9 | 158 km |
| 08/05 | 13 | Stage 8 | 170 km |
| 08/05 | 50 | Stage 7 | 181 km |
| 08/05 | 4 | Stage 6 | 160 km |
| 08/05 | 60 | Stage 5 | 177 km |
| 08/05 | 16 | Stage 4 | 187 km |
| 08/05 | 79 | Stage 3 | 190 km |
| 08/05 | 104 | Stage 2 | 179 km |
| 08/05 | 7 | Stage 1 (ITT) | 8.6 km |
2020 - Deceuninck - Quick Step (WT)
| Date | Result | Race | Distance |
| --- | --- | --- | --- |
| 15/08 | | Il Lombardia | 231 km |
| 05/08 - 09/08 | | Tour de Pologne | |
| | 4 | Mountains classification | |
| | 19 | Points classification | |
| | 1 | General classification | |
| 05/08 | 76 | Stage 5 | 188 km |
| 05/08 | 1 | Stage 4 | 152.9 km |
| 05/08 | 23 | Stage 3 | 203.1 km |
| 05/08 | 85 | Stage 2 | 151.5 km |
| 05/08 | 21 | Stage 1 | 195.8 km |
| 28/07 - 01/08 | | Vuelta a Burgos | |
| | 1 | Youth classification | |
| | 2 | Mountains classification | |
| | 2 | Points classification | |
| | 1 | General classification | |
| 28/07 | 3 | Stage 5 | 158 km |
| 28/07 | 19 | Stage 4 | 163 km |
| 28/07 | 1 | Stage 3 | 150 km |
| 28/07 | 75 | Stage 2 | 168 km |
| 28/07 | 10 | Stage 1 | 157 km |
| 19/02 - 23/02 | | Volta ao Algarve em Bicicleta | |
| | 1 | Youth classification | |
| | 2 | Mountains classification | |
| | 5 | Points classification | |
| | 1 | General classification | |
| 19/02 | 1 | Stage 5 (ITT) | 20.3 km |
| 19/02 | 3 | Stage 4 | 169.7 km |
| 19/02 | 36 | Stage 3 | 201.9 km |
| 19/02 | 1 | Stage 2 | 183.9 km |
| 19/02 | 44 | Stage 1 | 195.6 km |
| 26/01 - 02/02 | | Vuelta a San Juan Internacional | |
| | 1 | Youth classification | |
| | 6 | Mountains classification | |
| | 1 | General classification | |
| 26/01 | 35 | Stage 7 | 141.3 km |
| 26/01 | 28 | Stage 6 | 174.5 km |
| 26/01 | 5 | Stage 5 | 169.5 km |
| 26/01 | 56 | Stage 4 | 185.8 km |
| 26/01 | 1 | Stage 3 (ITT) | 15.5 km |
| 26/01 | 40 | Stage 2 | 164.7 km |
| 26/01 | 76 | Stage 1 | 163.5 km |
2019 - Deceuninck - Quick Step (WT)
| Date | Result | Race | Distance |
| --- | --- | --- | --- |
| 29/09 | | World Championships ME - Road Race | 260.7 km |
| 25/09 | 2 | World Championships ME - ITT | 54 km |
| 15/09 | 53 | Grand Prix Cycliste de Montréal | 219.6 km |
| 13/09 | 99 | Grand Prix Cycliste de Québec | 201.6 km |
| 29/08 - 01/09 | | Deutschland Tour | |
| | 6 | Youth classification | |
| | 3 | Mountains classification | |
| | 8 | Points classification | |
| | 31 | General classification | |
| 29/08 | 29 | Stage 4 | 159.5 km |
| 29/08 | 57 | Stage 3 | 189 km |
| 29/08 | 43 | Stage 2 | 202 km |
| 29/08 | 69 | Stage 1 | 167 km |
| 08/08 | 1 | European Continental Championships ME - ITT | 22.4 km |
| 03/08 | 1 | Clásica Ciclista San Sebastián | 227.3 km |
| 25/07 - 28/07 | | Adriatica Ionica Race / Sulle Rotte della Serenissima | |
| | 3 | Youth classification | |
| | 6 | Mountains classification | |
| | 2 | Points classification | |
| | 8 | General classification | |
| 25/07 | 102 | Stage 4 | 103.5 km |
| 25/07 | 1 | Stage 3 | 204.5 km |
| 25/07 | 9 | Stage 2 | 204.6 km |
| 25/07 | 50 | Stage 1 | 186 km |
| 30/06 | 84 | National Championships Belgium ME - Road Race | 224 km |
| 27/06 | 3 | National Championships Belgium ME - ITT | 38.3 km |
| 12/06 - 16/06 | | Baloise Belgium Tour | |
| | 1 | Points classification | |
| | 1 | General classification | |
| 12/06 | 110 | Stage 5 | 158.5 km |
| 12/06 | 3 | Stage 4 | 151.6 km |
| 12/06 | 4 | Stage 3 (ITT) | 9.2 km |
| 12/06 | 1 | Stage 2 | 179.9 km |
| 12/06 | 104 | Stage 1 | 183.4 km |
| 07/06 - 09/06 | | Hammer Limburg | |
| | 1 | General classification | |
| 07/06 | 4 | Stage 3 | 49.6 km |
| 07/06 | 1 | Stage 2 | 99.3 km |
| 07/06 | 1 | Stage 1 | 69.1 km |
| 28/05 - 02/06 | | Tour of Norway | |
| | 16 | Youth classification | |
| | 5 | Mountains classification | |
| | 44 | Points classification | |
| | 63 | General classification | |
| 28/05 | 76 | Stage 6 | 175.1 km |
| 28/05 | 64 | Stage 5 | 159.7 km |
| 28/05 | 68 | Stage 4 | 224.4 km |
| 28/05 | 59 | Stage 3 | 179.7 km |
| 28/05 | 78 | Stage 2 | 174 km |
| 28/05 | 117 | Stage 1 | 168.2 km |
| 24/05 - 26/05 | | Hammer Stavanger | |
| | 6 | General classification | |
| 24/05 | 6 | Stage 3 | 48.9 km |
| 24/05 | 1 | Stage 2 | 87.3 km |
| 24/05 | 7 | Stage 1 | 85.6 km |
| 30/04 - 05/05 | | Tour de Romandie | |
| | 11 | Youth classification | |
| | 51 | Points classification | |
| | 76 | General classification | |
| 30/04 | 15 | Stage 5 (ITT) | 16.85 km |
| 30/04 | 70 | Stage 4 | 107.6 km |
| 30/04 | 67 | Stage 3 | 160 km |
| 30/04 | 112 | Stage 2 | 174.4 km |
| 30/04 | 80 | Stage 1 | 168.4 km |
| 30/04 | 57 | Prologue | 3.87 km |
| 16/04 - 21/04 | | Presidential Cycling Tour of Turkey | |
| | 6 | Mountains classification | |
| | 24 | Points classification | |
| | 4 | General classification | |
| 16/04 | 37 | Stage 6 | 172.4 km |
| 16/04 | 4 | Stage 5 | 164.1 km |
| 16/04 | 65 | Stage 4 | 194.3 km |
| 16/04 | 44 | Stage 3 | 122.6 km |
| 16/04 | 17 | Stage 2 | 183.3 km |
| 16/04 | 44 | Stage 1 | 156.7 km |
| 22/03 | 46 | Bredene Koksijde Classic | 199.5 km |
| 20/03 | 57 | Danilith Nokere Koerse ME | 195.6 km |
| 24/02 - 02/03 | | UAE Tour | |
| 24/02 | | Stage 4 | 197 km |
| 24/02 | 15 | Stage 3 | 179 km |
| 24/02 | 53 | Stage 2 | 184 km |
| 24/02 | 7 | Stage 1 (TTT) | 16 km |
| 27/01 - 03/02 | | Vuelta a San Juan Internacional | |
| | 1 | Youth classification | |
| | 9 | General classification | |
| 27/01 | 32 | Stage 7 | 141.3 km |
| 27/01 | 34 | Stage 6 | 153.5 km |
| 27/01 | 24 | Stage 5 | 169.5 km |
| 27/01 | 87 | Stage 4 | 185.8 km |
| 27/01 | 3 | Stage 3 (ITT) | 12 km |
| 27/01 | 15 | Stage 2 | 132.5 km |
| 27/01 | 34 | Stage 1 | 159.1 km |
2018 - Acrog-Pauwels-Sauzen-Balen BC (CLUB)
| Date | Result | Race | Distance |
| --- | --- | --- | --- |
| 14/10 | 1 | Chrono des Nations MJ | 26.45 km |
| 27/09 | 1 | World Championships MJ - Road Race | 131.8 km |
| 25/09 | 1 | World Championships MJ - ITT | 27.7 km |
| 30/08 - 02/09 | | Giro della Lunigiana | |
| | 1 | Mountains classification | |
| | 1 | Points classification | |
| | 1 | General classification | |
| 30/08 | 1 | Stage 4 | 100.9 km |
| 30/08 | 3 | Stage 3 | 116.6 km |
| 30/08 | 1 | Stage 2 | 100.2 km |
| 30/08 | 1 | Stage 1a | 71.2 km |
| 30/08 | 2 | Stage 1b (ITT) | 3.5 km |
| 03/08 - 05/08 | | Aubel - Thimister - Stavelot | |
| | 1 | Mountains classification | |
| | 1 | Points classification | |
| | 1 | General classification | |
| 03/08 | 1 | Stage 3 | 98.1 km |
| 03/08 | 2 | Stage 2b | 96.2 km |
| 03/08 | 14 | Stage 2a (TTT) | 9 km |
| 03/08 | 2 | Stage 1 | 90.9 km |
| 15/07 | 1 | European Continental Championships MJ - Road Race | 118.8 km |
| 13/07 | 1 | | 23 km |
| 07/07 - 08/07 | | GP Général Patton | |
| | 1 | Mountains classification | |
| | 1 | Points classification | |
| | 1 | General classification | |
| 07/07 | 1 | Stage 2 | 93.8 km |
| 07/07 | 1 | Stage 1 | 102 km |
| 27/05 | 1 | National Championships Belgium MJ - Road Race | 126 km |
| 19/05 - 20/05 | | Trophée Centre Morbihan | |
| | 4 | Mountains classification | |
| | 1 | Points classification | |
| | 1 | General classification | |
| 19/05 | 40 | Stage 2b | 100.7 km |
| 19/05 | 2 | Stage 2a (ITT) | 7 km |
| 19/05 | 1 | Stage 1 | 123.6 km |
| 03/05 - 06/05 | | Course de la Paix Juniors | |
| | 1 | Mountains classification | |
| | 1 | Points classification | |
| | 1 | General classification | |
| 03/05 | 1 | Stage 4 | 97.5 km |
| 03/05 | 2 | Stage 3 | 96.8 km |
| 03/05 | 114 | Stage 2b | 62.4 km |
| 03/05 | 1 | Stage 2a (ITT) | 11.2 km |
| 03/05 | 5 | Stage 1 | 102.5 km |
| 01/05 | 1 | National Championships Belgium MJ - ITT | 27.4 km |
| 08/04 | | Paris - Roubaix Juniors | 111 km |
| 25/03 | 11 | Gent-Wevelgem/Grote Prijs A. Noyelle-Ieper | 118 km |
| 18/03 | 1 | Guido Reybrouck Classic | 133.4 km |
| 10/03 | | Danilith Nokere Koerse voor Juniores | 122.8 km |
| 25/02 | 1 | Kuurne-Brussel-Kuurne Juniors | 123 km |