Our team is on the verge of celebrating its first Grand Tour win.
Remco Evenepoel is twenty-four hours away from turning what started as a dream into beautiful reality, as he prepares to write history and bring Belgium a Grand Tour victory that the cycling-crazed nation has been waiting for 44 years. A success that comes in just his fourth season as a pro and one that promises to change the life of Quick-Step Alpha Vinyl's 22-year-old, who at this tender age can call himself a Monument and a Grand Tour champion.
"I don't know what's going through my head and body at the moment. The only thing I know is that I am happy. Happy that a dream came true and that I proved what I am capable of. Happy that I am the first to win a Grand Tour for Patrick and happy I did it in this fantastic team", said Remco, who will become the youngest rider in 61 years to triumph at La Vuelta.
Victorious in two stages and with the red jersey on his shoulders for two straight weeks at the start of Saturday's stage 20, Remco knew we had one last hurdle to pass – the mountainous loop in the tricky sierras of Madrid, which this century spelled the end of many riders' GC hopes of glory. His opponents were aware of this, and as soon as the flag was waved, they threw everything at him, putting pressure on the Belgian as they relentlessly attacked on the rolling roads to Puerto de Navacerrada.
Quick-Step Alpha Vinyl weathered those stinging attacks, while Evenepoel remained calm in his team, his form and the two-minute advantage he carried in the general classification. To no surprise, the peloton crumbled on the first climb of the day, but Louis Vervaeke and Ilan Van Wilder remained by Remco's side, before getting reinforcements in the valley, where they were joined by Rémi Cavagna, Dries Devenyns and Fausto Masnada.
Our team controlled things and set a steady tempo that put a brake to all the attacking all the way until Puerto de la Morcuera, the stage's penultimate climb. Evenepoel's rivals unleashed a series of powerful accelerations, making a selection that left only around ten riders there, but the Belgian responded with ease and maturity to these actions before taking over the front, sending a clear message to his opponents.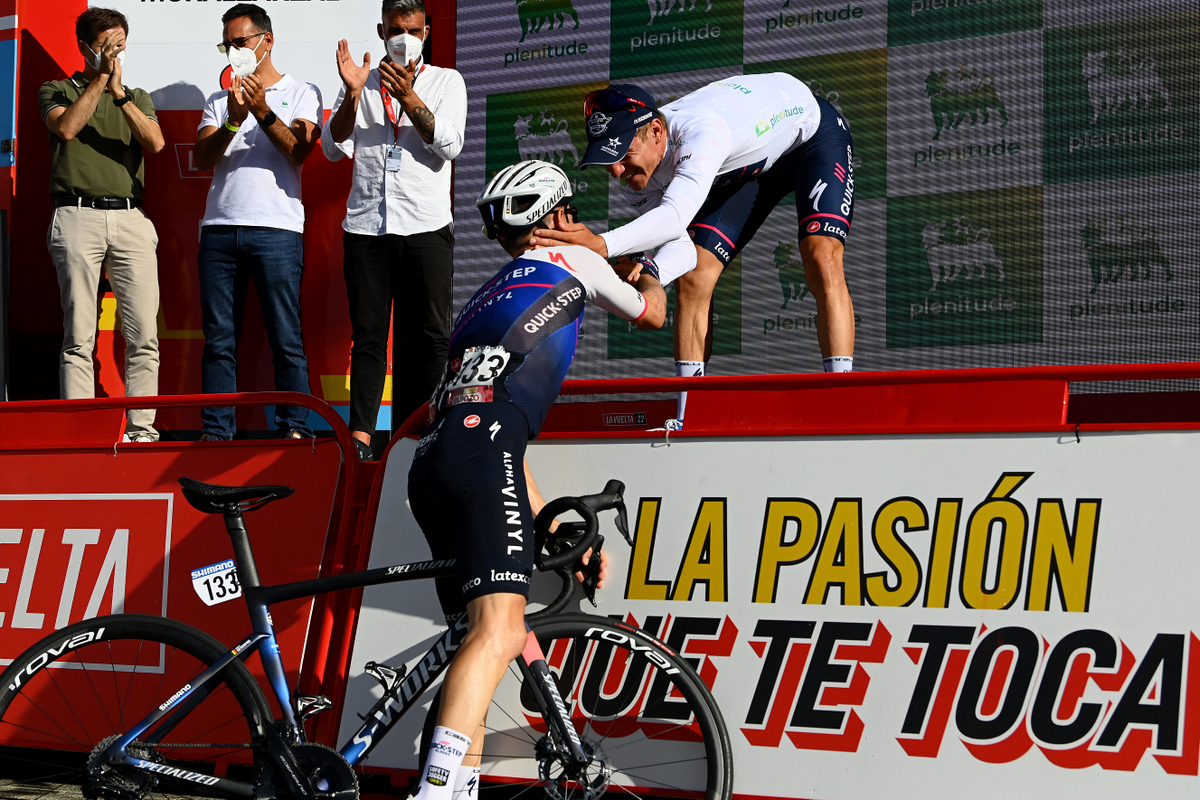 Despite the presence of one more climb on the course, Puerto de Cotos – in truth, a different side of Navacerrada – nothing changed until the finish, where Evenepoel concluded with the other GC contenders before letting emotion overcome him in disbelief and jumping into the mass of outstretched arms – tears flowing down his face – of those waiting for him at the finish.
"I didn't sleep too much last night, and this morning, before the start, I was quite stressed, but during the race I felt better and was relaxed, having confidence in myself and the Wolfpack. I knew that all I had to do was control and follow my opponents, and everything ran smoothly, just as we wanted."
"This is the biggest victory, the biggest moment of my career, and it feels incredible. It's for my parents, my fiancée, my teammates. It's the result of many weeks and months of hard work and sacrifices and always believing in yourself. I love racing in Spain, I have had success here since my first pro season and to win La Vuelta is a dream. It wasn't easy, I had some stiff opposition, but I did it and I can't tell you how much this means for me", concluded Remco, who will now be part of a select group of riders who've won a Monument and a Grand Tour in the same season.
Photo credit: ©Tim De Waele / Getty Images