Deceuninck – Quick-Step took two victories at the Belgian race, both netted by the 24-year-old Dutchman, who returned to winning ways after a long and arduous recovery.
"We can look back at a successful Tour de Wallonie", sports director Geert Van Bondt says. "We took two wins out of five stages. For the GC we maybe had some higher expectations, but also there we can conclude that maybe the parcours didn't suit us 100%. The guys came back after an altitude training camp and then it's always a bit unpredictable how their bodies will respond. But we are really happy with how they raced."
The big goal at this year's Tour de Wallonie was to get Fabio in the mix at the bunch sprints again. "Fabio really wanted to sprint and that's what he did. He did the Tour of Turkey and the Dauphiné, the latter a very hard race. In Wallonie, the primary objective was to do as many sprints as possible with Fabio, and to get his body used to the short hard efforts again. The last stage had a really hectic final, with a lot of turns, roundabouts which cost a lot of effort, but he showed he's ready with his shape."
After claiming two victories, the whole team was extremely proud and emotional. "It's incredible. After such a long recovery, getting back to sprinting and in the first place wanting to sprint again and then taking home two wins gave us all goosebumps. Fabio is a really open, down-to-earth person who knows what he's doing. During his comeback he had multiple operations that made him take some steps back every time. But Fabio just took it day by day, step by step. He always kept calm and he took the right steps at the right time, surrounded by all the people that supported him throughout."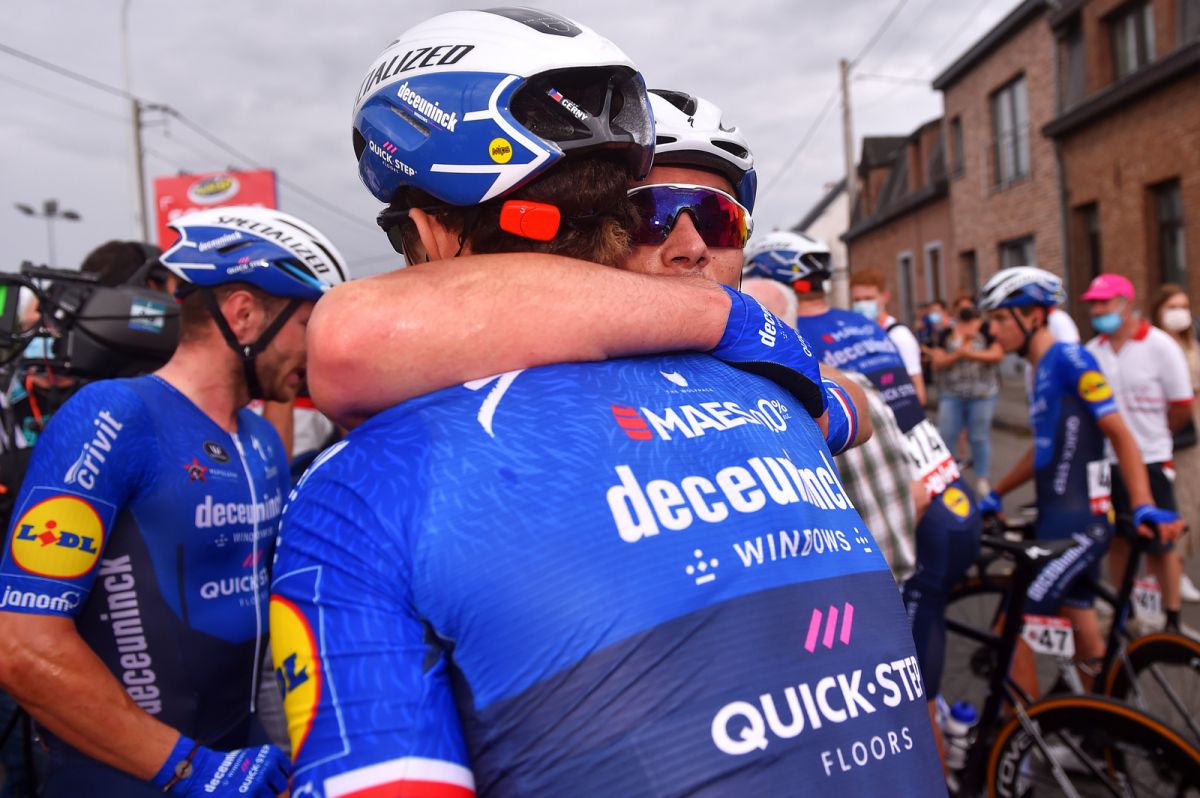 "He adjusted his training to his recovery, so all his wounds could heal. But then of course it's always a big desire to come back and win again. We went for it all together, and seeing Fabio win was really emotional, as those images and what he has been through comes back to your mind. He wanted to return and win, he already knew what he needed to do to reach the top when he came into the team as a neo-pro. His perseverance and tenacity are incredible."
"We tested the lead-out now also with La Vuelta in mind. You can only improve it by racing as much as possible together. The order of the riders is being decided and they can feel what they can do during the race. Mostly during the last five kilometers before the sprint we don't say anything anymore through the radio, or if something really needs to be repeated. The most important is our powerpoint in the morning, where we show the riders all the difficult parts, the corners, the climbs. That can also be repeated when we reach a certain point. But for the lead-out itself everyone already knows where to start and what they need to do. It's something automatic, you can only train it by doing races together", Van Bondt explains.
Fabio will now head to the Vuelta, just his second Grand Tour, with a powerful morale-boost after his outing in Wallonie. "Especially the last win gave him a lot of confidence, showing that he has a good form. There were other good sprinters in the Tour de Wallonie, so it's fantastic he could win twice. In the Vuelta there will be several sprint opportunities, and we all hope Fabio can take a victory."
Photo credit: ©Luc Claessen / Getty Images