The 21-year-old Belgian on his first outing with Soudal Quick-Step – an experience he will never forget.
"When I received the call from Iljo that I could start in the Quatre Jours de Dunkerque it made me live on a cloud a little bit the past week. That feeling alone was a huge motivation to fulfill my role for the team. Seeing the line-up of the riders I knew we would definitely go there to try to win, and to be part of that was just fantastic. The more we got deeper into the week, the more I felt really part of the squad and I didn't just feel like a rider from the Devo Team. It gave me a big boost to know the group was happy with the work I did.
It was my first pro race, so I was definitely stressed. I wondered how hard they really rode, and even if I felt the level was very high I definitely could find my spot in the bunch.
I think it has a lot to do also that I ride in the Soudal Quick-Step jersey, as you immediately get some respect.
The guys gave me so many tips and guided me throughout the stages. In the beginning of the race for example it's very important to control that the right breakaway goes, so I asked a lot of tips about that and the positioning in the bunch, especially in the cobblestones stage, which is important. But also for tips about when you need to be up there in the front and when you need to push a bigger pace.
We came with Tim as the Belgian Champion, so it meant the bunch expected a bit that we control the race and that's what we did. I think we always kept believing in it, even if we didn't always got rewarded for the work but in the end we still got the stage win, and that made us all very happy."
Rooming up with Kasper Asgreen
"It was very special when I walked into my room last week and saw I was rooming up with Kasper. It's a feeling of luck and stress at the same time, as I didn't really know anyone. But everyone was super friendly and guided me like it has to be for a young rider. Same goes for Kasper, every day we spoke more and more, and he gave me a lot of useful tips and info. I think after one week we already know a bit more about each other.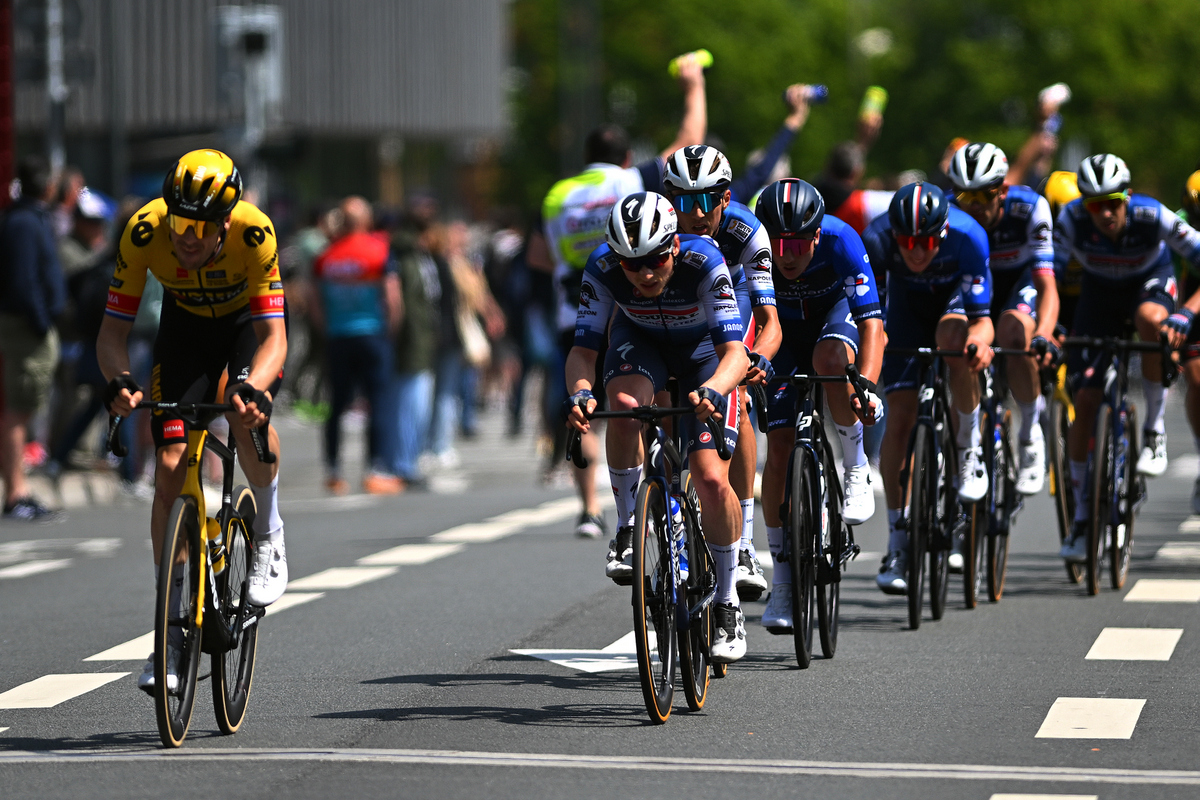 Also Johan Molly was there as soigneur, who I know already as he is a liaison between the World Tour Team and Devo Team. He guides and protects us, he is really important. Sometimes you don't need many words, but he gives a lot of small tips and instructions to learn from but also words that make you feel appreciated.
On Friday I got the opportunity to go with Kasper and Ethan on the podium for the most combative team award. It was a fantastic experience.
I knew they appreciate the work I did the days before, and it was a moment I will never forget. But what I will definitely take with me towards the future is that even here the pros are just guys who love to ride their bike. At the table they speak about cycling just like how I speak about it with my friends. They have a special talent and could make their passion their job, and being in this team you feel it's super special for them to ride in this jersey. That I could experience it this week is just unforgettable."
Next goals
"Now I go on an altitude camp and then I will start in the U23 Giro d'Italia, one of the hardest and most prestigious races on the calendar. For the opening time trial we have Jonathan Vervenne, and then I will need to help William Junior Lecerf for the general classification.
Maybe I will also have the opportunity to go for my own chances in one of the stages, so I'm really looking forward to this!"
Photo credit: ©Luc Claessen / Getty Images