In his first blog of 2018, the Frenchman relives his big day in the Ardennes and explains what that victory meant for him.
Euphoria! A feeling of everything coming together, everything you have worked for, dedicated yourself to and dreamed about, on that moment when you cross the line. Or, in my case, last Wednesday, when I won Flèche Wallonne, I didn't actually realize all of this until a few metres after the finish line. I thought I was second, I thought Nibali was in front of me and had won the race, which is why I didn't celebrate when I crossed the line.
I was just completely empty after giving everything on the Mur de Huy in my attempt to hold off Valverde to take what I thought would be my third second place in Flèche. It was only when I saw my cousin and trainer Frank, who was waiting further up the road, clapping and shouting I had won, that I understood, I had realized my dream, my goal had come true, I had won Flèche Wallonne dethroning the king of Mur de Huy, Alejando Valverde, a five-time winner of the race.
In a split second all my pain was gone and instead replaced by an extreme happiness that almost lifted me from the ground. I couldn't believe it. In the end, it was my day!
Winning with a team
I knew already from the morning I had good legs so the plan was to keep calm, stay protected and wait for the right moment. I was able to do this and let my legs do the talking but I couldn't have done it without a very strong team around me, who helped me throughout the whole day, keeping me out of the wind, in the right place, setting the tempo and so on. I cannot underscore enough the difference it makes having a strong team around you, who trusts in you.
It is an incredibly emotional feeling seeing your teammates after such a victory, because they play a big part in what you achieve. The same goes for all the staff. Without the staff – the mechanics, bus drivers, soigneurs, doctors, in fact everybody around us riders – the team wouldn't be the team. You can really feel the passion of all the people working in the team. When we win they celebrate like we riders do. Cycling runs through the veins here.
Winning a race close to my heart
I discovered the Ardennes races with Quick-Step Floors. Especially Flèche Wallonne and Liège-Bastogne-Liège are races close to my heart, since my first participations. I took second two times in Flèche – in 2015 and 2016 – and was also runner-up in Liège in 2015, all three times beaten by Valverde, so to be able to make it to the top this year, ahead of my biggest rival, whom I have an immense respect for, made it even more special, a day I will never forget.
Finally, I was able to turn the frustration around and confirm what I knew I was capable of, namely winning a big cycling race. Winning a big classic changes your mind a bit. I knew I could do it but I needed the final confirmation that I have longed for, from being a favourite and podium winner to a race winner. It is a big confirmation, however, I still have a lot to learn and know I can make fewer mistakes during races.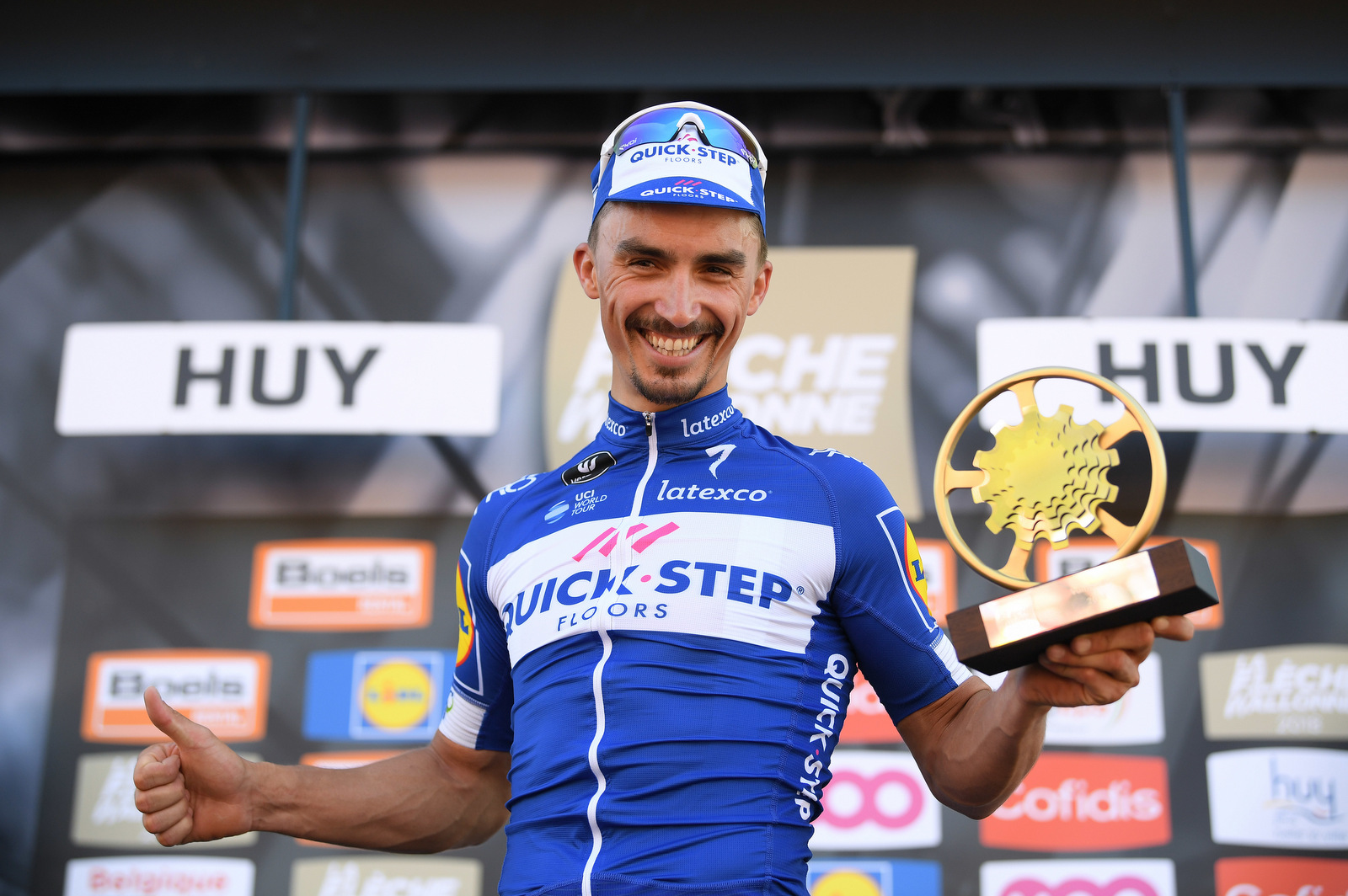 Liège-Bastogne-Liège was a different race but the happiness was not less from what I experienced at Flèche. My legs never felt better, it was one of those days where you have the famous diamond legs. However, it was not me who took home the glory but my teammate, friend and roommate during the whole Ardennes week, Bob Jungels, who attacked from afar and nabbed a beautiful solo victory. I was so happy for him, for us and the team. This has been the best week of racing in my still young career!
Despite the fact that I and the team have enjoyed so much success, nothing has changed in terms of motivation and how we see ourselves. We are not above anybody else, we have to keep training and fighting to achieve our next goals, which we have already set. Now I will enjoy a few days of rest before the preparation starts for my next big goal of the year, the Tour de France.
Photo credit: ©Tim De Waele/ Getty Images