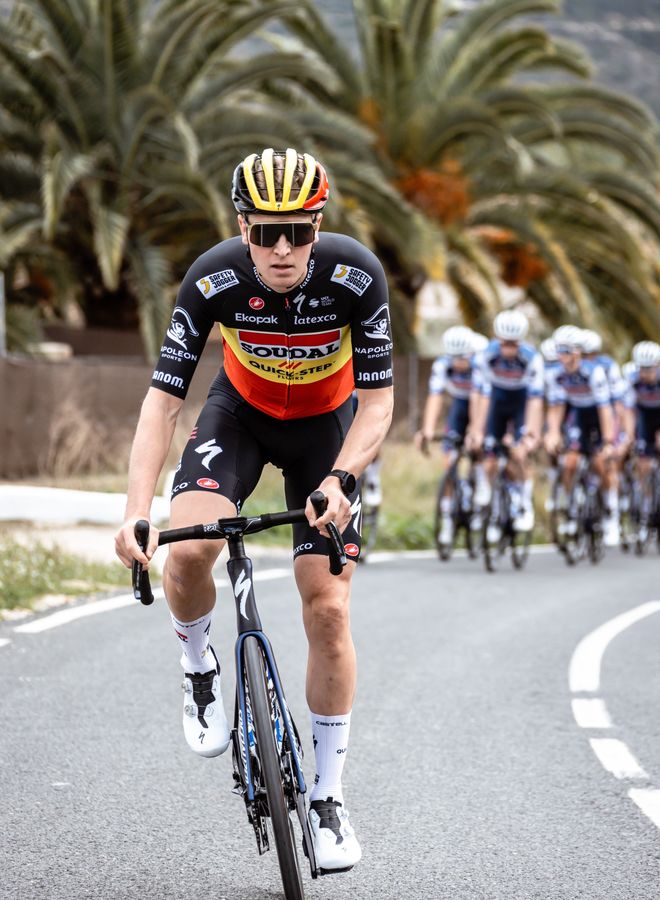 Tim Merlier
Birthdate 30/10/1992
Nationality Belgium
Birth place Wortegem-Petegem
Weight 80 kg
Height 185 cm
Pro since 2019
Pro wins 36
Biography
Hailing from Wortegem-Petegem, 30-year-old Tim Merlier – who inked an agreement with the team which runs until the end of 2025 – started out in cyclo-cross, earning a national title in the Juniors, before eventually transitioning to road cycling. There he has taken some significant victories as a sprinter, including stages at the Giro d'Italia and the Tour de France, Brussels Cycling Classic and Classic Brugge-De Panne.
Last June, Tim also became Belgian National Champion for the second time in his career, meaning that the Wolfpack will have both Belgian Champions (road and time trial) in its ranks this season.
"It's a great opportunity for me to be part of this team and discover the Wolfpack spirit. A look through the history of the squad shows that they have a tradition of working with sprinters, so I am very happy to be joining them. As a Belgian it is a big thing to be riding for Soudal Quick-Step, and when I was young, I went three or four times to the annual press conference and team unveiling in Kortrijk, so it is a bit of a dream come true, and I am keen on making the most out of this opportunity", said team ahead of 2023.
Overall stats
54 UCI Ranking

12 # wins

25 # top-10 positions

10450 km Race distance

65 Days of racing
Previous teams
2023 - Soudal - Quick Step (WT)
| Date | Result | Race | Distance |
| --- | --- | --- | --- |
| 20/09 | 8 | Omloop van het Houtland | 195.2 km |
| 13/09 - 17/09 | | Okolo Slovenska / Tour de Slovaquie | |
| | 1 | Points classification | |
| | 15 | General classification | |
| 13/09 | 3 | Stage 5 | 183.5 km |
| 13/09 | 1 | Stage 4 | 149 km |
| 13/09 | 39 | Stage 3 | 171.6 km |
| 13/09 | 1 | Stage 2 | 143.9 km |
| 13/09 | 40 | Stage 1 | 172.7 km |
| 10/09 | 1 | GP de Fourmies / La Voix du Nord | 197.6 km |
| 23/08 - 27/08 | | Renewi Tour | |
| | 6 | Points classification | |
| | 64 | General classification | |
| 23/08 | 28 | Stage 5 | 187.3 km |
| 23/08 | 4 | Stage 4 | 179.4 km |
| 23/08 | 88 | Stage 3 | 171.2 km |
| 23/08 | 99 | Stage 2 (ITT) | 13.6 km |
| 23/08 | 2 | Stage 1 | 182.9 km |
| 20/08 | 95 | BEMER Cyclassics | 205.6 km |
| 29/07 - 04/08 | | Tour de Pologne | |
| | 5 | Points classification | |
| | 112 | General classification | |
| 29/07 | 1 | Stage 7 | 166.6 km |
| 29/07 | 57 | Stage 6 (ITT) | 16.6 km |
| 29/07 | 127 | Stage 5 | 198.8 km |
| 29/07 | 7 | Stage 4 | 199.1 km |
| 29/07 | 137 | Stage 3 | 162.3 km |
| 29/07 | 111 | Stage 2 | 202.9 km |
| 29/07 | 1 | Stage 1 | 183.7 km |
| 25/06 | 17 | National Championships Belgium ME - Road Race | 230.7 km |
| 11/06 - 18/06 | | Tour de Suisse | |
| | 102 | General classification | |
| 11/06 | 101 | Stage 8 (ITT) | 25.7 km |
| 11/06 | 49 | Stage 7 | 183.5 km |
| 11/06 | 991 | Stage 6 | 140.9 km |
| 11/06 | 124 | Stage 5 | 211 km |
| 11/06 | 136 | Stage 4 | 152.5 km |
| 11/06 | 157 | Stage 3 | 143.8 km |
| 11/06 | 36 | Stage 2 | 173.7 km |
| 11/06 | 111 | Stage 1 (ITT) | 12.7 km |
| 04/06 | 61 | Brussels Cycling Classic | 207.1 km |
| 03/06 | 128 | Heylen Vastgoed Heistse Pijl | 198.7 km |
| 29/05 | 4 | Ronde van Limburg | 203.9 km |
| 27/05 | 2 | Van Merksteijn Fences Classic | 199.4 km |
| 16/05 - 21/05 | | 4 Jours de Dunkerque / Grand Prix des Hauts de France | |
| | 4 | Points classification | |
| | 35 | General classification | |
| 16/05 | 1 | Stage 6 | 173.7 km |
| 16/05 | 55 | Stage 5 | 187.7 km |
| 16/05 | 8 | Stage 4 | 173.8 km |
| 16/05 | 51 | Stage 3 (ITT) | 15.9 km |
| 16/05 | 34 | Stage 2 | 162 km |
| 16/05 | 4 | Stage 1 | 196.6 km |
| 09/04 | 23 | Paris-Roubaix | 256.6 km |
| 02/04 | 43 | Ronde van Vlaanderen - Tour des Flandres | 273.4 km |
| 29/03 | | Dwars door Vlaanderen - A travers la Flandre ME | 183.7 km |
| 26/03 | 14 | Gent-Wevelgem in Flanders Fields ME | 260.9 km |
| 17/03 | 22 | Bredene Koksijde Classic | 191.6 km |
| 15/03 | 1 | Danilith Nokere Koerse | 193.6 km |
| 05/03 - 12/03 | | Paris - Nice | |
| 05/03 | | Stage 8 | 117.2 km |
| 05/03 | 121 | Stage 7 | 142.9 km |
| 05/03 | 3 | Stage 5 | 212.4 km |
| 05/03 | 130 | Stage 4 | 164.7 km |
| 05/03 | 7 | Stage 3 (TTT) | 32.2 km |
| 05/03 | 14 | Stage 2 | 163.7 km |
| 05/03 | 1 | Stage 1 | 169.4 km |
| 20/02 - 26/02 | | UAE Tour | |
| | 1 | Points classification | |
| | 96 | General classification | |
| 20/02 | 113 | Stage 7 | 153 km |
| 20/02 | 1 | Stage 6 | 166 km |
| 20/02 | 5 | Stage 5 | 170 km |
| 20/02 | 9 | Stage 4 | 174 km |
| 20/02 | 96 | Stage 3 | 185 km |
| 20/02 | 1 | Stage 2 (TTT) | 17.3 km |
| 20/02 | 1 | Stage 1 | 151 km |
| 11/02 - 15/02 | | Tour of Oman | |
| | 8 | Points classification | |
| | 72 | General classification | |
| 11/02 | 91 | Stage 5 | 152.2 km |
| 11/02 | 70 | Stage 4 | 204.9 km |
| 11/02 | 83 | Stage 3 | 151.8 km |
| 11/02 | 96 | Stage 2 | 174 km |
| 11/02 | 1 | Stage 1 | 147.4 km |
| 10/02 | 84 | Muscat Classic | 173.7 km |
2022 - Alpecin-Deceuninck (PRT)
| Date | Result | Race | Distance |
| --- | --- | --- | --- |
| 09/10 | 1 | Memorial Rik Van Steenbergen / Kempen Classic | 174.7 km |
| 04/10 | 57 | Binche - Chimay - Binche / Mémorial Frank Vandenbroucke | 198.6 km |
| 02/10 | 7 | Famenne Ardenne Classic | 188 km |
| 18/09 | 18 | Grand Prix d'Isbergues - Pas de Calais | 197.6 km |
| 16/09 | 6 | Kampioenschap van Vlaanderen | 195.3 km |
| 19/08 - 11/09 | | La Vuelta ciclista a España | |
| | 20 | Points classification | |
| | 132 | General classification | |
| 19/08 | 119 | Stage 21 | 96.7 km |
| 19/08 | 114 | Stage 20 | 181 km |
| 19/08 | 133 | Stage 19 | 138.3 km |
| 19/08 | 116 | Stage 18 | 192 km |
| 19/08 | 125 | Stage 17 | 162.3 km |
| 19/08 | 43 | Stage 16 | 189.4 km |
| 19/08 | 130 | Stage 15 | 152.6 km |
| 19/08 | 109 | Stage 14 | 160.3 km |
| 19/08 | 62 | Stage 13 | 168.4 km |
| 19/08 | 125 | Stage 12 | 192.7 km |
| 19/08 | 3 | Stage 11 | 191.2 km |
| 19/08 | 148 | Stage 10 (ITT) | 30.9 km |
| 19/08 | 153 | Stage 9 | 171.4 km |
| 19/08 | 154 | Stage 8 | 153.4 km |
| 19/08 | 171 | Stage 7 | 190 km |
| 19/08 | 155 | Stage 6 | 181.2 km |
| 19/08 | 140 | Stage 5 | 187.2 km |
| 19/08 | 167 | Stage 4 | 152.5 km |
| 19/08 | 6 | Stage 3 | 193.2 km |
| 19/08 | 3 | Stage 2 | 175.1 km |
| 19/08 | 15 | Stage 1 (TTT) | 23.3 km |
| 14/08 | 3 | European Continental Championships ME - Road Race | 207.9 km |
| 23/07 - 27/07 | | Ethias-Tour de Wallonie | |
| | 104 | General classification | |
| 23/07 | 104 | Stage 5 | 214.8 km |
| 23/07 | 127 | Stage 4 | 200.8 km |
| 23/07 | 118 | Stage 3 | 195.6 km |
| 23/07 | 126 | Stage 2 | 176.8 km |
| 23/07 | 135 | Stage 1 | 174.4 km |
| 26/06 | 1 | National Championships Belgium ME - Road Race | 208.7 km |
| 15/06 - 19/06 | | Tour of Slovenia | |
| | 89 | General classification | |
| 15/06 | 87 | Stage 5 | 155.7 km |
| 15/06 | 116 | Stage 4 | 152.4 km |
| 15/06 | 96 | Stage 3 | 144.6 km |
| 15/06 | 73 | Stage 2 | 174.2 km |
| 15/06 | 131 | Stage 1 | 164.7 km |
| 12/06 | 3 | Elfstedenronde Brugge | 192.3 km |
| 11/06 | 51 | Dwars door het Hageland | 177 km |
| 06/06 | 10 | Ronde van Limburg | 202.6 km |
| 05/06 | 23 | Brussels Cycling Classic | 203.9 km |
| 17/04 | 40 | Paris-Roubaix | 257.2 km |
| 06/04 | 9 | Scheldeprijs | 198.7 km |
| 27/03 | 6 | Gent-Wevelgem in Flanders Fields ME | 248.8 km |
| 23/03 | 1 | Minerva Classic Brugge-De Panne | 207.9 km |
| 18/03 | 3 | Bredene Koksijde Classic | 200.9 km |
| 16/03 | 1 | Danilith Nokere Koerse | 189.8 km |
| 07/03 - 13/03 | | Tirreno-Adriatico | |
| | 6 | Points classification | |
| | 114 | General classification | |
| 07/03 | 11 | Stage 7 | 159 km |
| 07/03 | 124 | Stage 6 | 215 km |
| 07/03 | 139 | Stage 5 | 155 km |
| 07/03 | 142 | Stage 4 | 202 km |
| 07/03 | 5 | Stage 3 | 170 km |
| 07/03 | 1 | Stage 2 | 219 km |
| 07/03 | 107 | Stage 1 (ITT) | 13.9 km |
| 01/03 | 65 | Le Samyn | 209 km |
| 27/02 | 12 | Kuurne - Bruxelles - Kuurne | 195.1 km |
| 16/02 - 20/02 | | Volta ao Algarve em Bicicleta | |
| | 6 | Points classification | |
| | 114 | General classification | |
| 16/02 | 115 | Stage 5 | 173 km |
| 16/02 | 115 | Stage 4 (ITT) | 32.2 km |
| 16/02 | 2 | Stage 3 | 211.4 km |
| 16/02 | 128 | Stage 2 | 182.4 km |
| 16/02 | 15 | Stage 1 | 199.1 km |
2021 - Alpecin-Fenix (PRT)
| Date | Result | Race | Distance |
| --- | --- | --- | --- |
| 07/10 | 109 | Paris - Bourges | 198 km |
| 03/10 | 48 | Paris-Roubaix | 257.7 km |
| 23/09 | | Omloop van het Houtland | 190 km |
| 19/09 | 2 | Grand Prix d'Isbergues - Pas de Calais | 199.3 km |
| 18/09 | 69 | Primus Classic | 197.7 km |
| 12/09 | 3 | Antwerp Port Epic / Sels Trophy | 183.4 km |
| 30/08 - 05/09 | | Benelux Tour | |
| | 3 | Points classification | |
| | 60 | General classification | |
| 30/08 | 85 | Stage 7 | 177.9 km |
| 30/08 | 98 | Stage 6 | 207.6 km |
| 30/08 | 6 | Stage 5 | 192 km |
| 30/08 | 1 | Stage 4 | 166.1 km |
| 30/08 | 22 | Stage 3 | 168.3 km |
| 30/08 | 53 | Stage 2 (ITT) | 11.1 km |
| 30/08 | 1 | Stage 1 | 169.6 km |
| 28/08 | 7 | Brussels Cycling Classic | 205.3 km |
| 20/08 | 2 | Grote Prijs Marcel Kint | 196.3 km |
| 15/08 | 7 | Grote Prijs Jef Scherens - Rondom Leuven | 190 km |
| 26/06 - 18/07 | | Tour de France | |
| 26/06 | | Stage 9 | 144.9 km |
| 26/06 | 146 | Stage 8 | 150.8 km |
| 26/06 | 136 | Stage 7 | 249.1 km |
| 26/06 | 7 | Stage 6 | 160.4 km |
| 26/06 | 167 | Stage 5 (ITT) | 27.2 km |
| 26/06 | 35 | Stage 4 | 150.4 km |
| 26/06 | 1 | Stage 3 | 182.9 km |
| 26/06 | 154 | Stage 2 | 183.5 km |
| 26/06 | 152 | Stage 1 | 197.8 km |
| 20/06 | 6 | National Championships Belgium ME - Road Race | 221.3 km |
| 09/06 - 13/06 | | Baloise Belgium Tour | |
| | 10 | Points classification | |
| | 43 | General classification | |
| 09/06 | 2 | Stage 5 | 178.7 km |
| 09/06 | 62 | Stage 4 | 152.7 km |
| 09/06 | 53 | Stage 3 | 174.4 km |
| 09/06 | 81 | Stage 2 (ITT) | 11.2 km |
| 09/06 | 69 | Stage 1 | 175.3 km |
| 06/06 | 1 | Elfstedenronde | 193.1 km |
| 05/06 | 9 | Dwars door het Hageland | 177 km |
| 08/05 - 30/05 | | Giro d'Italia | |
| 24/05 | 1 | Ronde van Limburg | 199.8 km |
| 08/05 | | Stage 11 | 162 km |
| 08/05 | 131 | Stage 10 | 139 km |
| 08/05 | 162 | Stage 9 | 158 km |
| 08/05 | 175 | Stage 8 | 170 km |
| 08/05 | 3 | Stage 7 | 181 km |
| 08/05 | 165 | Stage 6 | 160 km |
| 08/05 | 12 | Stage 5 | 177 km |
| 08/05 | 162 | Stage 4 | 187 km |
| 08/05 | 165 | Stage 3 | 190 km |
| 08/05 | 1 | Stage 2 | 179 km |
| 08/05 | 112 | Stage 1 (ITT) | 8.6 km |
| 07/04 | 68 | Scheldeprijs ME | 193.8 km |
| 31/03 | 3 | Dwars door Vlaanderen - A travers la Flandre ME | 184.1 km |
| 28/03 | 34 | Gent-Wevelgem in Flanders Fields ME | 250 km |
| 19/03 | 1 | Bredene Koksijde Classic | 199.9 km |
| 10/03 - 16/03 | | Tirreno-Adriatico | |
| | 16 | Points classification | |
| | 115 | General classification | |
| 10/03 | 115 | Stage 7 (ITT) | 10.1 km |
| 10/03 | 7 | Stage 6 | 169 km |
| 10/03 | 87 | Stage 5 | 205 km |
| 10/03 | 151 | Stage 4 | 148 km |
| 10/03 | 126 | Stage 3 | 219 km |
| 10/03 | 122 | Stage 2 | 202 km |
| 10/03 | 6 | Stage 1 | 156 km |
| 07/03 | 1 | Grote Prijs Jean-Pierre Monseré | 202.1 km |
| 02/03 | 1 | Le Samyn | 205.4 km |
| 28/02 | 38 | Kuurne - Bruxelles - Kuurne | 197 km |
| 03/02 - 07/02 | | Etoile de Bessèges - Tour du Gard | |
| | 30 | Points classification | |
| | 102 | General classification | |
| 03/02 | 119 | Stage 5 (ITT) | 10.74 km |
| 03/02 | 68 | Stage 4 | 152 km |
| 03/02 | 103 | Stage 3 | 156.9 km |
| 03/02 | 13 | Stage 2 | 153.8 km |
| 03/02 | 11 | Stage 1 | 143.6 km |
2020 - Alpecin-Fenix (PRT)
| Date | Result | Race | Distance |
| --- | --- | --- | --- |
| 21/10 | 3 | AG Driedaagse Brugge-De Panne ME | 188.6 km |
| 14/10 | 4 | Scheldeprijs | 173.3 km |
| 11/10 | 27 | Gent-Wevelgem in Flanders Fields ME | 232.5 km |
| 29/09 - 03/10 | | BinckBank Tour | |
| | 5 | Points classification | |
| | 27 | General classification | |
| 29/09 | 51 | Stage 5 | 183.6 km |
| 29/09 | 55 | Stage 4 (ITT) | 8.14 km |
| 29/09 | 5 | Stage 3 | 157 km |
| 29/09 | 10 | Stage 1 | 132.1 km |
| 22/09 | 19 | National Championships Belgium ME - Road Race | 235.8 km |
| 20/09 | 11 | Gooikse Pijl | 200.7 km |
| 07/09 - 14/09 | | Tirreno-Adriatico | |
| | 9 | Points classification | |
| | 147 | General classification | |
| 07/09 | 122 | Stage 8 (ITT) | 10.1 km |
| 07/09 | 153 | Stage 7 | 181 km |
| 07/09 | 1 | Stage 6 | 171 km |
| 07/09 | 153 | Stage 5 | 202 km |
| 07/09 | 139 | Stage 4 | 194 km |
| 07/09 | 165 | Stage 3 | 217 km |
| 07/09 | 5 | Stage 2 | 201 km |
| 07/09 | 164 | Stage 1 | 133 km |
| 30/08 | 1 | Brussels Cycling Classic | 204 km |
| 16/08 - 19/08 | | Tour de Wallonie | |
| | 7 | Points classification | |
| | 91 | General classification | |
| 16/08 | 96 | Stage 4 | 198.1 km |
| 16/08 | 110 | Stage 3 | 192 km |
| 16/08 | 101 | Stage 2 | 172.3 km |
| 16/08 | 3 | Stage 1 | 185.8 km |
| 15/08 | 5 | Dwars door het Hageland | 180 km |
| 06/08 - 09/08 | | Czech Tour | |
| 06/08 | | Stage 4 | 179.2 km |
| 06/08 | 86 | Stage 3 | 209.8 km |
| 06/08 | 2 | Stage 2 | 193.4 km |
| 06/08 | 7 | Stage 1 (TTT) | 18.6 km |
| 03/03 | 13 | Le Samyn | 201.9 km |
| 01/03 | 25 | Kuurne-Bruxelles-Kuurne | 201 km |
| 20/02 - 23/02 | | Tour of Antalya | |
| | 5 | Points classification | |
| | 79 | General classification | |
| 20/02 | 1 | Stage 4 | 136.8 km |
| 20/02 | 85 | Stage 3 | 101.6 km |
| 20/02 | 68 | Stage 2 | 165.3 km |
| 20/02 | 13 | Stage 1 | 149.2 km |
2019 - Pauwels sauzen - Vastgoedservice Continental Team (CT)
| Date | Result | Race | Distance |
| --- | --- | --- | --- |
| 13/10 | 5 | Memorial Rik Van Steenbergen / Kempen Classic | 199.81 km |
| 08/10 | 20 | Binche - Chimay - Binche / Mémorial Frank Vandenbroucke | 198.6 km |
| 05/10 | 48 | Tour de l'Eurométropole | 176.7 km |
| 03/10 | 3 | Sparkassen Münsterland Giro | 193.3 km |
| 29/09 | 7 | Paris-Chauny | 203.7 km |
| 25/09 | 26 | Omloop van het Houtland | 186.3 km |
| 20/09 | 19 | Kampioenschap van Vlaanderen | 186 km |
| 08/09 | 2 | Antwerp Port Epic / Sels Trophy | 187 km |
| 07/09 | 33 | Brussels Cycling Classic | 190.5 km |
| 31/08 | 6 | Omloop Mandel-Leie-Schelde Meulebeke | 189 km |
| 21/08 - 25/08 | | PostNord Danmark Rundt - Tour of Denmark | |
| | 8 | Points classification | |
| | 54 | General classification | |
| 21/08 | 1 | Stage 5 | 165.6 km |
| 21/08 | 73 | Stage 4 | 175.2 km |
| 21/08 | 63 | Stage 3 | 199.7 km |
| 21/08 | 52 | Stage 2 (ITT) | 17 km |
| 21/08 | 8 | Stage 1 | 169.7 km |
| 11/08 | | European Continental Championships ME - Road Race | 172.6 km |
| 31/07 - 04/08 | | Tour Alsace | |
| | 1 | Points classification | |
| | 114 | General classification | |
| 31/07 | 1 | Stage 4 | 143 km |
| 31/07 | 130 | Stage 3 | 161.3 km |
| 31/07 | 139 | Stage 2 | 141.1 km |
| 31/07 | 1 | Stage 1 | 153.4 km |
| 31/07 | 1 | Prologue | 4.3 km |
| 25/07 | 34 | Grand Prix Cerami | 164.7 km |
| 30/06 | 1 | National Championships Belgium ME - Road Race | 224 km |
| 26/06 | 67 | Halle Ingooigem | 200.9 km |
| 23/06 | 1 | Elfstedenronde | 196.8 km |
| 21/06 | 6 | Dwars door het Hageland | 203.8 km |
| 12/06 - 16/06 | | Baloise Belgium Tour | |
| | 3 | Points classification | |
| | 60 | General classification | |
| 12/06 | 31 | Stage 5 | 158.5 km |
| 12/06 | 91 | Stage 4 | 151.6 km |
| 12/06 | 99 | Stage 3 (ITT) | 9.2 km |
| 12/06 | 3 | Stage 2 | 179.9 km |
| 12/06 | 2 | Stage 1 | 183.4 km |
2018 - Vérandas Willems-Crelan (PCT)
| Date | Result | Race | Distance |
| --- | --- | --- | --- |
| 02/09 | 16 | Antwerp Port Epic | 206.6 km |
| 01/08 - 05/08 | | PostNord Danmark Rundt - Tour of Denmark | |
| | 1 | Points classification | |
| | 45 | General classification | |
| 01/08 | 1 | Stage 5 | 199.1 km |
| 01/08 | 95 | Stage 4 (ITT) | 19.1 km |
| 01/08 | 1 | Stage 3 | 178.4 km |
| 01/08 | 57 | Stage 2 | 174.2 km |
| 01/08 | 4 | Stage 1 | 218.4 km |
| 24/06 | 76 | National Championships Belgium - Road Race | 223.6 km |
| 19/06 | 33 | Halle Ingooigem | 197.7 km |
| 15/06 | 15 | Dwars door het Hageland - Aarschot | 197.8 km |
| 10/06 | 3 | Ronde van Limburg | 200 km |
| 02/06 | 74 | Market Heistse Pijl | 194.1 km |
| 23/05 - 27/05 | | Baloise Belgium Tour | |
| | 6 | Points classification | |
| | 50 | General classification | |
| 23/05 | 11 | Stage 5 | 157.7 km |
| 23/05 | 94 | Stage 4 | 151.4 km |
| 23/05 | 27 | Stage 3 (ITT) | 10.6 km |
| 23/05 | 3 | Stage 2 | 162.1 km |
| 23/05 | 3 | Stage 1 | 178.8 km |
| 20/05 | 5 | Grote Prijs Marcel Kint | 174.8 km |
2017 - Vérandas Willems-Crelan (PCT)
| Date | Result | Race | Distance |
| --- | --- | --- | --- |
| 27/08 | 3 | Schaal Sels | 188.2 km |
| 22/08 | 27 | GP Stad Zottegem | 198 km |
| 07/08 - 13/08 | | BinckBank Tour | |
| | 18 | Points classification | |
| | 103 | General classification | |
| 07/08 | 123 | Stage 7 | 193.5 km |
| 07/08 | 92 | Stage 6 | 196.9 km |
| 07/08 | 89 | Stage 5 | 164.9 km |
| 07/08 | 3 | Stage 4 | 160.7 km |
| 07/08 | 156 | Stage 3 | 186 km |
| 07/08 | 102 | Stage 2 (ITT) | 9 km |
| 07/08 | 13 | Stage 1 | 179.7 km |
| 05/08 | 7 | Dwars door het Hageland - Aarschot | 194 km |
| 19/07 | 70 | Grand Prix Cerami | 208.5 km |
| 25/06 | 6 | National Championships Belgium - Road Race | 238 km |
| 21/06 | 21 | Halle Ingooigem | 201 km |
| 14/06 - 18/06 | | Ster ZLM | |
| | 23 | Points classification | |
| | 45 | General classification | |
| 14/06 | 42 | Stage 5 | 180.9 km |
| 14/06 | 78 | Stage 4 | 186.7 km |
| 14/06 | 26 | Stage 3 | 209.2 km |
| 14/06 | 6 | Stage 2 | 186.8 km |
| 14/06 | 23 | Prologue | 7.5 km |
| 11/06 | 15 | Ronde van Limburg | 200 km |
| 03/06 | 20 | Carrefour Market Heistse Pijl | 191.2 km |
| 24/05 - 28/05 | | Baloise Belgium Tour | |
| | 99 | General classification | |
| 24/05 | 59 | Stage 5 | 169.6 km |
| 24/05 | 131 | Stage 4 | 167.8 km |
| 24/05 | 95 | Stage 3 (ITT) | 13.4 km |
| 24/05 | 14 | Stage 2 | 199 km |
| 24/05 | 23 | Stage 1 | 178 km |
| 09/05 - 14/05 | | 4 Jours de Dunkerque / Tour des Hauts-de-France | |
| 09/05 | | Stage 5 | 184.8 km |
| 09/05 | 115 | Stage 4 | 167 km |
| 09/05 | 42 | Stage 3 | 152.5 km |
| 09/05 | 88 | Stage 2 | 171.6 km |
| 09/05 | 147 | Stage 1 | 197.1 km |
2016 - Crelan - Vastgoedservice (CT)
| Date | Result | Race | Distance |
| --- | --- | --- | --- |
| 28/08 | 42 | Schaal Sels | 194.7 km |
| 23/08 | 1 | GP Stad Zottegem | 190.1 km |
| 05/08 | 39 | Dwars door het Hageland - Aarschot | 194.1 km |
| 23/07 - 27/07 | | Tour de Wallonie | |
| | 29 | Youth classification | |
| | 107 | General classification | |
| 23/07 | 84 | Stage 5 | 188 km |
| 23/07 | 123 | Stage 4 | 178.8 km |
| 23/07 | 129 | Stage 3 | 200.6 km |
| 23/07 | 27 | Stage 2 | 180 km |
| 23/07 | 30 | Stage 1 | 178.3 km |
| 02/07 | 9 | Omloop Het Nieuwsblad Beloften/Circuit Het Nieuwsblad Espoirs | 170 km |
| 26/06 | | National Championships Belgium - Road Race | 231 km |
| 22/06 | 9 | Halle Ingooigem | 200.5 km |
| 15/06 - 19/06 | | Ster ZLM Toer GP Jan van Heeswijk | |
| | 27 | Points classification | |
| | 75 | General classification | |
| 15/06 | 36 | Stage 5 | 186 km |
| 15/06 | 109 | Stage 4 | 186 km |
| 15/06 | 122 | Stage 3 | 210 km |
| 15/06 | 8 | Stage 2 | 186 km |
| 15/06 | 55 | Stage 1 (ITT) | 6.4 km |
| 12/06 | 5 | Ronde van Limburg | 200 km |
| 25/05 - 29/05 | | Baloise Belgium Tour | |
| | 88 | General classification | |
| 25/05 | 93 | Stage 4 | 174.2 km |
| 25/05 | 128 | Stage 2 | 200.9 km |
| 25/05 | 13 | Stage 1 | 174.5 km |
| 25/05 | 46 | Prologue | 6 km |
| 15/05 | 15 | Grand Prix Criquielion | 180 km |
2015 - Sunweb - Napoleon Games Cycling Team (CT)
| Date | Result | Race | Distance |
| --- | --- | --- | --- |
| 30/08 | 3 | Schaal Sels | 208.8 km |
| 23/08 | | Grote Prijs Jef Scherens - Rondom Leuven | 183.3 km |
| 19/07 | 22 | Dwars door de Vlaamse Ardennen | 177.7 km |
| 04/07 | 5 | Omloop Het Nieuwsblad Beloften/Circuit Het Nieuwsblad Espoirs | 174.9 km |
| 28/06 | | National Championships Belgium - Road Race | 252 km |
| 24/06 | 15 | Halle Ingooigem | 198.8 km |
| 17/06 - 21/06 | | Ster ZLM Toer GP Jan van Heeswijk | |
| | 13 | Points classification | |
| | 45 | General classification | |
| 17/06 | 4 | Stage 4 | 183.1 km |
| 17/06 | 51 | Stage 3 | 186.7 km |
| 17/06 | 13 | Stage 2 | 190.5 km |
| 17/06 | 77 | Stage 1 | 183.4 km |
| 17/06 | 103 | Prologue | 6.4 km |
| 13/05 - 17/05 | | Flèche du Sud | |
| | 3 | Points classification | |
| | 40 | General classification | |
| 13/05 | 77 | Stage 5 | 160 km |
| 13/05 | 4 | Stage 4 | 152.7 km |
| 13/05 | 3 | Stage 3 | 143.7 km |
| 13/05 | 7 | Stage 2 | 165.7 km |
| 13/05 | 52 | Stage 1 | 73.9 km |
2014 - Sunweb - Napoleon Games Cycling Team (CT)
| Date | Result | Race | Distance |
| --- | --- | --- | --- |
| 14/09 | | Grote Prijs Jef Scherens - Rondom Leuven | 183.3 km |
| 05/07 | 46 | Omloop Het Nieuwsblad Espoirs | 168.5 km |
| 25/06 | 38 | Halle-Ingooigem | 199.9 km |
| 18/06 - 22/06 | | Ster ZLM Toer GP Jan van Heeswijk | |
| | 17 | Points classification | |
| | 89 | General classification | |
| 18/06 | 94 | Stage 4 | 173.7 km |
| 18/06 | 107 | Stage 3 | 186.7 km |
| 18/06 | 11 | Stage 2 | 190.5 km |
| 18/06 | 5 | Stage 1 | 183.9 km |
| 18/06 | 67 | Prologue | 7 km |
2013 - Sunweb - Napoleon Games Cycling Team (CT)
| Date | Result | Race | Distance |
| --- | --- | --- | --- |
| 27/07 - 29/07 | | Kreiz Breizh Elites | |
| | 13 | Youth classification | |
| | 22 | Points classification | |
| | 25 | General classification | |
| 27/07 | 6 | Stage 4 | 174 km |
| 27/07 | 55 | Stage 3 | 106 km |
| 27/07 | 28 | Stage 2 (ITT) | 12 km |
| 27/07 | 32 | Stage 1 | 194 km |
| 11/07 - 14/07 | | Czech Cycling Tour | |
| 11/07 | | Stage 4 | 145 km |
| 11/07 | 67 | Stage 3 | 173 km |
| 11/07 | 123 | Stage 2 | 156 km |
| 29/06 | 39 | Omloop Het Nieuwsblad Beloften/Circuit Het Nieuwsblad Espoirs | 189 km |
| 26/06 | 54 | Internationale Wielertrofee Jong Maar Moedig I.W.T. | 169 km |
| 19/06 | | Halle-Ingooigem | 198.4 km |
| 23/05 - 26/05 | | Tour de Gironde | |
| | 26 | Youth classification | |
| | 34 | Points classification | |
| | 59 | General classification | |
| 23/05 | 12 | Stage 4 | 166.9 km |
| 23/05 | 69 | Stage 3 | 172.2 km |
| 23/05 | 19 | Stage 2 | 178.1 km |
| 23/05 | 85 | Stage 1 | 174.8 km |
2012 - Sunweb - Revor (CT)
| Date | Result | Race | Distance |
| --- | --- | --- | --- |
| 19/08 | 27 | National Championships Belgium MU - Road Race | 173 km |
| 28/06 - 01/07 | | Czech Cycling Tour | |
| 28/06 | | Stage 4 | 176 km |
| 28/06 | 71 | Stage 3 | 195 km |
| 28/06 | 15 | Stage 2 | 146.4 km |
| 28/06 | 21 | Stage 1 (TTT) | 25.9 km |
| 20/06 | 17 | Halle-Ingooigem | 197.8 km |
| 14/06 - 17/06 | | Ster ZLM Toer GP Jan van Heeswijk | |
| | 97 | General classification | |
| 14/06 | 37 | Stage 4 | 163.5 km |
| 14/06 | 96 | Stage 3 | 189 km |
| 14/06 | 114 | Stage 2 | 167 km |
| 14/06 | 18 | Stage 1 | 151 km |
| 09/06 | | Ronde van Zeeland Seaports | 201 km |
| 23/05 - 27/05 | | Tour of Belgium | |
| 23/05 | | Stage 5 | 212 km |
| 23/05 | 111 | Stage 4 (ITT) | 20.5 km |
| 23/05 | 23 | Stage 3 | 163 km |
| 23/05 | 20 | Stage 2 | 169.5 km |
| 23/05 | 31 | Stage 1 | 162 km |
| 17/05 | 131 | Ronde van Limburg | 189.6 km |
| 04/05 - 06/05 | | Szlakiem Grodòw Piastowskich | |
| 04/05 | | Stage 4 | 154 km |
| 04/05 | 18 | Stage 3 | 77.7 km |
| 04/05 | 98 | Stage 2 (ITT) | 30.2 km |
| 04/05 | 83 | Stage 1 | 161 km |
2011 - Sunweb - Revor (CT)
| Date | Result | Race | Distance |
| --- | --- | --- | --- |
| 21/08 | 8 | National Championships Belgium MU - Road Race | 175.5 km |
| 07/07 - 10/07 | | Czech Cycling Tour | |
| 07/07 | 86 | Stage 2 | 148.6 km |
| 07/07 | 20 | Stage 1 (TTT) | 24 km |
| 22/06 | | Halle-ingooigem | 200 km |
| 29/05 | 26 | Paris-Roubaix Espoirs | 180.7 km |