The Italian fought tooth and nail on stage 14 of his home race.
Davide Ballerini and Pieter Serry carried the flag for Soudal Quick-Step Saturday afternoon at the Corsa Rosa, proving that our team still has something to say at the season's first Grand Tour despite continuing in just three riders. Heavy rain and cold temperatures made it another brutal day of racing between Sierre and Cassano Mogagno, as the race left behind Switzerland to return to Italy, and after an intense first hour of racing, a sizable breakaway formed with both our guys in there.
Despite the presence of the mighty Simplonpass in the first part, the group went on to establish a stunning 15-minute lead – which by the time they finished, ballooned to 21 minutes – one of the biggest gaps in years between a successful breakaway and a Grand Tour bunch. Davide was less interested in that and more in the fight for victory, and with a whisker over 50 kilometers he made his move following a series of skirmishes between the escapees.
Together with three other men, Soudal Quick-Step's 28-year-old Italian left every ounce of energy out there as they slowly but surely built a 50-second gap. Even after remaining in three, they still had a fair chance of going all the way, pressing hard as they approached Cassano Mogagno, but the undulating terrain in the last ten kilometers combined with a concerted effort from behind saw their margin being reduced at a rather rapid pace.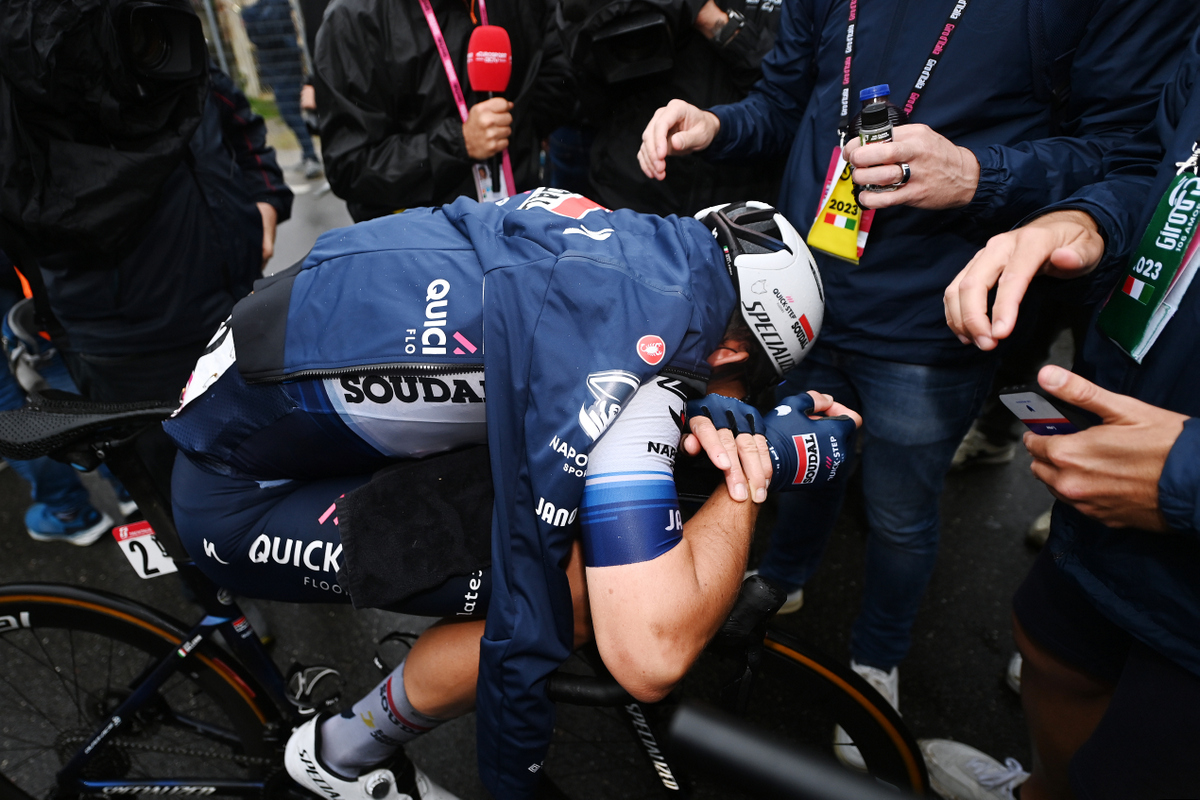 The trio entered the final kilometer with ten seconds in hand and the hope they would make it, but the slightly uphill finish and the fatigue took their toll, and they were caught an agonizingly 300 meters from the line, just as they were preparing to open the sprint. As the others charged past them, Ballerini tried to react, but despite his best efforts it was heartbreak for the man from Cantù, who finished in fifth place, as Nico Denz (Bora-hansgrohe) took the victory.
"The last couple of days weren't easy for us after all that has happened, but we wanted to show that we are still in the race. It wasn't an easy day, but I was motivated, especially as I'm not that far from my hometown. I wanted to be in the breakaway and did my best to get there. It was nice to have Pieter with me and I want to thank him for his help. I gave everything out there and believed in our chances, but unfortunately it wasn't meant to be. There are seven stages left and we will continue to try", a tired but upbeat Davide said at the finish.
Photo credit: ©Tim De Waele / Getty Images