The World Champion took a resounding victory on the second summit finish of the week.
Remco Evenepoel became the youngest Belgian in 37 years to win a Volta a Catalunya stage, at the end of a day that saw his Soudal Quick-Step teammates destroy the peloton and control the race in spectacular fashion, before setting up the World Champion for the last kilometers of La Molina – one of the race's traditional finishes.
"I am very happy about this win, and at the same time, proud of my teammates! They showed what a strong squad we are, did a magnificent job the entire day, and I am delighted that it all paid off", a visibly satisfied Remco said immediately after the stage.
The day was a rather quiet one, following the traditional script of a group going clear soon after the start, until the first ramps of Coll de la Creueta, where Soudal Quick-Step stormed to the front of the field. The furious tempo pushed by our riders visibly whittled down the bunch, leaving only some 30-odd men in there by the time the special-category climb was crested.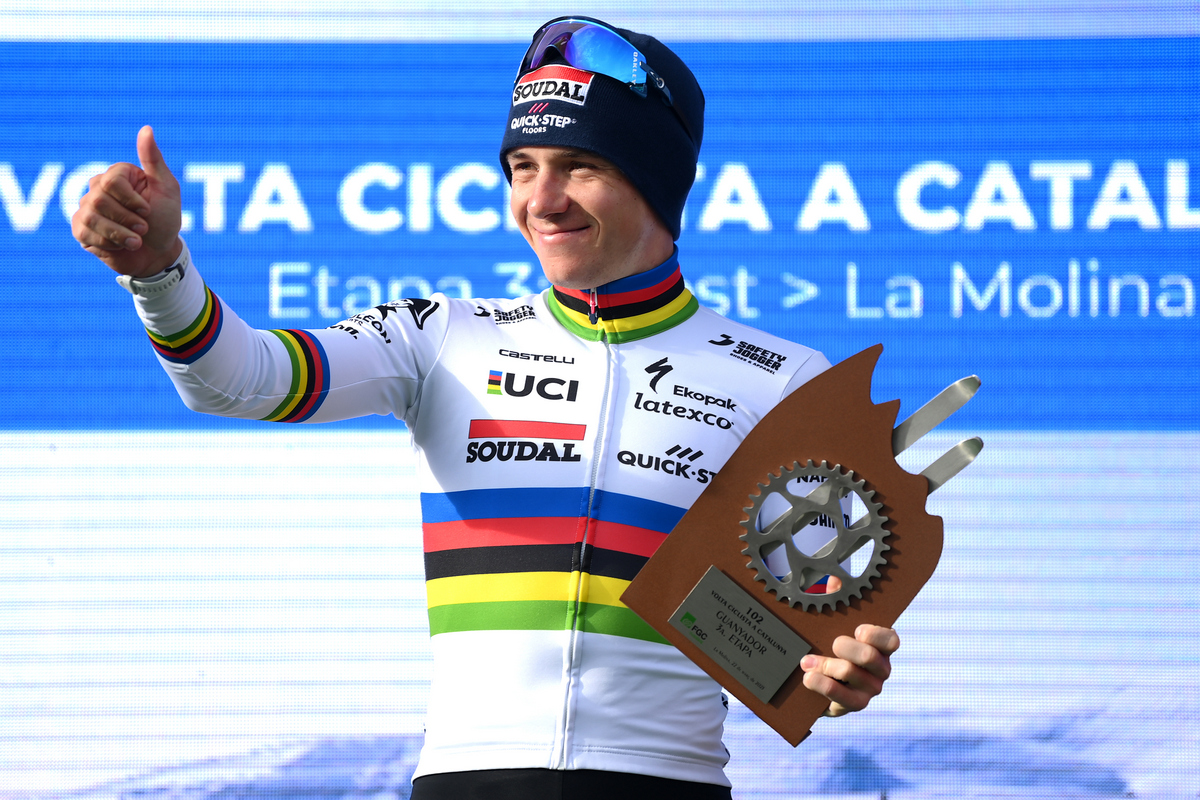 Our guys continued to work tirelessly at the front, both in the downhill and on the first part of the last ascent, where Ilan Van Wilder drove the tempo with Remco behind him. Evenepoel then put the hammer down on a short steep section with five kilometers to go, just before a descent, bolting away from the group and dispatching everyone, except Primoz Roglic (Jumbo-Visma).
Exuding fantastic confidence, the 23-year-old relentlessly pushed hard going under the red kite and had the final say, launching a huge out-of-the-saddle acceleration in the final hairpin bend that not only landed him the victory, but also put him on the same time with the overall leader.
"It's amazing! I had good legs, I felt that I was getting better and better and had a lot of trust in my team. I knew they were capable of making the race as hard as possible from the penultimate climb and that's what they did, following our plan. In the finale, I knew that I was fast and really wanted to go for it, so I made sure of being first into the last corner and kept pushing. It's a victory that makes me happy and only adds to our motivation for the next stages", Evenepoel concluded after signing off Soudal Quick-Step's 15th win of the season.
Photo credit: ©David Ramos / Getty Images