The 25-year-old netted the 64th national title in the history of Deceuninck – Quick-Step.
Rémi Cavagna shrugged off the disappointment experienced during Thursday's individual time trial, when a series of mechanical hindered his hopes of retaining the title, and pulled off a great ride in the road race, which at the end of the day landed him the prestigious tricolour.
Part of a three-man team which featured also World Champion Julian Alaphilippe and Florian Sénéchal, Rémi was among the early attackers that went clear, just 30 kilometers into the race, and opened a five-minute gap over a peloton which looked to be in control of things at all times, especially as several squads had the numbers to pull the escapees back. On the hilly circuit around Epinal, it looked like the day would belong to one of the pre-race favourites, especially as they weren't shy of attacking with three laps to go.
Alaphilippe was one of the riders to test the waters, drawing a small group with him, but with the others not willing to share the workload, the 29-year-old soon stopped and waited for the peloton to reel them in. This lull played into the hands of the escapees, who still held two minutes with 20 kilometers left. Eventually, three men managed to bridge across from the bunch, but as soon as they did, Cavagna attacked and was never seen again until the finish.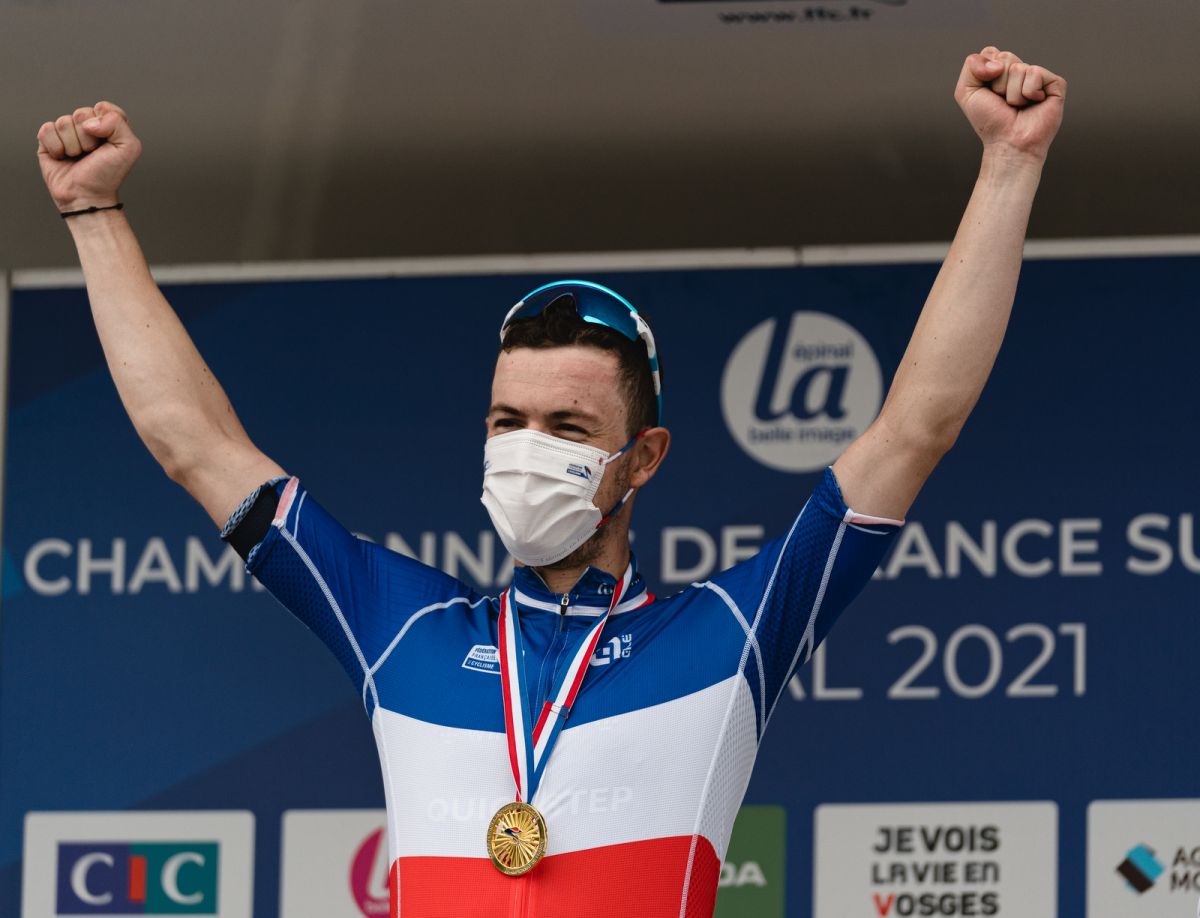 In the space of just a couple of kilometers, the "TGV of Clermont-Ferrand" opened a gap of almost one minute, which allowed him to take it easy on the rain-soaked descent to the finish in Epinal, where he had plenty of time to celebrate, after a stunning 200 kilometers in the breakaway, what's arguably the biggest success of his career.
"It's crazy! I still can't believe what happened today! My main goal this week was the time trial and I was very disappointed after that race. Now I am French Champion on the road, which is insane. My role at the start was to support Julian but I ended up by taking the win. I can't believe it", an emotional Rémi said as he pulled on the bleu-blanc-rouge jersey.
Cavagna, who became only the second rider in Deceuninck – Quick-Step's history to win the French Championships, continued: "It was a strange race with the breakaway going all the way to the finish. Our plan was for me to be in the front group, as we knew it wasn't easy to control on this route. Having what was a good margin on the peloton so close to the finish, I found the right moment to attack and pressed on as soon as I saw a gap had been opened. To take a solo victory today is incredible! I was very sad after losing the ITT title, but this completely makes up for that. It gives me goosebumps and huge joy to know I will wear this jersey – one of the most beautiful in the world – in all the races I do for a full year."
Photo credit: ©Thomas Maheux