The Wolfpack to sport a unique cycling jersey for Le Samyn.
Today, Maes and the Deceuninck – Quick-Step Cycling Team are kicking off a new campaign against drinking and driving. The Wolfpack – the nickname for the racing cyclists in the Deceuninck – Quick-Step troop – will take on the opposition in the classic Walloon cycling race Le Samyn, wearing a special jersey bearing the slogan 'Don't drink & drive'. This marks the start of a broader awareness campaign.
Cycling is an integral part of our Belgian popular culture. But obviously, a safe environment in traffic is extremely important. Maes 0.0% wants to reach out to our consumers and have them think about their behavior and consumption of alcohol when they are still getting behind the steering wheel. This is a commitment that Deceuninck – Quick Step and Maes 0.0% want to empower with this new campaign because road safety is an absolute priority for the both of them. Maes 0.0% and Deceuninck – Quick-Step Cycling Team share the same ambition on road safety, this is where we find ourselves in a shared commitment in this new Don't Drink & Drive campaign.
Unique jersey
Lined up for the start of the GP Le Samyn you won't miss The Wolfpack, with powerhouses such as Florian Sénéchal, Mark Cavendish, Tim Declercq and Stijn Steels. And they are sure to stand out even more this time, with a special jersey hugging their sporty six-pack. Indeed, the slogan 'Don't drink & drive' is a prominent feature on the cyclists' shirts. A wonderful way to highlight their dedication to the cause to the general public.
Awareness-building campaign
The jersey is only the first leg in this joint awareness campaign, starring The Wolfpack in a sensitising role. In the campaign, the racers and Maes 0.0% will bring a powerful message that wants to encourage people not to drink when they still need to drive.
"We want people to stop and think about their use of alcohol and are keen to encourage them to drink alcohol-free beer", explains Etienne Bachellier, Marketing Director Alken-Maes. "Maes 0.0% is a perfect alternative, not only after sport, but also if you still need to drive. Global research by Heineken shows that 92% of consumers are looking for products that improve their health. Consumers are also keen to remain in control and increasingly favour the responsible use of alcohol. Thanks to Maes 0.0% they can still savour the taste of a real lager, enjoy the occasion to the full and drive home safely."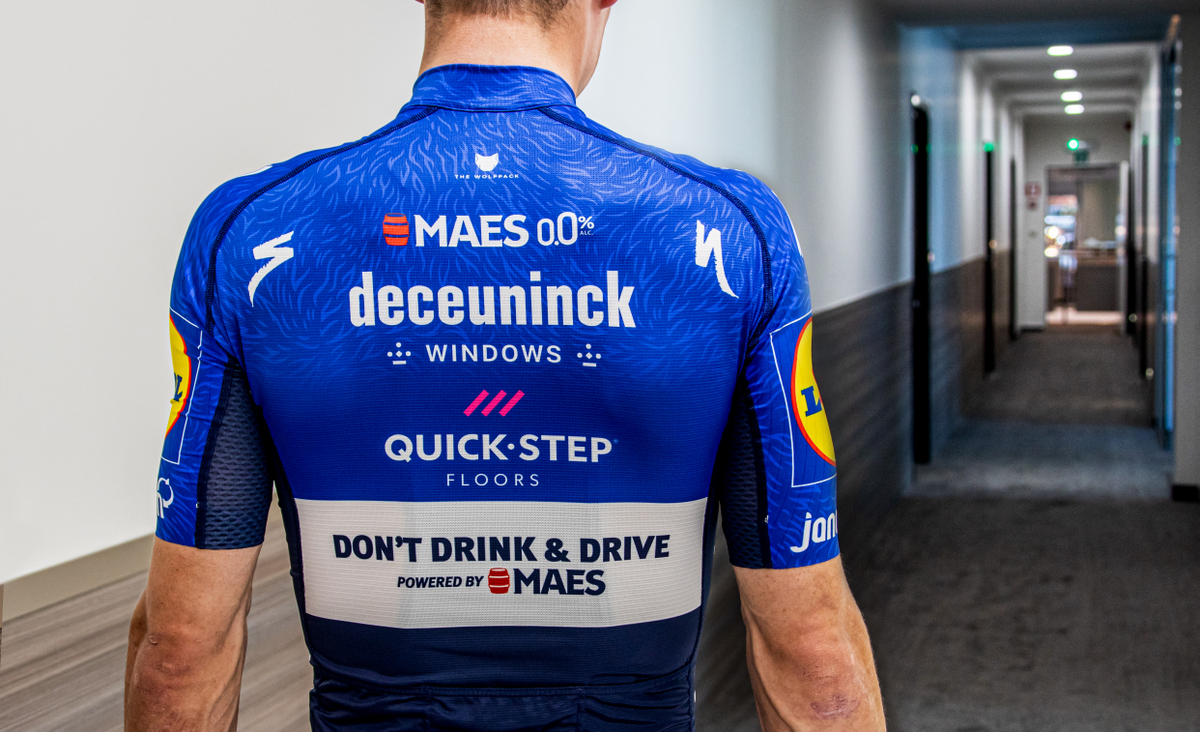 Etienne Bachellier continues: "The campaign is also about mateship: real mates take care of each other and make sure they don't drink and drive and get home safe. The Wolfpack is the perfect embodiment of that spirit: they are a tight bunch of riders, supporting each other in good and bad times and always going for the win, exactly what Maes stands for."
Annick Vincenty, CEO at Alken-Maes: "As a brewer, we believe that we have an important role to play when it comes to the responsible consumption of alcohol. For us, responsible consumption means having a beer at the right time and at the right place. When you still need to drive, it is definitely not the right time to drink alcohol. We believe it is our role to strike up a conversation with our consumers on this point, and we are very excited that the riders of Deceuninck – Quick Step are joining us in this journey! This way, we want to send a clear message together."
Annick Vincenty continues: "However, our work as a brewer does not stop there. Truly embracing responsible consumption means offering an appealing alcohol-free choice to your consumer. This is why we are building a strong portfolio of quality 0.0% brands. Our Maes 0.0% and Affligem 0.0% for example have already won amazing awards at leading international beer contests. We will continue to grow our alcohol-free offer and for this, 2021 is going to be a key moment for Alken-Maes. There is more to come very soon!"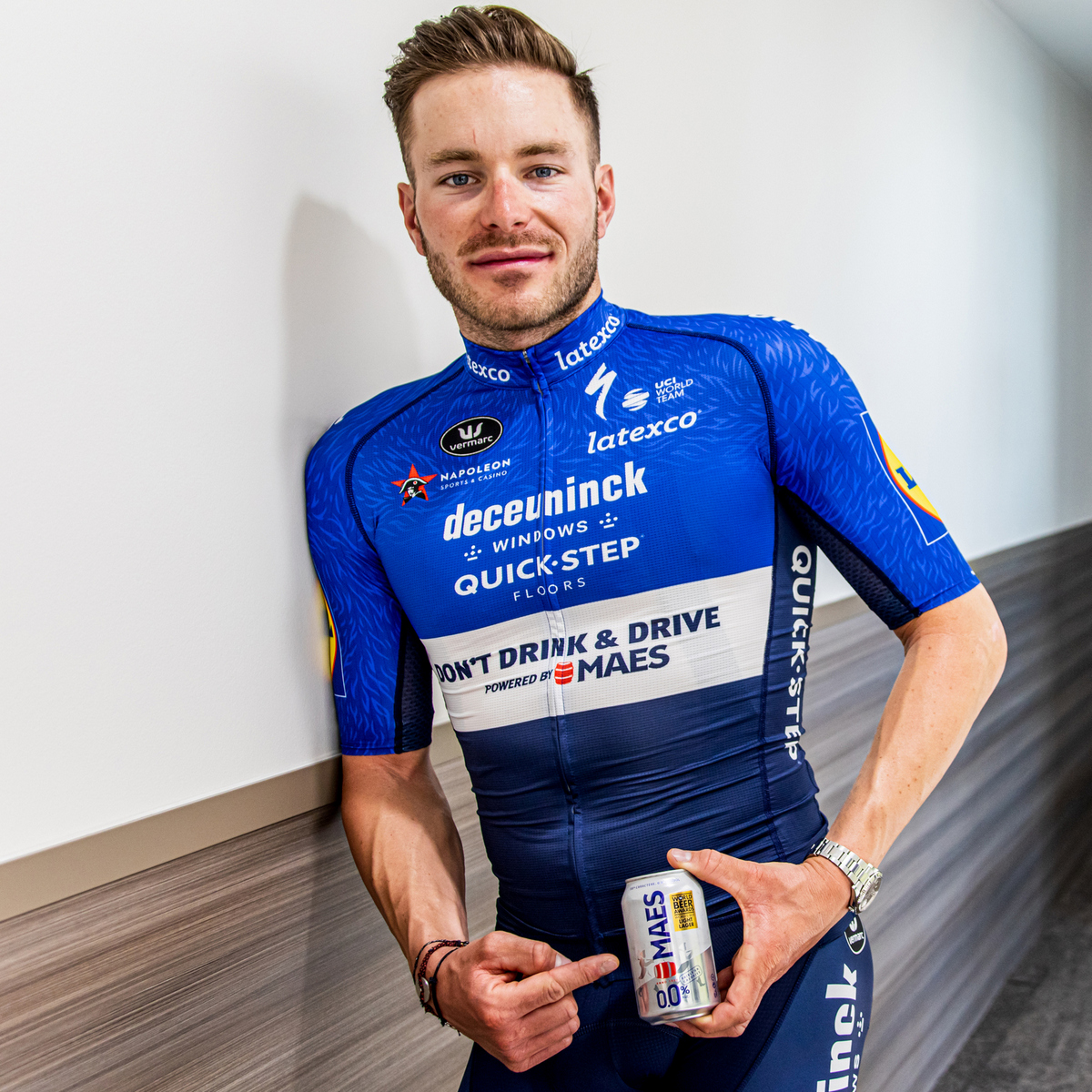 Florian Sénéchal, 2019's winner of Le Samyn: "We spend an enormous number of hours cycling on the road, training and competing. Road safety is an absolute priority for us and the Don't Drink & Drive message is at the heart of what we stand for. We as role models are delighted to contribute, with The Wolfpack, in building awareness of the dangers of drinking and driving, helping good mates to become smarter in their enjoyment. It all starts with us. Because real mates take care of each other."
Sénéchal continues: "Another nice detail: our jerseys, once worn and signed, will be auctioned via Ebay, and the profits will be integrally donated to Responsible Young Drivers, an organization that encourages youngsters to drive in a safe and responsible way.
Photo credit: ©Wout Beel