The three riders who won the iconic Italian race for the team reflected on their victory.
Milano-Sanremo isn't just the first or longest Monument of the cycling season. It's also a majestic race, one that departs from Lombardy's damp plains and heads to the Ligurian coast, where it's welcomed by the sun and sea, whose presence signals the transition to spring. Since 1907, Milano-Sanremo has shown that it isn't easy to understand and has a character and complexion that go way beyond what you see at first glance, but paradoxically, these factors have worked in its favour over the years, helping it gain a special place in the Italian culture and leave a lasting impression on each generation.
It can even be said that "La Primavera" is, at times, inseparable from the country's history, which only adds to its aura and prestige. Dripping with memorable editions, the always-charming Milano-Sanremo has put a spell on generations of riders, journalists, and fans alike. Run a quick survey and you'll see everyone has a favourite story about the race, coming in the form of an unforgettable victory, dazzling attack, crazy breakaway, or heart-breaking loss.
For us, Milano-Sanremo has and will always be close to our heart, despite the general perception of being a cobbled Classics-orientated team. The reason for this is that it was here, 17 years ago, that our squad claimed its first ever Monument victory, on a sunny day, when a magnificent ride of Quick-Step – Davitamon – as the team was known back then – propelled Paolo Bettini to an indelible triumph after a marvelous combination of willpower, determination and aggression.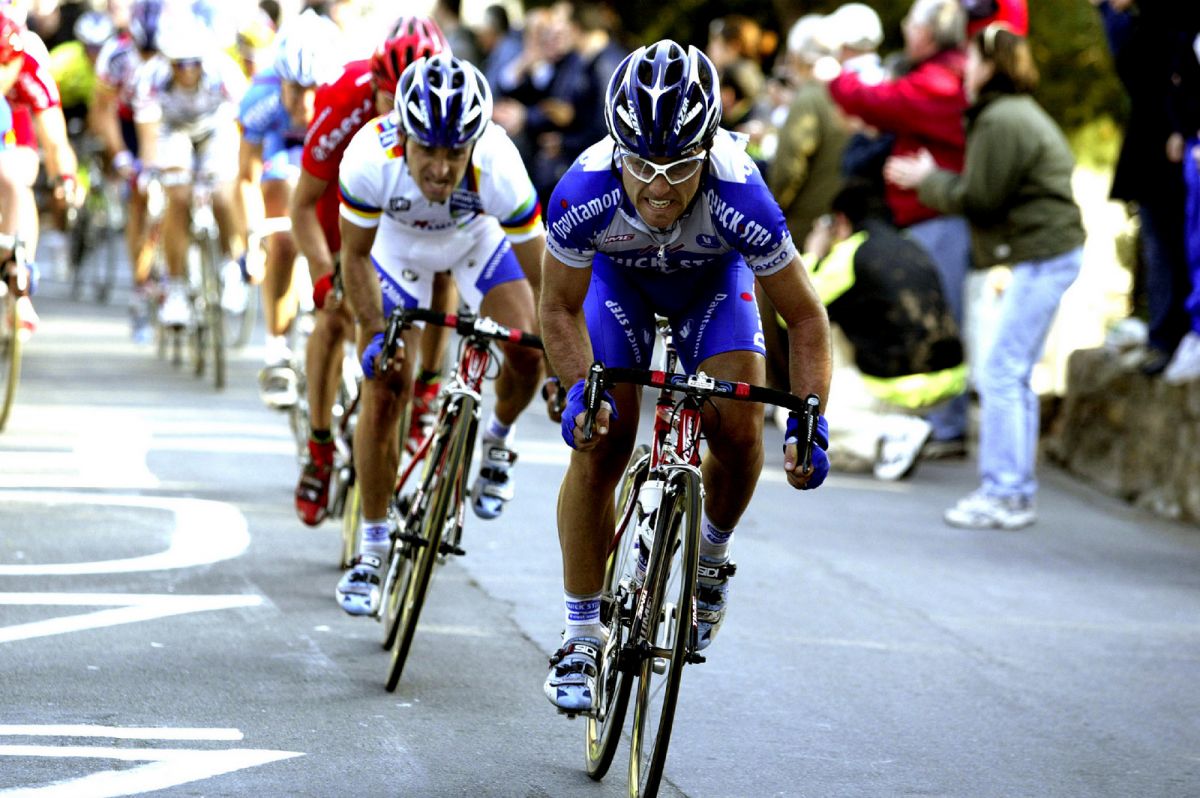 Earlier this week, we caught up with the one nicknamed "Il Grillo", who reflected on his win which began as a premonition, just hours before the early start from Piazza San Ambrogio: "The night before the race, I couldn't sleep, so I woke up and began to get dressed with my race jersey and shorts, waking up my roommate Luca. He asked me what I was doing, to which I replied that I was checking how I would look in the pictures on Saturday."
Clad in the World Cup's champion jersey, Paolo was one of the main protagonists of the 297km-long race, responding to an attack on the Cipressa and then launching a move of his own together with teammate Luca Paolini on the Poggio, just after the Santuario della Madonna della Guardia. As the duo were joined by Mirko Celestino, Paolini's support ended up being vital as they plunged onto the descent and then entered on the Via Roma, where Bettini outsprinted his opponent and kick-started a lasting love affair of our team with the Monuments.
Milano-Sanremo is one of my best wins, and for me, that edition was a showcase of our amazing team spirit
"After I was brought back following my early attack, I thought that my day was over, but Luca told me we had worked too hard for this to give up, so after a brief chat, we decided to attack on the Poggio. When the climb began, we were last in a group of some 50-odd riders, but with each switchback we gained ten places, and in the final part we were in the right position to attack, which we did. We had a gap of six seconds at the top and then we just risked everything on the downhill. I don't remember ever pushing so hard on a descent! When I crossed the line, there was a huge outpouring of emotion, because it was a race Mapei had never won. To take the team's first Monument there in our first year of existence was very special."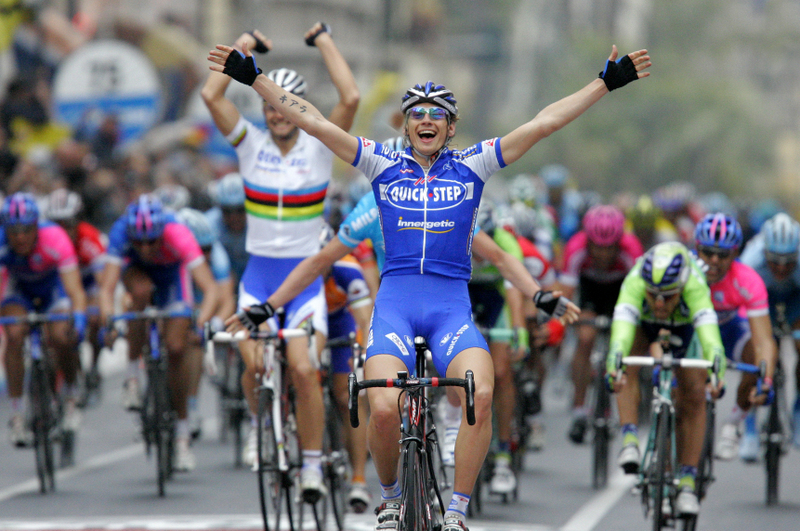 Three years later, that victory was followed by a completely unexpected one, delivered by a young Italian rider who was in his second season with Quick-Step – Innergetic. Just like Paolo Bettini, Filippo Pozzato seized the moment when it came down to crunch time inside the last ten kilometers, responding present when a powerful attack launched on the Poggio put the sprinters into difficulty.
A strong leading group quickly formed and opened a ten-second margin over a peloton which began a fierce chase once they hit the bottom of the Poggio, with two kilometers to go. It looked like the attackers would be caught, but just as the chasers were about to make contact, Rinaldo Nocentini launched one more surge, prompting a counterattack from Pozzato, who continued to go full gas to the line and agonizingly kept the bunch at bay, recording the most impressive win of his career, one that was celebrated by the huge crowds gathered on the Via Roma.
This race was the race of my dreams
"Just like Paolo, during the days prior to the race, I was confident and had a special feeling about it. At the start, I was the team's third option, behind Tom and Paolo, but during the race I felt really good and grew in confidence. When Ballan attacked, I responded to that move. I was on my limit on the Poggio, but dug deep and that allowed me to be in the front with one kilometer to go. Looking back, I really think the key was the Poggio, that's where I won the race", explained Pippo, who also talked of a special moment that spoke volumes about the bond between the team's riders. "Tom finished fourth on that day and his result shows our incredible team spirit, because he could have easily been on the podium if he'd kept sprinting, but he preferred to sit up and celebrate my win, that's how happy he was about the final outcome."
That day, 18 March 2006, featured also another unforgettable moment for Pozzato, delivered by one of his teammates, today Deceuninck – Quick-Step sports director, Davide Bramati: "Here we were, celebrating like crazy after the finish line, and just two minutes later, Brama arrived, which stunned us all, as we knew he had pulled so hard right up until the Cipressa and we expected him to be still far from the finish after all that effort. Me and Paolo were so impressed by him, thinking how strong he was on that day, until he told us that he didn't climb the last two ascents, but instead went along the flat roads on the coast all the way to the finish."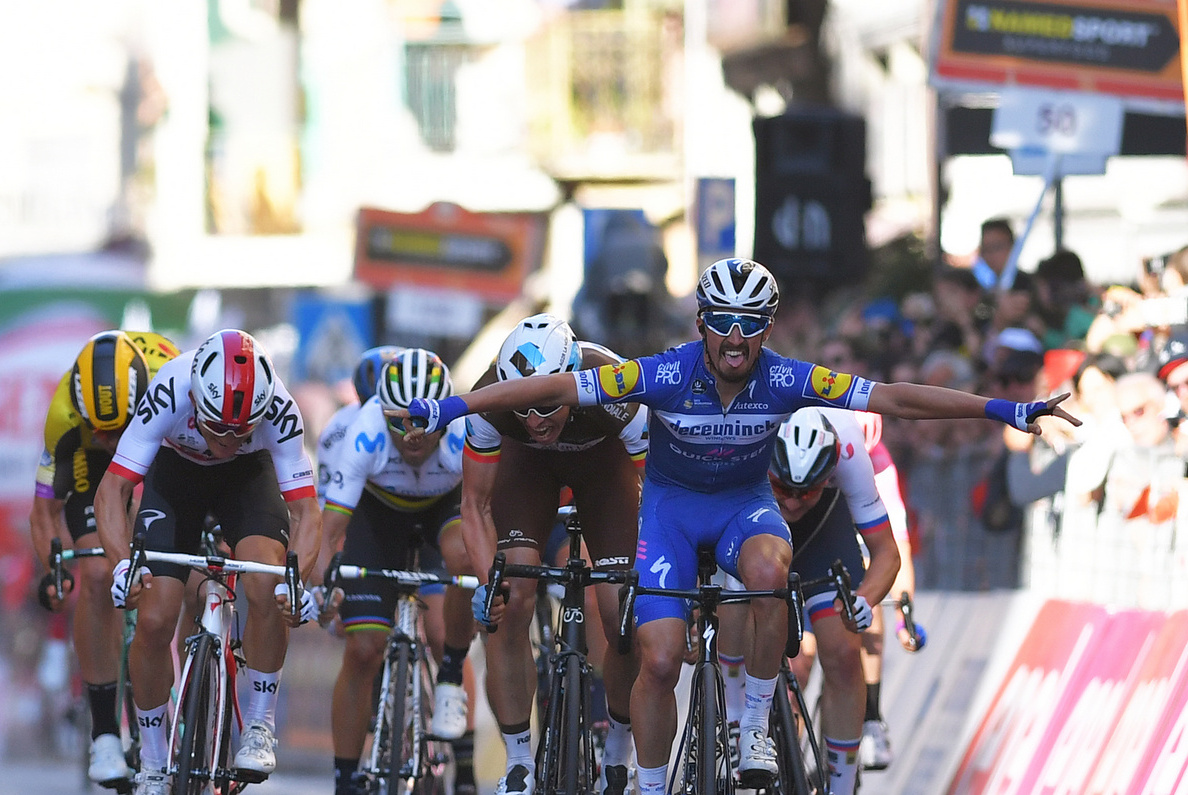 After that victory, more than a decade had to pass for us to taste success again at Milano-Sanremo, but the long wait made the triumph of Julian Alaphilippe even more special. The 2019 race produced again an intense and adrenaline-filled finale, which witnessed Julian's maiden Monument win, after the Frenchman – winner of Strade Bianche and two Tirreno-Adriatico stages in the weeks leading to this appointment – ignited the race with a superb attack on the Poggio.
There was pressure on me, but I knew the form was there and together with my Wolfpack teammates we did a perfect race
"Tim pulled the entire day, and then, on the Poggio, we tried to make things very hard with Philippe and Styby, who brought me into position, just as I had asked them to do before the start. Afterwards, I attacked as late as possible to forge a selection, while on the downhill I tried to recover, remain focused and wait for the right moment to launch my sprint", said Julian as he paid tribute to the fantastic work laid down by the team, before taking us through the closing kilometers.
"The race was full gas and very difficult to control after the downhill. Everybody was looking at each other, waiting for the sprint and turning the final into a very tactical one. Victory is never as simple as it looks from the outside and I knew from the 2017 edition that you have to be smart, stay calm and do a good effort at the right moment as the adrenaline goes up. When Matej Mohoric started the sprint, I followed him immediately and when we entered on the final straight, I stopped thinking and just pushed as hard as I could on the pedals. Once I saw the finish line and knew that I won, I could barely contain myself."
Julian – whose sumptuous performance at last year's 110th edition helped him etch his name in the history books as the first rider since Eddy Merckx to win in the space of less than twelve months both the Tour de France polka dot jersey and "La Primavera" – concluded: "I have won many beautiful races and I am proud of all my victories, but to this day, Milano-Sanremo remains the most important win of my career."
Photo credit: ©Tim De Waele / Getty Images