Etixx – Quick-Step had another successful season in 2016, with 56 road wins alongside 69 other podium places. Over the next weeks we will look back on the 10 biggest moments for the team, and the victory our squad got in Qatar stands amongst our top wins of the year.
9 October 2016 will go down as one of the most important days in the history of our team, after Bob Jungels, Marcel Kittel, Yves Lampaert, Tony Martin, Niki Terpstra and Julien Vermote put in a fantastic performance on the roads of Doha, conquering the gold medals at the World Team Time Trial Championships. It was a strong and disciplined ride of the boys led from the car by sport director Tom Steels, who blazed the 40km-long course, setting an average speed of 56.426 km/h and stopping the clock after 42:32.
For the team managed by Patrick Lefevere, this was the third World ITT title in five participations, following the ones of Valkenburg 2012 and Firenze 2013, thus setting a new record. Tom Steels, the architect of this success and the man who conducted countless training sessions at the Ursel airfield, in Belgium, prior to the Worlds, and on the Pearl Island, in Doha, the moment stands out as one of the most resplendent in the history of the team.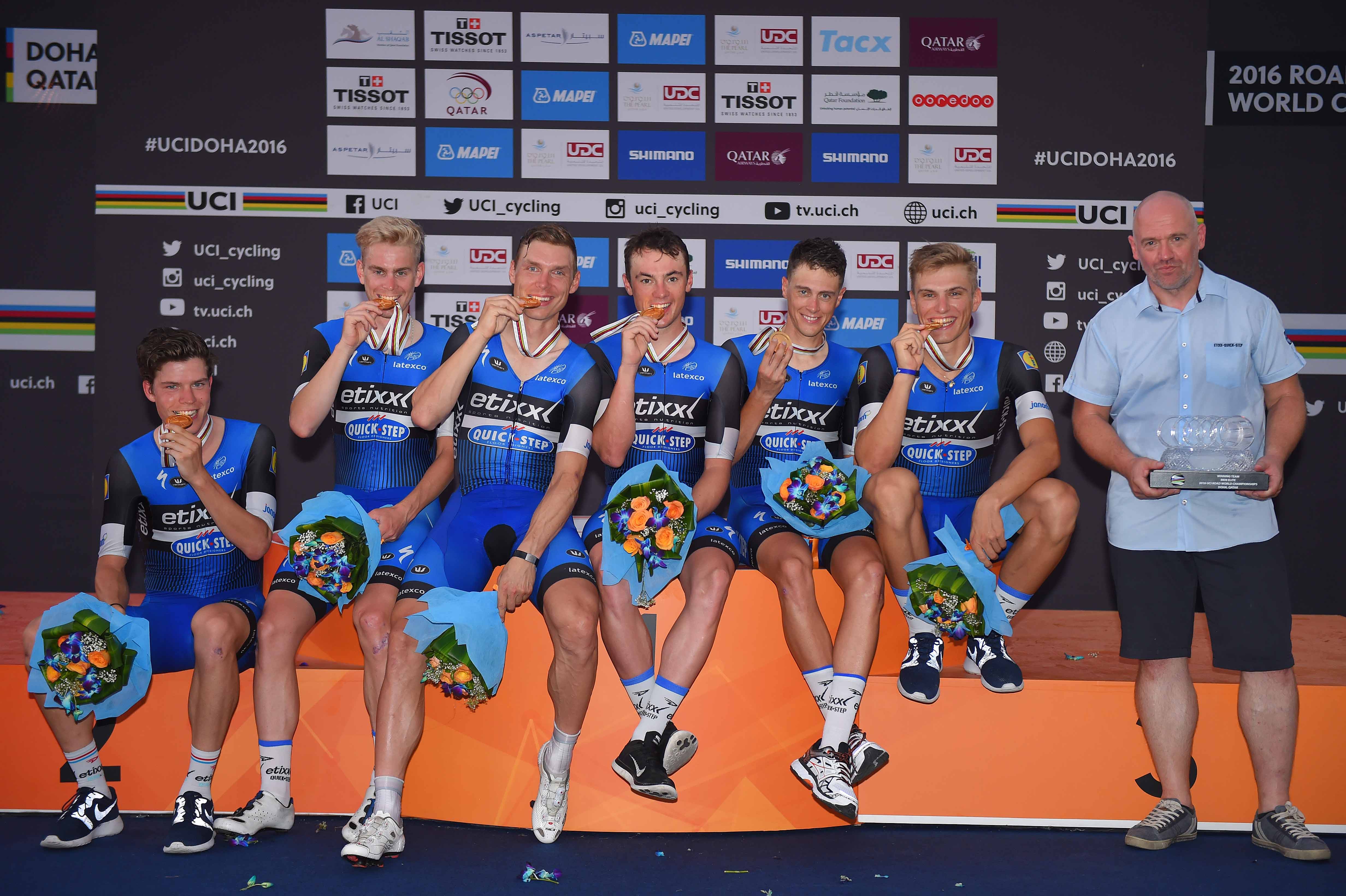 "Winning the gold medals in Qatar is something that will always stay with me, it's one of the best and most rewarding moments of my life. The guys did a really great job out there; they stayed in one line, never hesitated in the corners and did what they had to do. In one word, they were terrific! The team was smooth and very strong, even on the technical parts of the parcours, which were very challenging. Let me just say that simulating a course makes a really big difference, and doing this in our preparation for Doha helped us a lot in October. It was unbelievable to close out what was already an incredible season like this", said Tom Steels of the team's 57th victory of the season.
Photo credit: ©Tim De Waele