Home gym with Alpha Vinyl: performance and aesthetics.
Did you know that professional cyclists often train indoors to keep their basic condition in check and work on their core stability? To do that in the very best of conditions, Quick-Step designed and set up a real pain cave as part of the cycling team's training camp. With a focus on performance and aesthetics, thanks to Alpha Vinyl floors.
Beautifully designed pain cave for added morale
A pain cave is a room in your home that you set up specifically for training. The difference between this and a regular home gym is in the design – pain caves have a trendy design, making them more of a living space where atmosphere, colour and light are important.
The cyclists at Quick-Step Alpha Vinyl can attest to the importance of design. According to Stijn Steels "it's a space in which you spend many hours every month." Dries Devenyns adds, "a nicely designed space is great for morale. It gives you a sort of energy."
Quick-Step opted for soft shades when designing the pain cave, for a sense of calm and harmony. Lilac was chosen as the main colour for its calming yet uplifting effect. Plants and natural materials were added in for a motivational effect.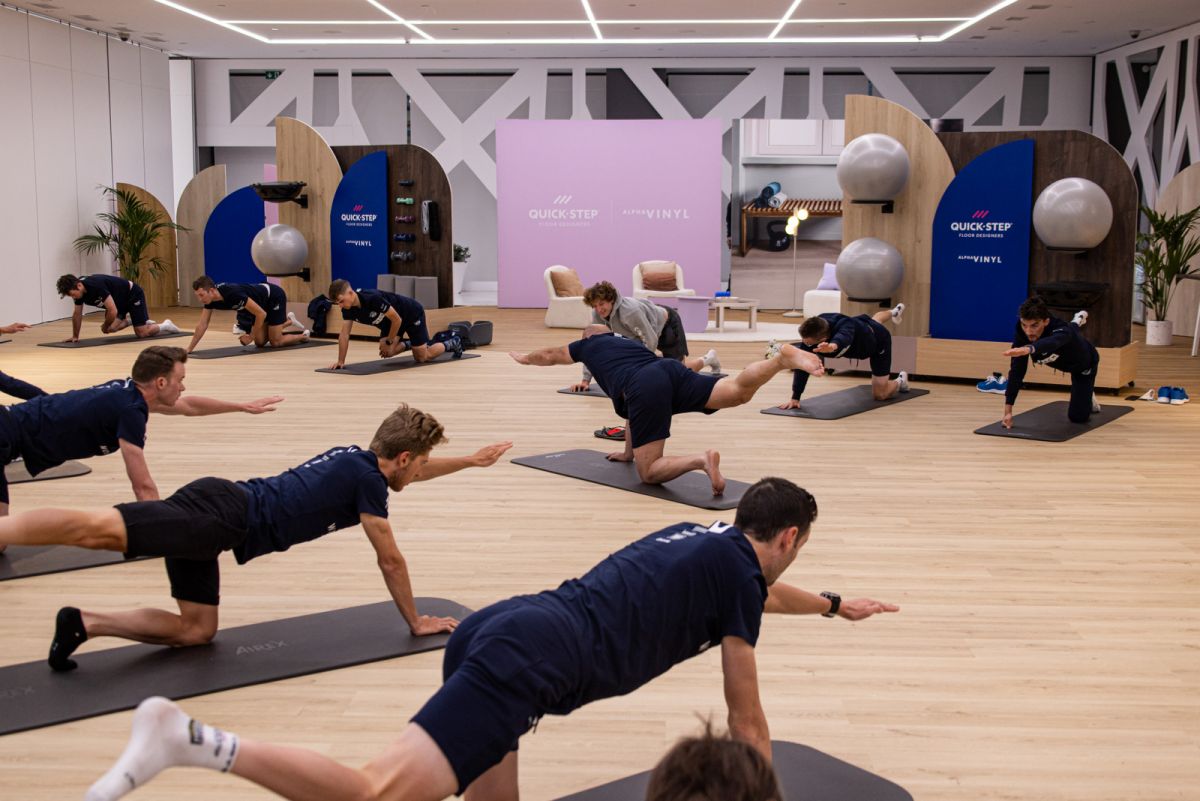 A vinyl floor as the perfect base
The floor is extremely important in a pain cave, and needs to both look good and be functional at the same time. Vinyl floors from Quick-Step add a natural look and feel to your pain cave, with all of the benefits of vinyl.
They feel soft and warm, which is ideal for training. But, at the same time, they are also extremely durable and resistant to scratches and impact damage. A dropped weight, spillage or heavy sweating – it won't be a problem for this strong, watertight vinyl floor.
The pain cave has gone down well with the cyclists and even got James Knox daydreaming: "Indoor training is the toughest part of cycling. You're so focused on the suffering. So maybe it would help me to have a space designed like this at home."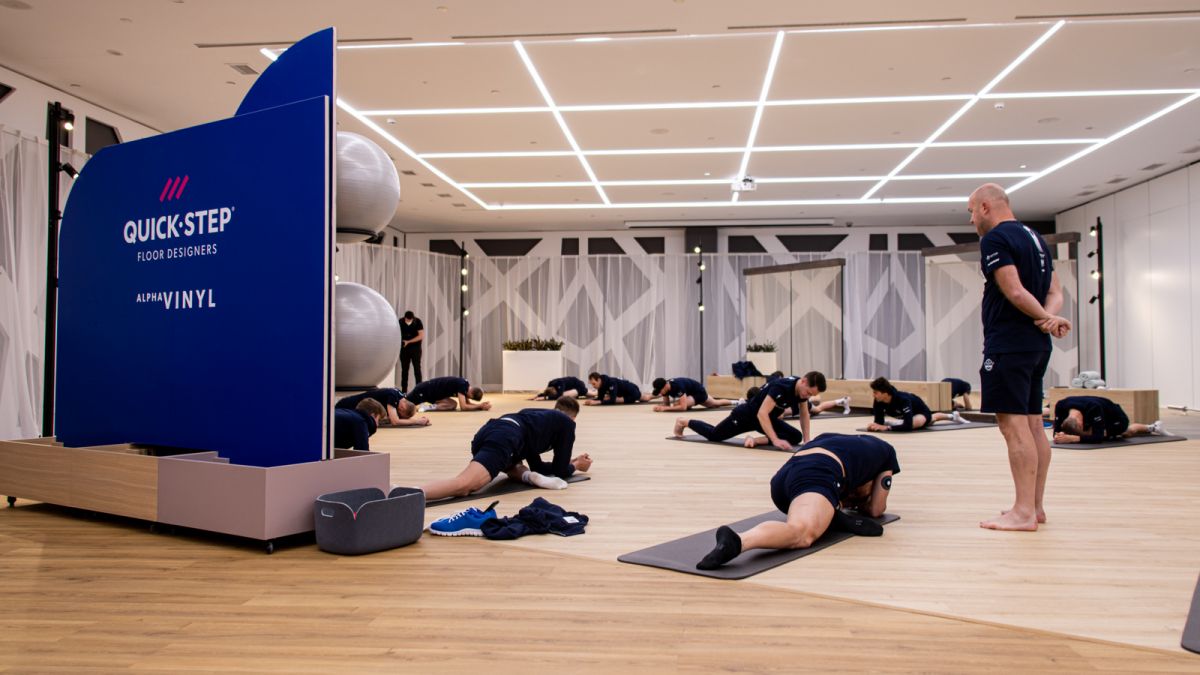 Seven tips for constructing your own pain cave
Do you dream of having your own pain cave, like work champions Julian Alaphilippe or Pieter Serry? Hopefully these tips will help:
- Choose Alpha Vinyl. It's a durable floor with a soft touch, which adds a sense of comfort during training. A damping effect is also important as it prevents noise from transferring to other rooms.
- Don't go over the top when buying training equipment – for a good workout, you don't need a lot.
- Make sure that the room is well ventilated.
- Consider having a music system installed, as music will give you that added push.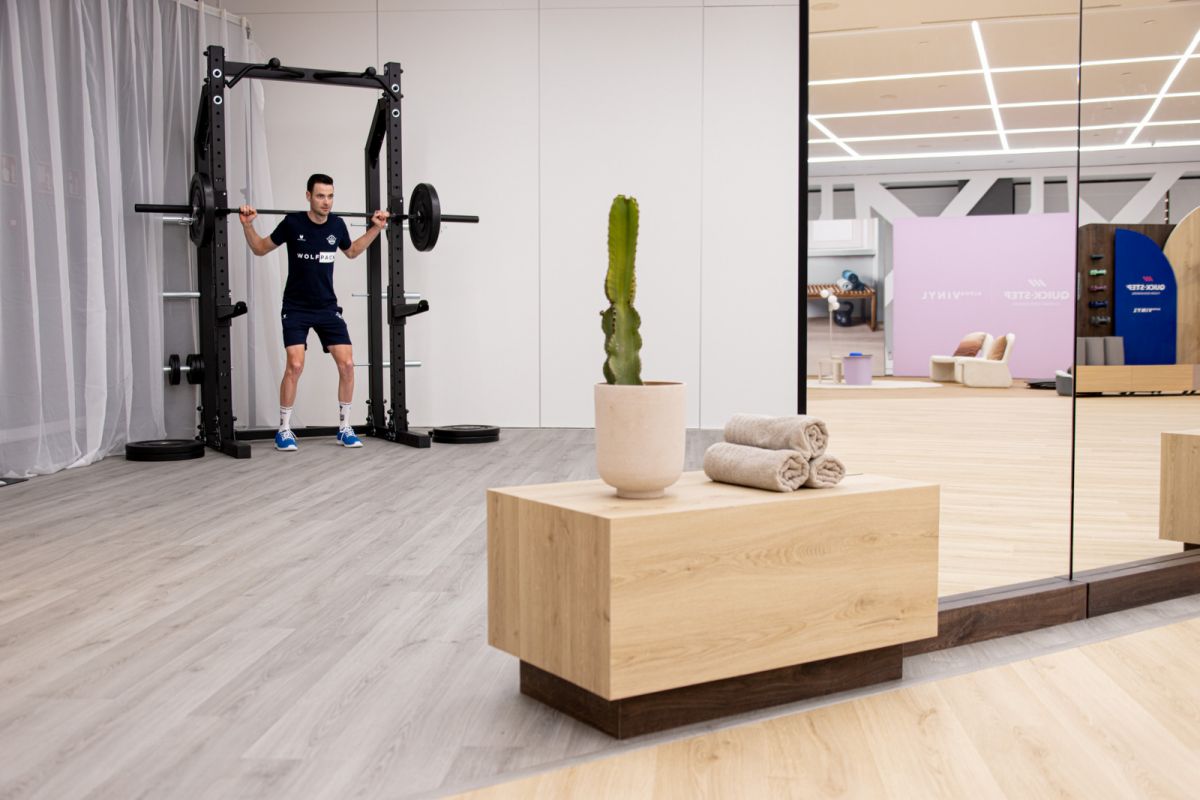 - Make sure that you have plenty of storage space. That way, you won't have things lying around and your pain cave will look nice and calm when you start training.
- A mirror is useful for checking that you're training correctly, plus it helps to make the room look larger.
- Light and colour have an impact on how you feel. Red, orange and yellow can help to boost energy levels, while blue and green have a calming effect. Choose a design that suits your personality – doing this will motivate you to achieve top condition.
Photo credit: ©Wout Beel