Quick-Step installed personalised gyms in the homes of several Deceuninck – Quick-Step riders. Check out Pieter Serry's peaceful 'pain cave' with an Alpha Vinyl floor.
Quick-Step is proud to be a sponsor of the Deceuninck – Quick-Step Team and they aim to help the riders improve in any possible way. That's why they installed personalised home gyms in the houses of a couple Wolfpack members, such as Pieter Serry and Julian Alaphilippe. The exclusive 'pain cave' of Serry boasts calming yet playful elements and an ultra-strong Alpha Vinyl floor.
Prepared to perform
The interior design of a home gym is just as important as the equipment. Colours, shapes, materials, etc. have a big influence on how sportsmen perform and can even provide them with mental and physical energy. That's why Quick-Step designed personalised pain caves for several Deceuninck – Quick-Step riders. One of them is Pieter Serry.
Pieter Serry: "Since Belgian weather is quite changeable, to say the least, I rely on my inside bike trainer throughout the entire year. Besides that, I use my home gym for power training, core stability exercises, squats and so on. In other words: my home gym is definitely one of the most important rooms in my house. That's why it should be a room where I feel comfortable and prepared to perform.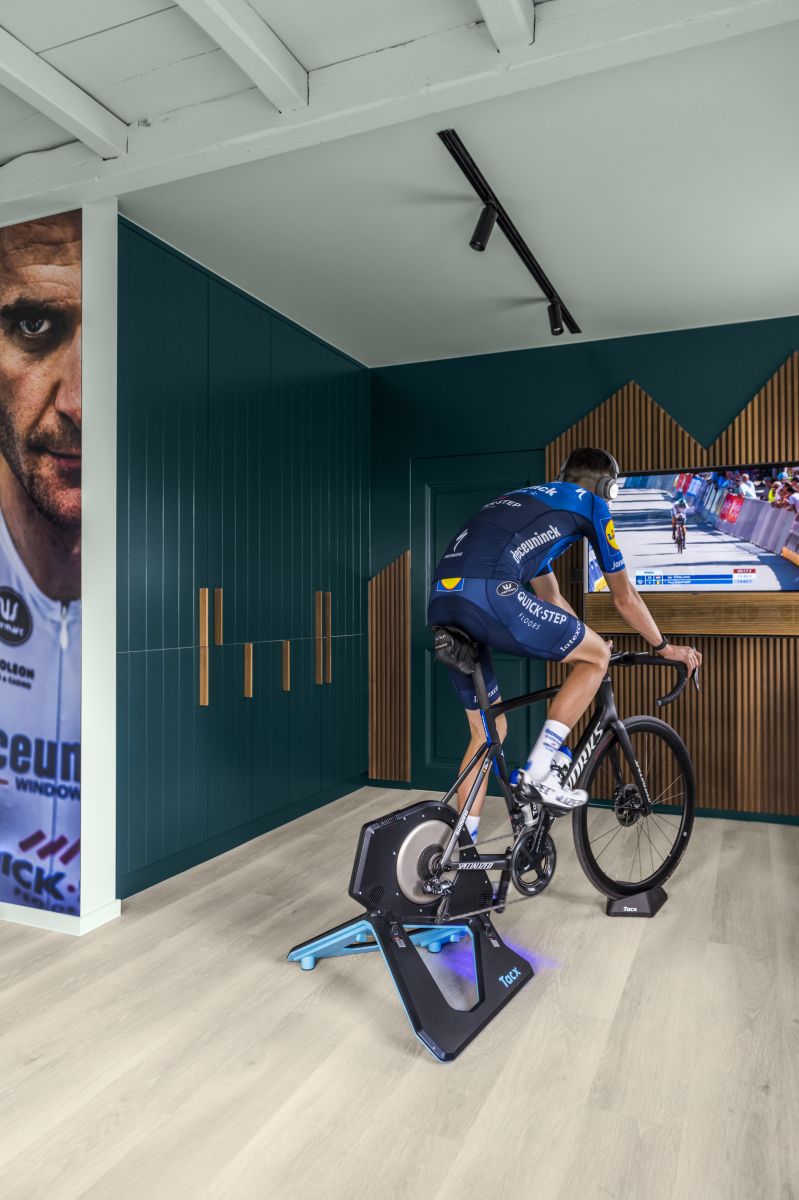 "No wonder I was super excited when I heard that Quick-Step would turn my home gym into a personalised pain cave. I was confident that their interior experts would come up with something nice, but they really exceeded my expectations. I was overwhelmed when I first saw the result. The design of the room perfectly matches my taste and personality. The big photo of me in competition is a source of inspiration and reminds me that hard work pays off."
Discover how you can create your very own pain cave >
Peaceful atmosphere
Serry's favourite bike races are those that involve beautiful mountain scenery. That's why Quick-Step used cool mint green as the basis of the Belgian cyclist's pain cave. Green reflects nature and has a calming yet refreshing and uplifting effect. Serry: "That sense of nature helps to ease my mind so I can fully focus on my training and unwind after an intense workout."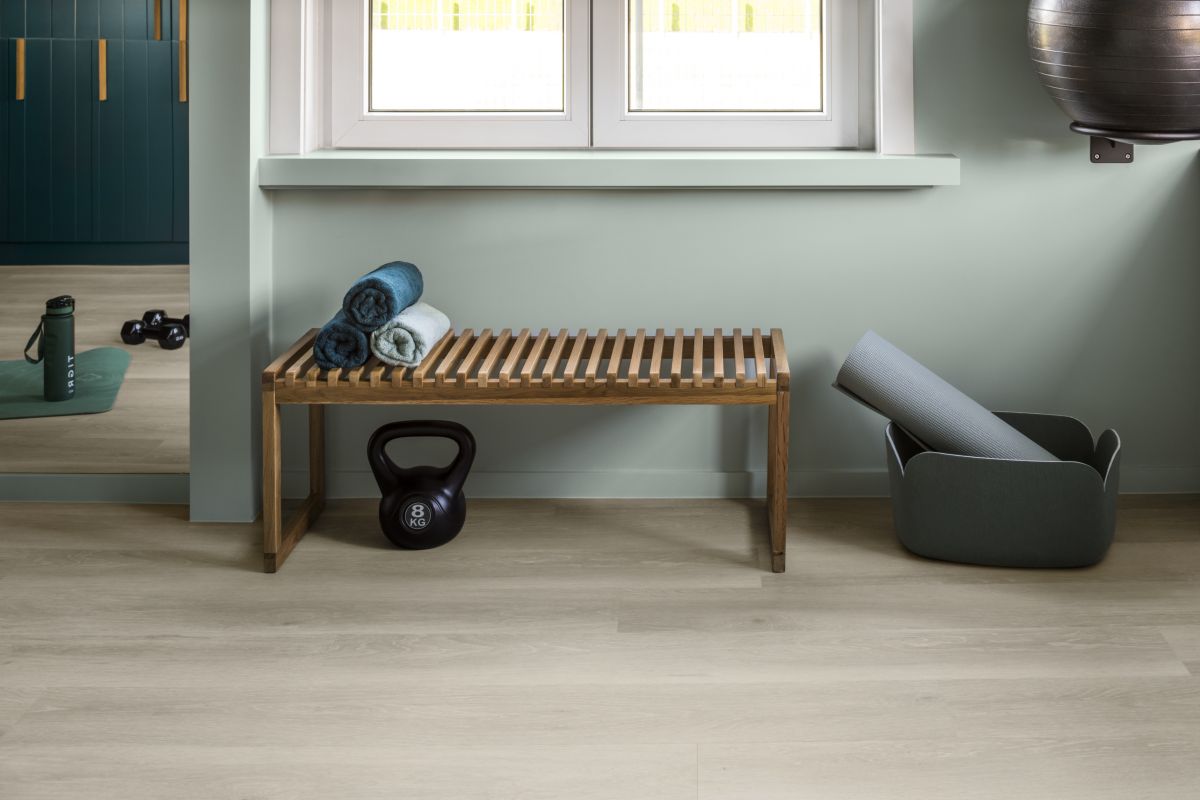 Serry loves his rest and peace, but never for too long. His friends and teammates call him 'the running joke'. The pain cave's playful colours and shapes – hence the mountain contours – reflect that witty side of Serry's personality, resulting in a peaceful atmosphere with a twist. The abundance of light opened up colour blocking opportunities by contrasting the mint green with darker green tones.
The addition of wood-inspired materials – with an Alpha Vinyl floor as the piece de resistance – and earthy, white and black interior elements give the pain cave a warm and natural look and feel. "I simply adore the combination of the sleek design and rustic aspects", Serry adds.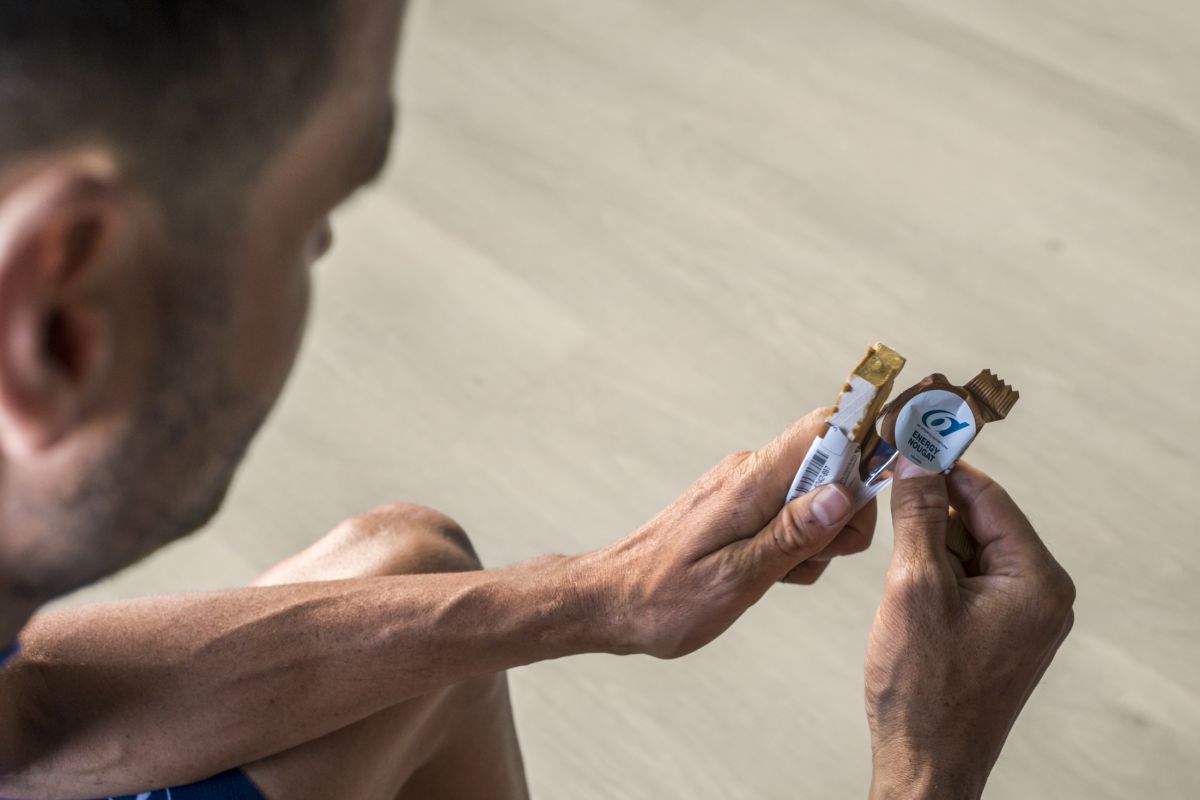 Warm and strong floor
The floor of the pain cave is covered with Alpha Vinyl Medium Tiles (Sea breeze oak beige). The realistic vinyl planks are undistinguishable from real wood and offer a warm and soft feeling. Serry: "The pure oak look – without knots and cracks – and natural feel of the floor add to the relaxing atmosphere."
"My floor doesn't only look good, but it is extremely strong too. I used to be very careful with my weights, squat rack and other training gear. But from now, I don't have to worry about scratches or other damage. Heavy sweating is no issue either, because Alpha Vinyl is water resistant, which makes it easy to clean. Bring on those rainy training days, I'm covered."