Onze ploeg verlaat de koers met drie zeges in totaal.
Josef Cerny werd zaterdagmiddag de vierde Quick-Step Alpha Vinyl renner in de laatste vijf jaar die triomfeerde in de Tour of Slovakia. De Tsjech pakte de gele trui na de koninginnerit en stond die niet meer af.
Aan het begin van de slotrit had Cerny drie seconden voorsprong in het klassement. Die verdubbelde de Tsjech bij de eerste bonificatiesprint seconden te sprokkelen na een prima lead-out van Michael Mørkøv. Na die sprint trokken acht renners op avontuur. Quick-Step Alpha Vinyl controleerde de koers en beschermde Cerny.
Ondanks een stevig achtervolging bleven twee renners over uit de vroege kopgroep. Daarvan was Jasper Haest (VolkerWessels) de snelste, enkele seconden later gevolgd door Mørkøv en Ethan Vernon die als eersten van het peloton over de streep kwam. Cerny eindigde veilig in het peloton en greep zo de eindzege. Mauri Vansevenant eindigde op een tweede stek in het eindklassement, een mooie dubbelslag in het land van onze sponsor janom. Neo-prof Martin Svrcek pakte de prijs voor beste Slovaakse renner van de koers.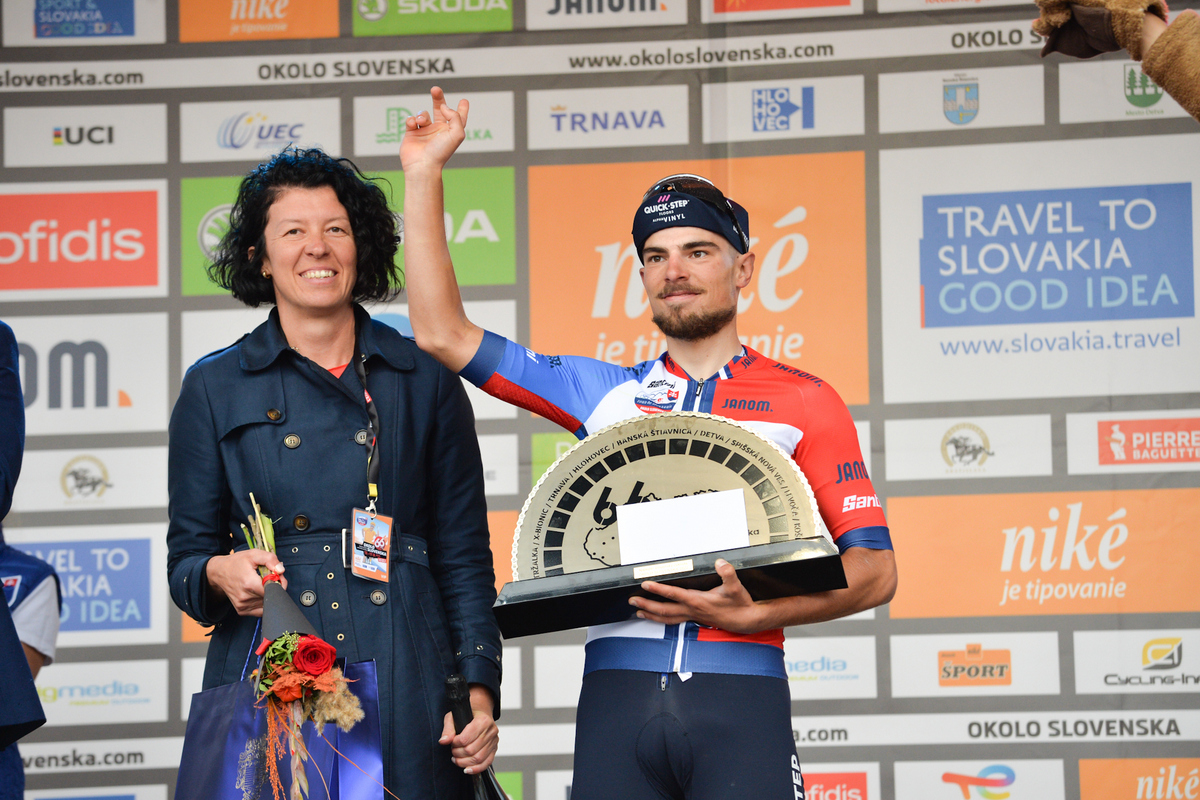 "Ik ben erg blij met mijn eerste eindzege in loopbaan. Dat dit gebeurd in onze laatste rittenkoers van het seizoen na een toch wat moeilijk seizoen voor mij, maakt het nog specialer. Ik kwam direct uit Canada naar deze koers en wist niet hoe dat zou gaan, maar ik had goede benen en verraste mezelf dat ik over alle heuvels kwam. We hadden een sterke ploeg, bezaten de gele trui vanaf de eerste tot de laatste rit en we waren erg gemotiveerd de hele week. Het was een zware koers, maar ik ben blij dat ik het kon afronden voor de Wolfpack en onze sponsor janom", sprak Josef na de 46e zege van Quick-Step Alpha Vinyl in 2022.
"Het was een lastige editie van de Tour of Slovakia. De andere ploegen maakten het ons lastig, maar de jongens toonden veel karakter en we kunnen trots zijn op onze prestatie. Josef heeft stevig gevochten, vooral in de koninginnerit. Daar heeft hij de koers gewonnen. Het is mooi dat een jongen die altijd voor de ploeg werkt nu in deze positie kwam. Hij kan blij zijn met deze zege en de toewijding die hij getoond heeft", voegde sportdirecteur Tom Steels toe.
Photo credit: ©Jan Melicher