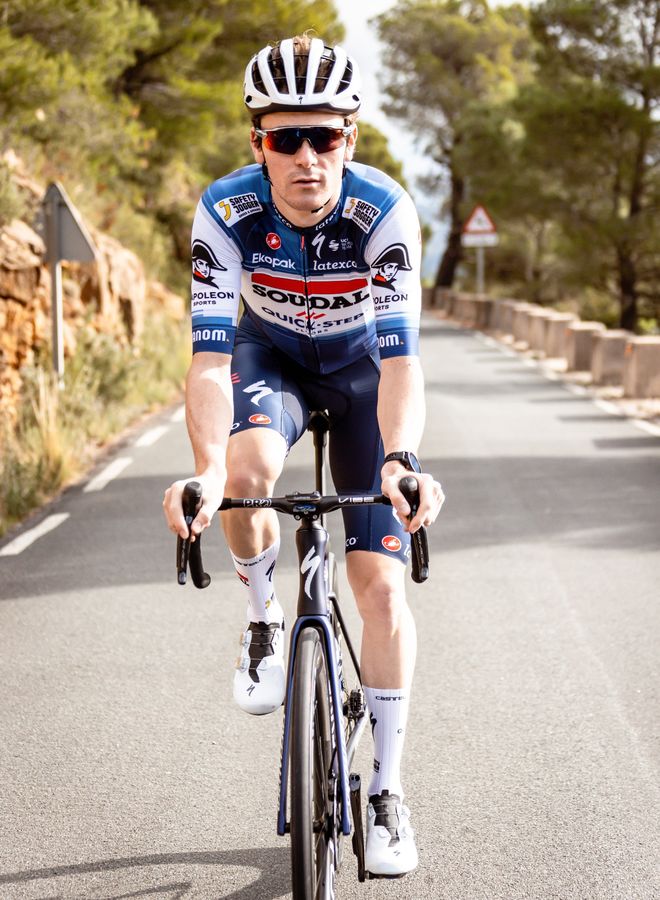 Mauro Schmid
Birthdate 04/12/1999
Nationality Switzerland
Birth place Bülach
Weight 70 kg
Height 187 cm
Pro since 2021
Pro wins 4
Favorite race Strade Bianche, Tour de Suisse, National Championships
Biography
We were all expecting a strong first season with the Wolfpack from Mauro Schmid, but what he delivered exceeded expectations. Having come close to victory in Oman, the young Swiss kept insisting and he eventually took that win days after returning to Europe, at Settimana Internazionale Coppi e Bartali, confirming what we already knew: that he loves racing in Italy.
Two months later, he didn't miss much to repeat that that in the Giro – the scene of his first success in the pro ranks – but he quickly forgot that disappointment by scoring the overall victory in the Tour of Belgium. More strong showings, against the clock and in a host of one-day races, laid out the basis for a major achievement at the end of the season: gold with his country's mixed relay at the World Championships in Australia.
The future is promising!
Overall stats
96 UCI Ranking

3 # wins

17 # top-10 positions

8439 km Race distance

59 Days of racing
Previous teams
2023 - Soudal - Quick Step (WT)
| Date | Result | Race | Distance |
| --- | --- | --- | --- |
| 05/10 | | Gran Piemonte | 152 km |
| 02/10 | 78 | Coppa Bernocchi - GP Banco BPM | 186.65 km |
| 30/09 | | Giro dell'Emilia | 204.1 km |
| 24/09 | 41 | European Continental Championships ME - Road Race | 199.8 km |
| 10/09 | | Grand Prix Cycliste de Montréal | 221.4 km |
| 08/09 | 75 | Grand Prix Cycliste de Québec | 201.6 km |
| 03/09 | | Bretagne Classic - Ouest-France | 258 km |
| 23/08 - 27/08 | | Deutschland Tour | |
| | 22 | Youth classification | |
| | 28 | Points classification | |
| | 57 | General classification | |
| 23/08 | 58 | Stage 4 | 175.6 km |
| 23/08 | 46 | Stage 3 | 173.8 km |
| 23/08 | 110 | Stage 2 | 201.3 km |
| 23/08 | 39 | Stage 1 | 179 km |
| 23/08 | 17 | Prologue | 2.3 km |
| 08/08 | 1 | World Championships - Mixed Relay TTT | 40.3 km |
| 06/08 | 13 | World Championships ME - Road Race | 271.1 km |
| 22/07 - 26/07 | | Ethias-Tour de Wallonie | |
| | 3 | Youth classification | |
| | 3 | Mountains classification | |
| | 10 | General classification | |
| 22/07 | 44 | Stage 5 | 215 km |
| 22/07 | 16 | Stage 4 (ITT) | 32.7 km |
| 22/07 | 18 | Stage 3 | 186.8 km |
| 22/07 | 38 | Stage 2 | 179.7 km |
| 22/07 | 52 | Stage 1 | 189.6 km |
| 25/06 | 4 | National Championships Switzerland ME - Road Race | 151.9 km |
| 11/06 - 18/06 | | Tour de Suisse | |
| 11/06 | | Stage 7 | 183.5 km |
| 11/06 | 991 | Stage 6 | 140.9 km |
| 11/06 | 32 | Stage 5 | 211 km |
| 11/06 | 47 | Stage 4 | 152.5 km |
| 11/06 | 64 | Stage 3 | 143.8 km |
| 11/06 | 72 | Stage 2 | 173.7 km |
| 11/06 | 70 | Stage 1 (ITT) | 12.7 km |
| 09/06 | 55 | Grosser Preis des Kantons Aargau | 173.8 km |
| 23/04 | | Liège-Bastogne-Liège | 258.1 km |
| 19/04 | 16 | La Flèche Wallonne | 194.3 km |
| 16/04 | 37 | Amstel Gold Race | 253.6 km |
| 03/04 - 08/04 | | Itzulia Basque Country | |
| | 3 | Youth classification | |
| | 2 | Points classification | |
| | 11 | General classification | |
| 03/04 | 7 | Stage 6 | 137.8 km |
| 03/04 | 5 | Stage 5 | 164.5 km |
| 03/04 | 3 | Stage 4 | 175.7 km |
| 03/04 | 39 | Stage 3 | 162.8 km |
| 03/04 | 58 | Stage 2 | 193.8 km |
| 03/04 | 2 | Stage 1 | 165.4 km |
| 21/03 - 25/03 | | Settimana Internazionale Coppi e Bartali | |
| | 15 | Mountains classification | |
| | 1 | Points classification | |
| | 1 | General classification | |
| 21/03 | 8 | Stage 5 (ITT) | 18.6 km |
| 21/03 | 2 | Stage 4 | 159.9 km |
| 21/03 | 5 | Stage 3 | 139.7 km |
| 21/03 | 2 | Stage 2 | 172.5 km |
| 21/03 | 2 | Stage 1 | 161.8 km |
| 05/03 - 12/03 | | Paris - Nice | |
| 05/03 | | Stage 3 (TTT) | 32.2 km |
| 05/03 | 111 | Stage 2 | 163.7 km |
| 05/03 | 97 | Stage 1 | 169.4 km |
| 20/02 - 26/02 | | UAE Tour | |
| | 12 | Youth classification | |
| | 31 | General classification | |
| 20/02 | 48 | Stage 7 | 153 km |
| 20/02 | 49 | Stage 6 | 166 km |
| 20/02 | 36 | Stage 5 | 170 km |
| 20/02 | 103 | Stage 4 | 174 km |
| 20/02 | 39 | Stage 3 | 185 km |
| 20/02 | 1 | Stage 2 (TTT) | 17.3 km |
| 20/02 | 56 | Stage 1 | 151 km |
| 29/01 | 14 | Cadel Evans Great Ocean Road Race | 174.3 km |
| 17/01 - 22/01 | | Santos Tour Down Under | |
| | 21 | Mountains classification | |
| | 12 | Points classification | |
| | 5 | General classification | |
| 17/01 | 10 | Stage 5 | 112.5 km |
| 17/01 | 18 | Stage 4 | 133.2 km |
| 17/01 | 22 | Stage 3 | 116.8 km |
| 17/01 | 3 | Stage 2 | 154.8 km |
| 17/01 | 62 | Stage 1 | 149.9 km |
| 17/01 | 28 | Prologue | 5.5 km |
2022 - Quick-Step Alpha Vinyl Team (WT)
| Date | Result | Race | Distance |
| --- | --- | --- | --- |
| 25/09 | 17 | World Championships ME - Road Race | 266.9 km |
| 21/09 | 1 | World Championships - Mixed Relay TTT | 28.2 km |
| 11/09 | 6 | Grand Prix Cycliste de Montréal | 221.4 km |
| 09/09 | 19 | Grand Prix Cycliste de Québec | 201.6 km |
| 28/08 | 28 | Bretagne Classic - Ouest-France | 254.8 km |
| 16/08 - 20/08 | | PostNord Danmark Rundt - Tour of Denmark | |
| | 17 | Points classification | |
| | 6 | General classification | |
| 16/08 | 5 | Stage 5 | 126.5 km |
| 16/08 | 55 | Stage 4 | 167.3 km |
| 16/08 | 18 | Stage 3 | 239.3 km |
| 16/08 | 14 | Stage 2 (ITT) | 12.2 km |
| 16/08 | 34 | Stage 1 | 222.6 km |
| 30/07 - 05/08 | | Tour de Pologne | |
| 30/07 | | Stage 5 | 178.1 km |
| 30/07 | 28 | Stage 4 | 179.4 km |
| 30/07 | 6 | Stage 3 | 237.9 km |
| 30/07 | 39 | Stage 2 | 205.6 km |
| 30/07 | 55 | Stage 1 | 218.8 km |
| 26/06 | 4 | National Championships Switzerland ME - Road Race | 192 km |
| 23/06 | 2 | National Championships Switzerland ME - ITT | 38 km |
| 15/06 - 19/06 | | Baloise Belgium Tour | |
| | 10 | Points classification | |
| | 1 | General classification | |
| 15/06 | 42 | Stage 5 | 179.9 km |
| 15/06 | 2 | Stage 4 | 172.2 km |
| 15/06 | 11 | Stage 3 (ITT) | 11.8 km |
| 15/06 | 41 | Stage 2 | 175.6 km |
| 15/06 | 18 | Stage 1 | 165 km |
| 10/06 | 16 | Grosser Preis des Kantons Aargau | 173.8 km |
| 06/05 - 29/05 | | Giro d'Italia | |
| | 24 | Youth classification | |
| | 20 | Mountains classification | |
| | 24 | Points classification | |
| | 75 | General classification | |
| 06/05 | 6 | Stage 21 (ITT) | 17.4 km |
| 06/05 | 147 | Stage 20 | 168 km |
| 06/05 | 2 | Stage 19 | 178 km |
| 06/05 | 64 | Stage 18 | 156 km |
| 06/05 | 67 | Stage 17 | 168 km |
| 06/05 | 124 | Stage 16 | 202 km |
| 06/05 | 61 | Stage 15 | 177 km |
| 06/05 | 95 | Stage 14 | 147 km |
| 06/05 | 94 | Stage 13 | 150 km |
| 06/05 | 117 | Stage 12 | 204 km |
| 06/05 | 81 | Stage 11 | 203 km |
| 06/05 | 10 | Stage 10 | 196 km |
| 06/05 | 67 | Stage 9 | 191 km |
| 06/05 | 6 | Stage 8 | 153 km |
| 06/05 | 118 | Stage 7 | 196 km |
| 06/05 | 151 | Stage 6 | 192 km |
| 06/05 | 153 | Stage 5 | 174 km |
| 06/05 | 37 | Stage 4 | 172 km |
| 06/05 | 51 | Stage 3 | 201 km |
| 06/05 | 9 | Stage 2 (ITT) | 9.2 km |
| 06/05 | 19 | Stage 1 | 195 km |
| 26/04 - 01/05 | | Tour de Romandie | |
| | 6 | Youth classification | |
| | 26 | Points classification | |
| | 23 | General classification | |
| 26/04 | 49 | Stage 5 (ITT) | 15.84 km |
| 26/04 | 24 | Stage 4 | 180.1 km |
| 26/04 | 16 | Stage 3 | 165.1 km |
| 26/04 | 21 | Stage 2 | 168.2 km |
| 26/04 | 10 | Stage 1 | 178 km |
| 26/04 | 9 | Prologue | 5.12 km |
| 22/03 - 26/03 | | Settimana Internazionale Coppi e Bartali | |
| | 13 | Youth classification | |
| | 5 | Points classification | |
| | 31 | General classification | |
| 22/03 | 12 | Stage 5 | 160 km |
| 22/03 | 48 | Stage 4 | 158.7 km |
| 22/03 | 25 | Stage 3 | 147 km |
| 22/03 | 57 | Stage 2 | 165.9 km |
| 22/03 | 1 | Stage 1 | 164.6 km |
| 18/03 | 45 | Bredene Koksijde Classic | 200.9 km |
| 16/03 | 22 | Danilith Nokere Koerse | 189.8 km |
| 05/03 | | Strade Bianche | 184 km |
| 27/02 | 23 | Drôme Classic | 191.5 km |
| 26/02 | 53 | Faun-Ardèche Classic | 168.5 km |
| 10/02 - 15/02 | | Tour of Oman | |
| | 5 | Youth classification | |
| | 12 | Points classification | |
| | 10 | General classification | |
| 10/02 | 42 | Stage 6 | 132.5 km |
| 10/02 | 10 | Stage 5 | 150.5 km |
| 10/02 | 2 | Stage 4 | 119.5 km |
| 10/02 | 10 | Stage 3 | 180 km |
| 10/02 | 54 | Stage 2 | 167.5 km |
| 10/02 | 67 | Stage 1 | 138 km |
2021 - Team Qhubeka NextHash (WT)
| Date | Result | Race | Distance |
| --- | --- | --- | --- |
| 09/10 | | Il Lombardia | 239 km |
| 06/10 | | Milano - Torino | 190 km |
| 04/10 | 95 | Coppa Bernocchi - GP BPM | 197.15 km |
| 02/10 | | Giro dell'Emilia | 195.3 km |
| 24/09 | 27 | World Championships MU - Road Race | 161.1 km |
| 22/09 | 4 | World Championships - Mixed Relay TTT | 44.5 km |
| 05/09 - 12/09 | | Tour of Britain | |
| | 32 | General classification | |
| 05/09 | 78 | Stage 8 | 173 km |
| 05/09 | 72 | Stage 7 | 194.8 km |
| 05/09 | 33 | Stage 6 | 198 km |
| 05/09 | 65 | Stage 5 | 152.2 km |
| 05/09 | 46 | Stage 4 | 210 km |
| 05/09 | 14 | Stage 3 (TTT) | 18.2 km |
| 05/09 | 25 | Stage 2 | 183.9 km |
| 05/09 | 62 | Stage 1 | 180.8 km |
| 29/08 | 72 | Bretagne Classic - Ouest-France | 251 km |
| 10/08 - 14/08 | | PostNord Danmark Rundt - Tour of Denmark | |
| 10/08 | | Stage 4 | 188.4 km |
| 10/08 | 88 | Stage 3 | 219.2 km |
| 10/08 | 115 | Stage 2 | 189.6 km |
| 10/08 | 91 | Stage 1 | 175.3 km |
| 20/06 | 7 | National Championships Switzerland ME - Road Race | 158.6 km |
| 16/06 | 4 | National Championships Switzerland ME - ITT | 39.6 km |
| 08/05 - 30/05 | | Giro d'Italia | |
| | 28 | Youth classification | |
| | 28 | Mountains classification | |
| | 39 | Points classification | |
| | 93 | General classification | |
| 08/05 | 119 | Stage 21 (ITT) | 30.3 km |
| 08/05 | 32 | Stage 20 | 164 km |
| 08/05 | 107 | Stage 19 | 166 km |
| 08/05 | 147 | Stage 18 | 231 km |
| 08/05 | 77 | Stage 17 | 193 km |
| 08/05 | 139 | Stage 16 | 153 km |
| 08/05 | 154 | Stage 15 | 147 km |
| 08/05 | 114 | Stage 14 | 205 km |
| 08/05 | 84 | Stage 13 | 198 km |
| 08/05 | 162 | Stage 12 | 212 km |
| 08/05 | 1 | Stage 11 | 162 km |
| 08/05 | 141 | Stage 10 | 139 km |
| 08/05 | 106 | Stage 9 | 158 km |
| 08/05 | 163 | Stage 8 | 170 km |
| 08/05 | 143 | Stage 7 | 181 km |
| 08/05 | 160 | Stage 6 | 160 km |
| 08/05 | 138 | Stage 5 | 177 km |
| 08/05 | 78 | Stage 4 | 187 km |
| 08/05 | 140 | Stage 3 | 190 km |
| 08/05 | 88 | Stage 2 | 179 km |
| 08/05 | 61 | Stage 1 (ITT) | 8.6 km |
| 05/04 - 10/04 | | Itzulia Basque Country | |
| | 32 | Youth classification | |
| | 92 | General classification | |
| 05/04 | 41 | Stage 6 | 111.9 km |
| 05/04 | 36 | Stage 5 | 160.2 km |
| 05/04 | 156 | Stage 4 | 189.2 km |
| 05/04 | 92 | Stage 3 | 167.7 km |
| 05/04 | 161 | Stage 2 | 154.8 km |
| 05/04 | 53 | Stage 1 (ITT) | 13.89 km |
| 06/03 | 41 | Strade Bianche | 184 km |
| 28/02 | 86 | Royal Bernard Drome Classic | 179.2 km |
| 27/02 | 34 | Faun-Ardèche Classic | 171.3 km |
| 11/02 - 14/02 | | Tour de la Provence | |
| | 16 | Youth classification | |
| | 58 | General classification | |
| 11/02 | 53 | Stage 4 | 163.2 km |
| 11/02 | 45 | Stage 3 | 153.9 km |
| 11/02 | 104 | Stage 2 | 174.7 km |
| 11/02 | 77 | Stage 1 | 182.3 km |
2020 - Leopard Pro Cycling (CT)
| Date | Result | Race | Distance |
| --- | --- | --- | --- |
| 31/10 | | National Championships Switzerland ME - Road Race | 175.1 km |
| 27/09 | | Paris-Chauny | 203.1 km |
| 15/09 - 19/09 | | Škoda-Tour de Luxembourg | |
| | 4 | Youth classification | |
| | 19 | Points classification | |
| | 11 | General classification | |
| 15/09 | 14 | Stage 5 | 177 km |
| 15/09 | 7 | Stage 4 | 201 km |
| 15/09 | 42 | Stage 3 | 159.8 km |
| 15/09 | 39 | Stage 2 | 40.7 km |
| 15/09 | 41 | Stage 1 | 133.5 km |
| 12/09 - 13/09 | | Orlen Nations Grand Prix | |
| | 49 | General classification | |
| 12/09 | 44 | Stage 2 | 135 km |
| 12/09 | 2 | Stage 1 | 27 km |
| 06/09 | 88 | Tour du Doubs | 200 km |
| 27/08 | 80 | European Continental Championships MU - Road Race | 136.5 km |
| 06/08 - 09/08 | | Czech Tour | |
| | 5 | Youth classification | |
| | 23 | Mountains classification | |
| | 13 | Points classification | |
| | 18 | General classification | |
| 06/08 | 6 | Stage 4 | 179.2 km |
| 06/08 | 32 | Stage 3 | 209.8 km |
| 06/08 | 73 | Stage 2 | 193.4 km |
| 06/08 | 11 | Stage 1 (TTT) | 18.6 km |
| 12/07 | 4 | National Championships Switzerland U23 - ITT | 20.2 km |
| 08/03 | | Grand Prix de la Ville de Lillers Souvenir Bruno Comini | 187 km |
| 02/02 | | Trofeo Playa de Palma - Palma | 159.6 km |
| 01/02 | 36 | Pollença - Andratx | 168.9 km |
| 31/01 | 18 | Trofeo Serra de Tramuntana | 160.5 km |
| 30/01 | 29 | Trofeo Felanitx, Ses Salines, Campos, Porreres | 170.7 km |
2019 - Swiss Racing Academy (CT)
| Date | Result | Race | Distance |
| --- | --- | --- | --- |
| 27/09 | 21 | World Championships MU - Road Race | 171.6 km |
| 19/09 | | Coppa Sabatini - Gran Premio città di Peccioli | 195.9 km |
| 20/08 | | GP Stad Zottegem | 200.6 km |
| 11/08 | 41 | Antwerpse Havenpijl | 181 km |
| 10/08 | | European Continental Championships MU - Road Race | 138 km |
| 08/08 | 11 | European Continental Championships MU - ITT | 22.4 km |
| 02/08 - 05/08 | | Kreiz Breizh Elites | |
| | 4 | Youth classification | |
| | 37 | Points classification | |
| | 13 | General classification | |
| 02/08 | 13 | Stage 4 | 171.8 km |
| 02/08 | 16 | Stage 3 | 181.8 km |
| 02/08 | 27 | Stage 2 | 181.1 km |
| 02/08 | 6 | Stage 1 (TTT) | 12.4 km |
| 30/06 | | National Championships Switzerland ME - Road Race | 162.8 km |
| 26/06 | 3 | National Championships Switzerland U23 - ITT | 14.4 km |
| 15/06 | 1 | National Championships Switzerland U23 - Road Race | 166.1 km |
| 09/06 | 30 | Gran Premio Città di Lugano | 179.2 km |
| 05/05 | 102 | Entre Brenne et Montmorillonnais | 183.3 km |
| 04/05 | 90 | L'Etoile d'Or | 180 km |
| 01/05 | 63 | Eschborn-Frankfurt U23 | 119 km |
| 27/04 - 28/04 | | Tour du Jura Cycliste | |
| | 25 | Youth classification | |
| | 45 | General classification | |
| 27/04 | 39 | Stage 2 | 163.5 km |
| 27/04 | 62 | Stage 1 | 148.5 km |
| 12/04 - 14/04 | | Circuit des Ardennes International | |
| 12/04 | | Stage 4 | 106 km |
| 12/04 | 29 | Stage 3 | 59.5 km |
| 12/04 | 78 | Stage 2 | 157.7 km |
| 12/04 | 60 | Stage 1 | 188.7 km |
| 07/04 | 21 | La Roue Tourangelle Région Centre Val de Loire - Trophée Harmonie Mutuelle | 186 km |
| 05/04 | 29 | Route Adélie de Vitré | 197.8 km |
| 31/03 | 100 | Cholet - Pays de la Loire | 203.2 km |
| 17/03 | 82 | Paris-Troyes | 184 km |