Okolo Slovenska / Tour de Slovaquie
Stage 4: Prievidza - Nitra

Slovakia Saturday 16 September 2023 149 km
Soudal Quick-Step poker in Slovakia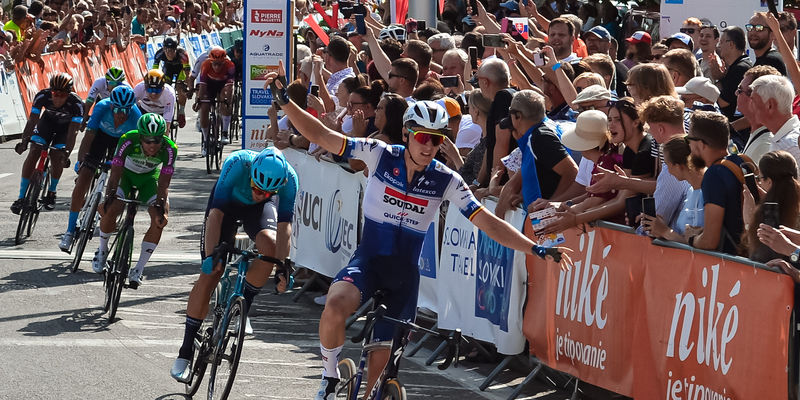 Tim Merlier made it four consecutive Soudal Quick-Step victories in Okolo Slovenska, cruising to another dominant success on the penultimate stage, which initially looked to be favouring the attackers.
Following a furious start, a five-man breakaway was established, but Tim Declercq and Josef Cerny kept their gap in check, and by the time the peloton arrived on the early slopes of the final classified climb, the quintet were almost caught. Trying to put pressure on yellow jersey Rémi Cavagna, several riders made a move on the steepest part of the ascent, which split the bunch in three groups. Merlier found himself among those in trouble, but with the help of his teammates, he closed down the gap on the descent and rejoined the peloton as the road flattened.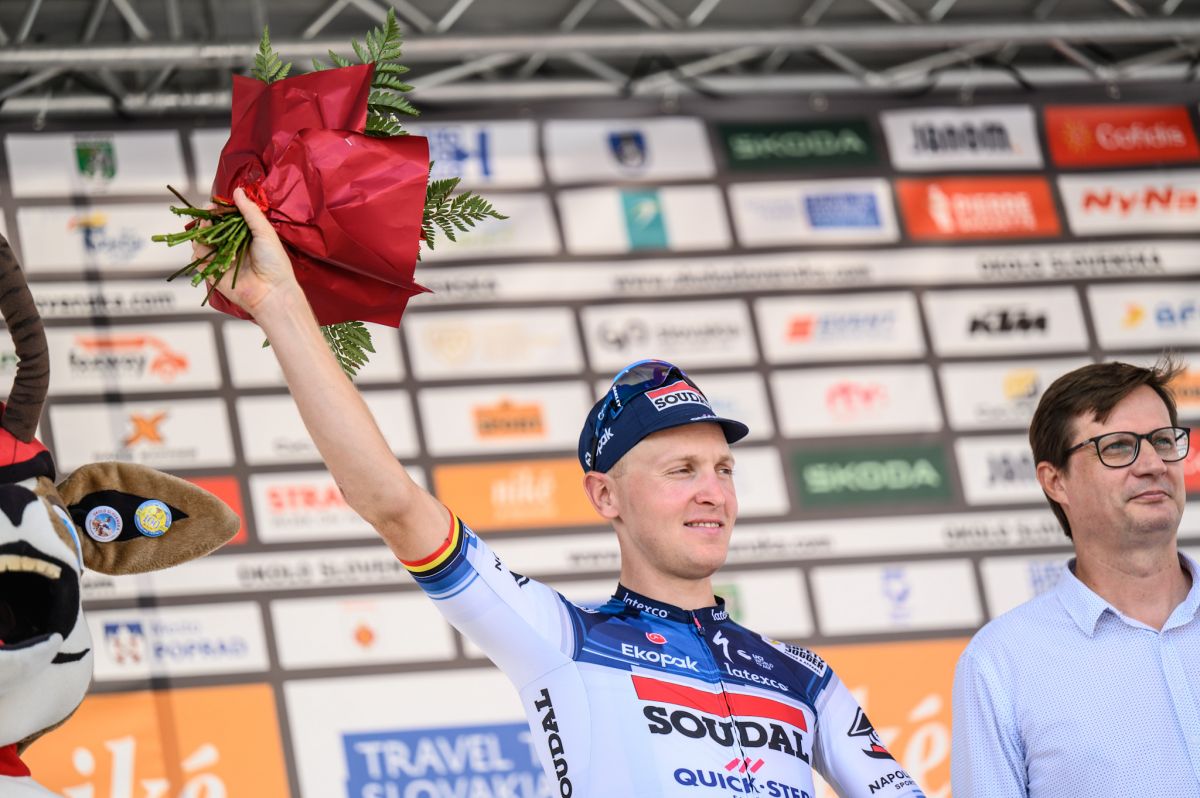 Going into the last kilometers, the Soudal Quick-Step train moved again to the front, driving a tempo that stretched out the bunch and keeping the two-time Belgian Champion in an excellent position. So powerful was the lead-out of Kasper Asgreen, that Tim had to kick out with only 100 meters to go, this short but strong acceleration being enough for his second victory in Slovakia.
"I am happy, especially as I didn't feel well in the first part of the stage and you could see that when I lost contact on the climb, but I did my best to come back and I'm happy things turned out like this despite everything. I am lucky to have such a strong team around me; they kept me in front, then Kasper made sure I entered second in the last corner with 200 meters to go, and all I had to do was to finish it off. I am proud I could contribute with another victory to Soudal Quick-Step's incredible tally this season and that I could do that in front of our sponsors Janom, who watched the stage", Tim said after his 11th win of the year.
Photo credit: ©Jan Melicher
©Sona Nikova
Race details
1
Tim Merlier
Soudal - Quick Step
3:21:26
2
Cees Bol
Astana Qazaqstan Team
0:00
3
Luca Colnaghi
Green Project-Bardiani CSF-Faizanè
0:00
4
Mirco Maestri
EOLO-Kometa
0:00
5
Daniel Skerl
Cycling Team Friuli ASD
0:00
6
Colby Simmons
Jumbo-Visma
0:00
7
Iúri Leitão
Caja Rural - Seguros RGA
0:00
8
Stanisław Aniołkowski
Human Powered Health
0:00
9
Patryk Stosz
Voster ATS Team
0:00
10
Dominik Neuman
Elkov - Kasper
0:00
29
Rémi Cavagna
Soudal - Quick Step
0:00
45
Kasper Asgreen
Soudal - Quick Step
0:00
46
Bert Van Lerberghe
Soudal - Quick Step
0:00
74
Andrea Bagioli
Soudal - Quick Step
0:00
88
Tim Declercq
Soudal - Quick Step
0:00
98
Josef Černý
Soudal - Quick Step
5:00
1
Rémi Cavagna
Soudal - Quick Step
14:24:53
2
Stefan Küng
Groupama - FDJ
2:16
3
Milan Vader
Jumbo-Visma
2:20
4
Mulu Kinfe Hailemichael
Caja Rural - Seguros RGA
2:20
5
Bart Lemmen
Human Powered Health
2:29
6
Kasper Asgreen
Soudal - Quick Step
2:42
7
Urko Berrade Fernandez
Equipo Kern Pharma
3:15
8
Koen Bouwman
Jumbo-Visma
3:24
9
Bruno Armirail
Groupama - FDJ
3:27
10
Jakub Otruba
ATT Investments
3:37
16
Tim Merlier
Soudal - Quick Step
5:37
31
Bert Van Lerberghe
Soudal - Quick Step
5:57
34
Andrea Bagioli
Soudal - Quick Step
6:08
82
Tim Declercq
Soudal - Quick Step
12:43
103
Josef Černý
Soudal - Quick Step
21:03
1
Rémi Cavagna
Soudal - Quick Step
44 pt
2
Tim Merlier
Soudal - Quick Step
40 pt
3
Stefan Küng
Groupama - FDJ
35 pt
4
Cees Bol
Astana Qazaqstan Team
30 pt
5
Milan Vader
Jumbo-Visma
29 pt
6
Kasper Asgreen
Soudal - Quick Step
22 pt
7
Andrea Bagioli
Soudal - Quick Step
20 pt
8
Colby Simmons
Jumbo-Visma
20 pt
9
Mulu Kinfe Hailemichael
Caja Rural - Seguros RGA
17 pt
10
Daniel Skerl
Cycling Team Friuli ASD
16 pt
42
Tim Declercq
Soudal - Quick Step
1 pt
1
Milan Vader
Jumbo-Visma
36 pt
2
Matěj Zahálka
Elkov - Kasper
20 pt
3
Andrea Pietrobon
EOLO-Kometa
18 pt
4
Jiří Petruš
ATT Investments
14 pt
5
Koen Bouwman
Jumbo-Visma
12 pt
6
Aljaž Jarc
Adria Mobil
10 pt
7
Daniel Turek
ATT Investments
9 pt
8
Sebastian Schönberger
Human Powered Health
6 pt
9
Stefan Küng
Groupama - FDJ
6 pt
10
Michael Konczer
Team Hrinkow Advarics
6 pt
12
Rémi Cavagna
Soudal - Quick Step
5 pt
20
Kasper Asgreen
Soudal - Quick Step
3 pt
24
Andrea Bagioli
Soudal - Quick Step
2 pt
1
Colby Simmons
Jumbo-Visma
14:30:45
2
Javier Serrano Rodriguez
EOLO-Kometa
0:05
3
Loe van Belle
Jumbo-Visma
0:22
4
Brieuc Rolland
Groupama - FDJ
0:51
5
Daniel Vysočan
RRK Group - Pierre Baguette - Benzinol
0:51
6
Alberto Bruttomesso
Cycling Team Friuli ASD
2:11
7
Samuel Tuka
Dukla Banska Bystrica
2:57
8
Oliver Stockwell
Cycling Team Friuli ASD
2:57
9
Alessio Martinelli
Green Project-Bardiani CSF-Faizanè
2:57
10
Tomáš Obdržálek
Elkov - Kasper
3:14
| | | |
| --- | --- | --- |
| 1 | Soudal - Quick Step | 43:23:19 |
| 2 | Jumbo-Visma | 2:48 |
| 3 | Groupama - FDJ | 3:10 |
| 4 | Caja Rural - Seguros RGA | 5:41 |
| 5 | Human Powered Health | 5:45 |
| 6 | Equipo Kern Pharma | 6:07 |
| 7 | EOLO-Kometa | 6:55 |
| 8 | ATT Investments | 6:55 |
| 9 | Team Corratec - Selle Italia | 8:17 |
| 10 | Green Project-Bardiani CSF-Faizanè | 8:45 |
Tim Merlier gets his tenth win of the season
14/09/2023 - Race report
Link