Okolo Slovenska / Tour de Slovaquie
Stage 3: Ružomberok - Martin

Slovakia Friday 15 September 2023 171.6 km
Soudal Quick-Step reaches 50 wins again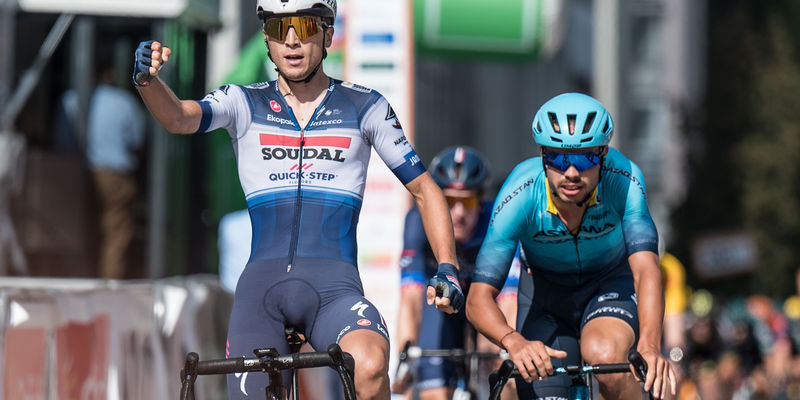 Soudal Quick-Step celebrated its 50th success of the season in Slovakia, where Andrea Bagioli made it a hat-trick of Wolfpack victories after an entertaining final ten kilometers on stage three of the race.
The Italian, who recently returned to competition after sickness made him abandon the Vuelta a few weeks ago, responded to an attack on the last ascent of the day, a 1.2km hill averaging 9.1%, was joined by yellow jersey Rémi Cavagna, and together with three other men, opened a nice gap on the chasers on the fast descent to Martin, Friday's finish town.
Entering the closing kilometer, it looked like the small peloton would come back, but thanks to a great effort of Rémi, the quintet stayed clear and Andrea could kick with 150 meters to go, sailing to a comfortable victory, his sixth for Soudal Quick-Step. In the general classification, Cavagna increased his lead over the next rider to more than two minutes, as he got one step closer to becoming the first Frenchman since teammate Julian Alaphilippe to win Okolo Slovenska.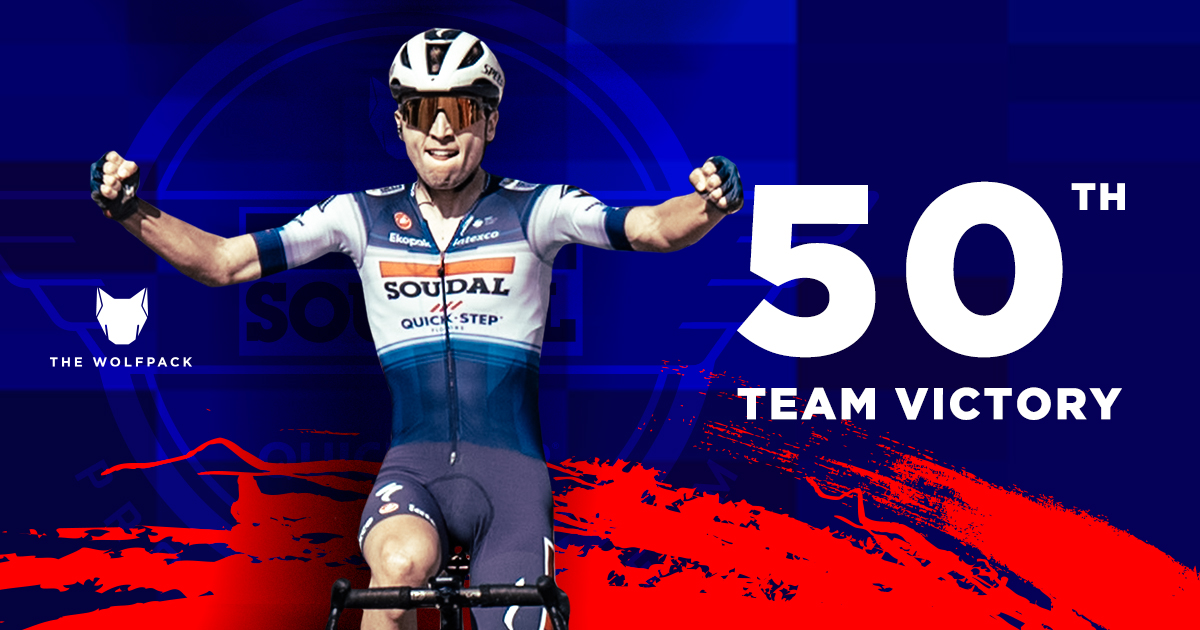 "It was the hardest stage of the week, but our team did a great job controlling the breakaway, and then, when the group got away on that steep climb in the last ten kilometers, I was lucky to have Rémi there, who worked hard for me. All that I had to do was finish it off, and to be able to win after the illness that forced me to abandon La Vuelta gives me a lot of confidence for the remaining races of the season. I'm really happy, and the fact that I am the one to sign off the team's 50th win of the season is the cherry on the cake. It's amazing that the Wolfpack hit this milestone again", an elated Andrea explained.
His thoughts were echoed by those of Soudal Quick-Step CEO Patrick Lefevere: "It's for the ninth time in the last twelve years that the team reaches 50 victories, and the fact that we've done it with a dozen different riders speaks a lot about the strength of our squad and the fact we were always there in all the races since the very start of the season. It's a beautiful achievement that should make everyone involved – riders, staff, sponsors, and fans – really proud."
Photo credit: ©Jan Melicher
Race details
1
Andrea Bagioli
Soudal - Quick Step
3:54:24
2
Michele Gazzoli
Astana Qazaqstan Team
0:00
3
Stefan Küng
Groupama - FDJ
0:00
4
Rémi Cavagna
Soudal - Quick Step
0:00
5
Lukáš Kubiš
Dukla Banska Bystrica
0:00
6
Pau Miquel Delgado
Equipo Kern Pharma
0:00
7
Koen Bouwman
Jumbo-Visma
0:00
8
Bart Lemmen
Human Powered Health
0:00
9
Urko Berrade Fernandez
Equipo Kern Pharma
0:00
10
Gijs Leemreize
Jumbo-Visma
0:00
33
Bert Van Lerberghe
Soudal - Quick Step
0:25
37
Kasper Asgreen
Soudal - Quick Step
0:25
39
Tim Merlier
Soudal - Quick Step
0:25
95
Tim Declercq
Soudal - Quick Step
4:24
114
Josef Černý
Soudal - Quick Step
5:38
1
Rémi Cavagna
Soudal - Quick Step
11:03:27
2
Stefan Küng
Groupama - FDJ
2:20
3
Mulu Kinfe Hailemichael
Caja Rural - Seguros RGA
2:21
4
Milan Vader
Jumbo-Visma
2:23
5
Bart Lemmen
Human Powered Health
2:26
6
Kasper Asgreen
Soudal - Quick Step
2:42
7
Urko Berrade Fernandez
Equipo Kern Pharma
3:12
8
Koen Bouwman
Jumbo-Visma
3:21
9
Bruno Armirail
Groupama - FDJ
3:27
10
Jakub Otruba
ATT Investments
3:37
16
Tim Merlier
Soudal - Quick Step
5:47
32
Bert Van Lerberghe
Soudal - Quick Step
5:57
35
Andrea Bagioli
Soudal - Quick Step
6:08
94
Tim Declercq
Soudal - Quick Step
12:43
110
Josef Černý
Soudal - Quick Step
16:03
1
Rémi Cavagna
Soudal - Quick Step
44 pt
2
Stefan Küng
Groupama - FDJ
27 pt
3
Kasper Asgreen
Soudal - Quick Step
22 pt
4
Tim Merlier
Soudal - Quick Step
20 pt
5
Andrea Bagioli
Soudal - Quick Step
20 pt
6
Milan Vader
Jumbo-Visma
17 pt
7
Mulu Kinfe Hailemichael
Caja Rural - Seguros RGA
15 pt
8
Cees Bol
Astana Qazaqstan Team
15 pt
9
Michele Gazzoli
Astana Qazaqstan Team
15 pt
10
Bart Lemmen
Human Powered Health
13 pt
1
Milan Vader
Jumbo-Visma
34 pt
2
Matěj Zahálka
Elkov - Kasper
20 pt
3
Andrea Pietrobon
EOLO-Kometa
18 pt
4
Jiří Petruš
ATT Investments
14 pt
5
Koen Bouwman
Jumbo-Visma
12 pt
6
Aljaž Jarc
Adria Mobil
10 pt
7
Sebastian Schönberger
Human Powered Health
6 pt
8
Stefan Küng
Groupama - FDJ
6 pt
9
Davide De Cassan
Cycling Team Friuli ASD
6 pt
10
Rémi Cavagna
Soudal - Quick Step
5 pt
18
Kasper Asgreen
Soudal - Quick Step
2 pt
20
Andrea Bagioli
Soudal - Quick Step
2 pt
1
Colby Simmons
Jumbo-Visma
11:09:20
2
Javier Serrano Rodriguez
EOLO-Kometa
0:04
3
Loe van Belle
Jumbo-Visma
0:21
4
Brieuc Rolland
Groupama - FDJ
0:50
5
Daniel Vysočan
RRK Group - Pierre Baguette - Benzinol
0:50
6
Alberto Bruttomesso
Cycling Team Friuli ASD
2:10
7
Samuel Tuka
Dukla Banska Bystrica
2:56
8
Oliver Stockwell
Cycling Team Friuli ASD
2:56
9
Alessio Martinelli
Green Project-Bardiani CSF-Faizanè
2:56
10
Tomáš Obdržálek
Elkov - Kasper
3:13
| | | |
| --- | --- | --- |
| 1 | Soudal - Quick Step | 33:19:01 |
| 2 | Jumbo-Visma | 2:39 |
| 3 | Groupama - FDJ | 3:10 |
| 4 | Caja Rural - Seguros RGA | 5:41 |
| 5 | Human Powered Health | 5:42 |
| 6 | Equipo Kern Pharma | 6:01 |
| 7 | EOLO-Kometa | 6:55 |
| 8 | ATT Investments | 6:55 |
| 9 | Team Corratec - Selle Italia | 8:17 |
| 10 | Green Project-Bardiani CSF-Faizanè | 8:45 |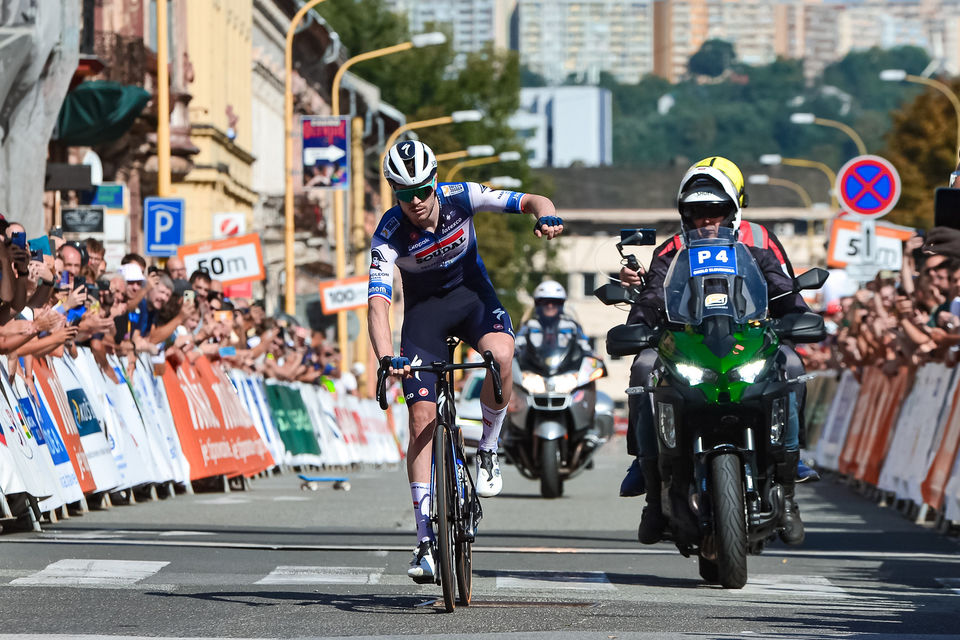 Rémi Cavagna smashes Slovakia opening stage
13/09/2023 - Race report
Link