Okolo Slovenska / Tour de Slovaquie
Stage 2: Prešov - Poprad

Slovakia Thursday 14 September 2023 144.6 km
Tim Merlier gets his tenth win of the season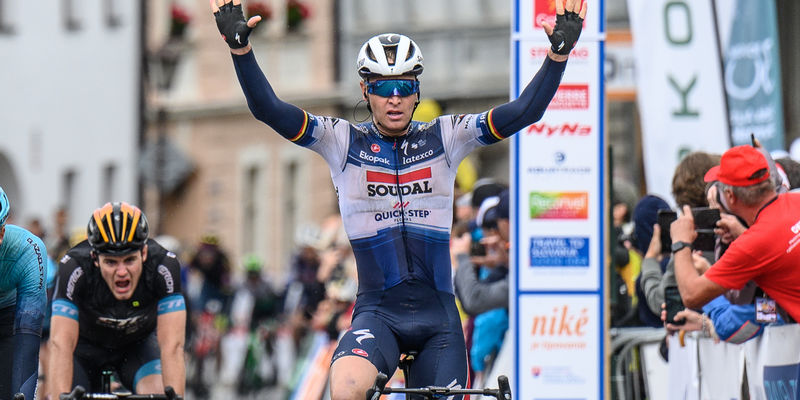 Soudal Quick-Step made it two for two in Okolo Slovenska. After Rémi Cavagna soloed to victory Wednesday, twenty-four hours later it was Tim Merlier's turn to take center stage at the end of the race's shortest day, only 147 kilometers from Presov to Poprad, over a hilly parcours.
One of the team's most prolific riders this season, the two-time Belgian Champion reached ten victories in a season for the first time in his career, and he did it after another powerful sprint that left the others fighting for the minor placings. On the podium, where he received the winner's trophy, Tim was accompanied by Rémi, who retained the yellow jersey, which he has a strong chance of bringing home thanks to the considerable buffer he continues to have in the general classification.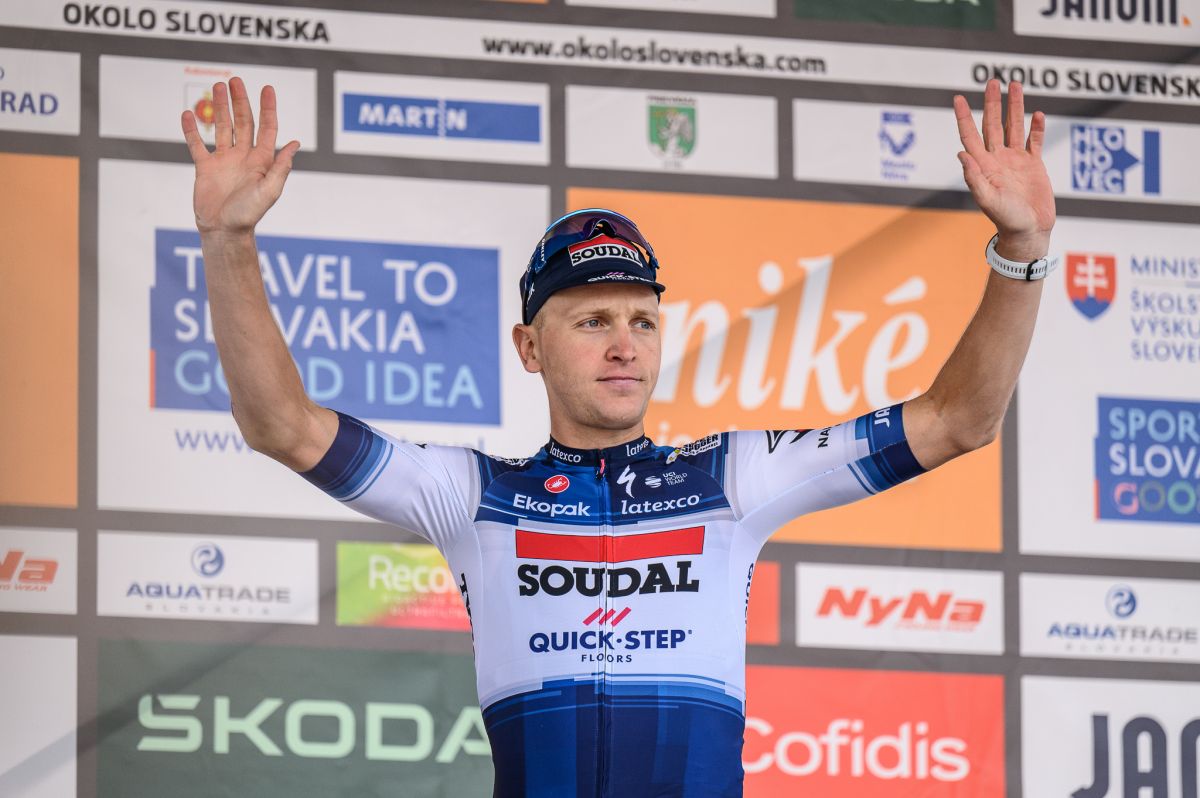 "At first, I thought it was going to be difficult, as I had a flat tire with 50 kilometers to go, and this came after a rainy and full gas opening hour, which clearly didn't make things easy. Fortunately, we have two great guys – Tim and Josef – who did a great job closing the gap and bringing back the five escapees, without any help whatsoever from the other squads."
"I'm happy that I still had the legs to pull it off after such a hard day. I'm also delighted that I could celebrate my tenth victory of the season; it's a nice milestone for my first year with the Wolfpack, and if it's possible between now and the end of the season, I will try to add to this number", said Tim after scoring Soudal Quick-Step's 48th victory of the year.
Photo credit: ©Sona Nikova
Race details
1
Tim Merlier
Soudal - Quick Step
3:25:53
2
Cees Bol
Astana Qazaqstan Team
0:00
3
Colby Simmons
Jumbo-Visma
0:00
4
Alberto Bruttomesso
Cycling Team Friuli ASD
0:00
5
Daniel Skerl
Cycling Team Friuli ASD
0:00
6
Iúri Leitão
Caja Rural - Seguros RGA
0:00
7
Lukáš Kubiš
Dukla Banska Bystrica
0:00
8
Charles-Étienne Chrétien
Human Powered Health
0:00
9
Stanisław Aniołkowski
Human Powered Health
0:00
10
Luca Colnaghi
Green Project-Bardiani CSF-Faizanè
0:00
24
Rémi Cavagna
Soudal - Quick Step
0:00
39
Kasper Asgreen
Soudal - Quick Step
0:00
40
Bert Van Lerberghe
Soudal - Quick Step
0:00
80
Andrea Bagioli
Soudal - Quick Step
0:46
109
Tim Declercq
Soudal - Quick Step
2:47
110
Josef Černý
Soudal - Quick Step
2:47
1
Rémi Cavagna
Soudal - Quick Step
7:09:04
2
Mulu Kinfe Hailemichael
Caja Rural - Seguros RGA
1:55
3
Kasper Asgreen
Soudal - Quick Step
2:16
4
Milan Vader
Jumbo-Visma
2:22
5
Stefan Küng
Groupama - FDJ
2:23
6
Bart Lemmen
Human Powered Health
2:25
7
Bruno Armirail
Groupama - FDJ
3:01
8
Urko Berrade Fernandez
Equipo Kern Pharma
3:11
9
Jakub Otruba
ATT Investments
3:11
10
Koen Bouwman
Jumbo-Visma
3:20
14
Tim Merlier
Soudal - Quick Step
5:21
39
Bert Van Lerberghe
Soudal - Quick Step
5:31
52
Andrea Bagioli
Soudal - Quick Step
6:17
75
Tim Declercq
Soudal - Quick Step
8:18
110
Josef Černý
Soudal - Quick Step
10:24
1
Rémi Cavagna
Soudal - Quick Step
32 pt
2
Kasper Asgreen
Soudal - Quick Step
22 pt
3
Tim Merlier
Soudal - Quick Step
20 pt
4
Milan Vader
Jumbo-Visma
17 pt
5
Mulu Kinfe Hailemichael
Caja Rural - Seguros RGA
15 pt
6
Cees Bol
Astana Qazaqstan Team
15 pt
7
Stefan Küng
Groupama - FDJ
14 pt
8
Jakub Otruba
ATT Investments
12 pt
9
Colby Simmons
Jumbo-Visma
12 pt
10
Sebastian Schönberger
Human Powered Health
12 pt
1
Milan Vader
Jumbo-Visma
17 pt
2
Sebastian Schönberger
Human Powered Health
6 pt
3
Jan Bárta
Elkov - Kasper
4 pt
4
Stefan Küng
Groupama - FDJ
4 pt
5
Koen Bouwman
Jumbo-Visma
4 pt
6
Thibaut Pinot
Groupama - FDJ
3 pt
7
Yevgeniy Fedorov
Astana Qazaqstan Team
3 pt
8
Mulu Kinfe Hailemichael
Caja Rural - Seguros RGA
3 pt
9
Jaka Primožič
Team Hrinkow Advarics
3 pt
10
Riccardo Lucca
Green Project-Bardiani CSF-Faizanè
3 pt
11
Kasper Asgreen
Soudal - Quick Step
2 pt
1
Colby Simmons
Jumbo-Visma
7:14:31
2
Javier Serrano Rodriguez
EOLO-Kometa
0:04
3
Jesse Kramer
Jumbo-Visma
0:04
4
Loe van Belle
Jumbo-Visma
0:04
5
Brieuc Rolland
Groupama - FDJ
0:50
6
Daniel Vysočan
RRK Group - Pierre Baguette - Benzinol
0:50
7
Alberto Bruttomesso
Cycling Team Friuli ASD
2:10
8
Daniel Skerl
Cycling Team Friuli ASD
2:10
9
Marco Andreaus
Cycling Team Friuli ASD
2:10
10
Michał Pomorski
HRE Mazowsze Serce Polski
2:10
| | | |
| --- | --- | --- |
| 1 | Soudal - Quick Step | 21:35:24 |
| 2 | Groupama - FDJ | 2:45 |
| 3 | Jumbo-Visma | 3:04 |
| 4 | Caja Rural - Seguros RGA | 4:51 |
| 5 | Human Powered Health | 5:17 |
| 6 | Equipo Kern Pharma | 6:01 |
| 7 | EOLO-Kometa | 6:05 |
| 8 | ATT Investments | 6:05 |
| 9 | Team Corratec - Selle Italia | 6:53 |
| 10 | Green Project-Bardiani CSF-Faizanè | 7:55 |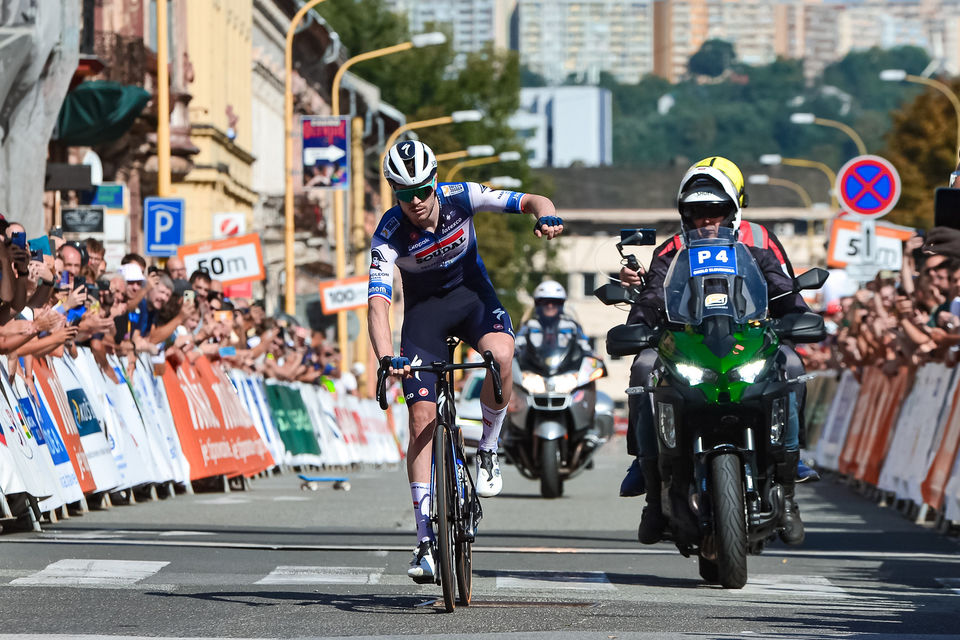 Rémi Cavagna smashes Slovakia opening stage
13/09/2023 - Race report
Link