Pedersen top ten in Helsingør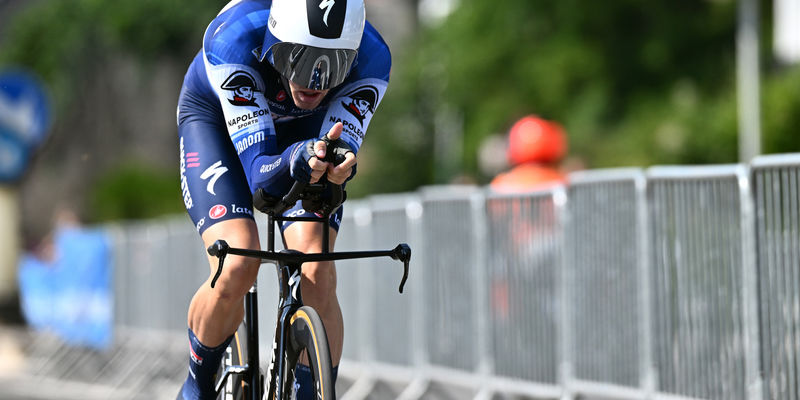 The last stage of the Danmark Rundt scheduled a completely flat and non-technical 16.1km individual time trial, and Soudal Quick-Step was again prominent, after the pair of victories that Fabio Jakobsen racked up on the previous days of the competition.
One of the early starters, Josef Cerny put up a solid ITT that allowed him to go into the hot seat for an hour, before his result was improved by one of the home riders. Later into the stage, it was the turn of Casper Pedersen to show again what he's capable of on a course like this, and the Dane didn't disappoint, producing a solid effort that netted him seventh on the stage classification in Helsingør.
It was the 27-year-old's third top ten of the season in an individual time trial, after the ones in Tirreno-Adriatico and the Belgium Tour, at the latter finishing third on the GC thanks to his skills against the clock.
Photo credit: ©Luc Claessen / Getty Images
Race details
1
Mads Pedersen
Lidl - Trek
17:50
2
Søren Wærenskjold
Uno-X Pro Cycling Team
0:24
3
Magnus Cort Nielsen
EF Education-EasyPost
0:34
4
Daan Hoole
Lidl - Trek
0:35
5
Mattias Skjelmose Jensen
Lidl - Trek
0:45
6
Niklas Larsen
Uno-X Pro Cycling Team
0:50
7
Casper Pedersen
Soudal - Quick Step
0:54
8
Josef Černý
Soudal - Quick Step
0:58
9
Florian Vermeersch
Lotto Dstny
1:00
10
Frederik Muff Hansen
Team ColoQuick
1:00
22
Martin Svrček
Soudal - Quick Step
1:15
34
Michael Mørkøv Christensen
Soudal - Quick Step
1:35
121
Fabio Jakobsen
Soudal - Quick Step
3:58
DNS
Tim Declercq
Soudal - Quick Step
-00:17:50
1
Mads Pedersen
Lidl - Trek
16:49:16
2
Mattias Skjelmose Jensen
Lidl - Trek
0:41
3
Magnus Cort Nielsen
EF Education-EasyPost
1:19
4
Søren Wærenskjold
Uno-X Pro Cycling Team
1:29
5
Florian Vermeersch
Lotto Dstny
2:03
6
Alexander Kamp
Tudor Pro Cycling Team
2:12
7
Brent Van Moer
Lotto Dstny
2:28
8
Mathias Bregnhøj
Leopard TOGT Pro Cycling
2:28
9
Toms Skujiņš
Lidl - Trek
2:30
10
Magnus Bak Klaris
Restaurant Suri - Carl Ras
2:34
26
Casper Pedersen
Soudal - Quick Step
5:17
48
Martin Svrček
Soudal - Quick Step
13:15
55
Michael Mørkøv Christensen
Soudal - Quick Step
16:31
57
Fabio Jakobsen
Soudal - Quick Step
17:03
100
Josef Černý
Soudal - Quick Step
33:14
1
Mads Pedersen
Lidl - Trek
57 pt
2
Søren Wærenskjold
Uno-X Pro Cycling Team
48 pt
3
Fabio Jakobsen
Soudal - Quick Step
42 pt
4
Mattias Skjelmose Jensen
Lidl - Trek
30 pt
5
Magnus Cort Nielsen
EF Education-EasyPost
26 pt
6
Tobias Lund Andresen
Team dsm - firmenich
24 pt
7
Søren Kragh Andersen
Alpecin-Deceuninck
17 pt
8
Luca Colnaghi
Green Project-Bardiani CSF-Faizanè
13 pt
9
Jensen Plowright
Alpecin-Deceuninck
13 pt
10
Florian Vermeersch
Lotto Dstny
12 pt
24
Casper Pedersen
Soudal - Quick Step
6 pt
30
Josef Černý
Soudal - Quick Step
5 pt
1
Nicklas Amdi Pedersen
Team ColoQuick
40 pt
2
Jeppe Aaskov Pallesen
HRE Mazowsze Serce Polski
32 pt
3
Wessel Krul
Human Powered Health
26 pt
4
Frederik Irgens Jensen
BHS - PL Beton Bornholm
22 pt
5
Mads Østergaard Kristensen
Leopard TOGT Pro Cycling
20 pt
6
Henrik Pedersen
Team ColoQuick
18 pt
7
Nikolaj Mengel
BHS - PL Beton Bornholm
16 pt
8
Emil Mielke Vinjebo Nygaard
Leopard TOGT Pro Cycling
12 pt
9
Simon Pellaud
Tudor Pro Cycling Team
10 pt
10
Jules Hesters
Team Flanders - Baloise
8 pt
1
Logan Currie
Bolton Equities Black Spoke
16:52:07
2
Tobias Svarre
Team ColoQuick
0:27
3
Kasper Andersen
Denmark
1:13
4
Matyáš Kopecký
Team Novo Nordisk
3:09
5
Jenno Berckmoes
Team Flanders - Baloise
4:59
6
Robin Juel Skivild
Leopard TOGT Pro Cycling
5:11
7
Marco Brenner
Team dsm - firmenich
7:26
8
Martin Svrček
Soudal - Quick Step
10:24
9
Tobias Lund Andresen
Team dsm - firmenich
11:54
10
Filippo Ridolfo
Team Novo Nordisk
15:37
| | | |
| --- | --- | --- |
| 1 | Lidl - Trek | 50:30:36 |
| 2 | EF Education-EasyPost | 4:36 |
| 3 | Leopard TOGT Pro Cycling | 5:27 |
| 4 | Alpecin-Deceuninck | 5:33 |
| 5 | Tudor Pro Cycling Team | 5:58 |
| 6 | HRE Mazowsze Serce Polski | 7:52 |
| 7 | Lotto Dstny | 10:42 |
| 8 | Soudal - Quick Step | 10:58 |
| 9 | Team Flanders - Baloise | 11:41 |
| 10 | Uno-X Pro Cycling Team | 13:57 |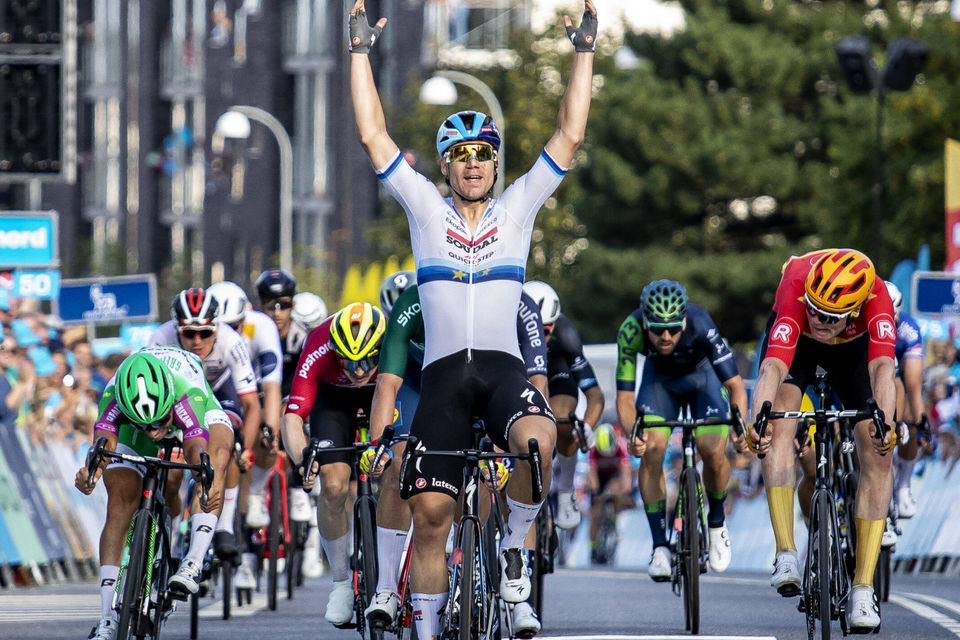 Soudal Quick-Step reaches 40 wins
18/08/2023 - Race report
Link