Soudal Quick-Step reaches 40 wins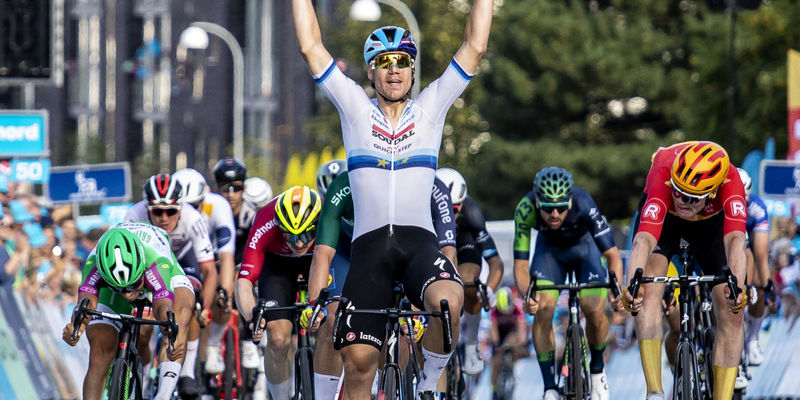 For the 11th time in the last twelve years – the only exception being 2020, when many races got cancelled due to the pandemic – Soudal Quick-Step made it to 40 successes, the most recent milestone being recorded Friday afternoon, courtesy of a truly unstoppable Fabio Jakobsen.
The European Champion confirmed he is the best sprinter at the Danmark Rundt, winning stage four by a clear margin after another superb lead-out. If two days ago it was Casper Pedersen who launched him to victory, this time Michael Mørkøv was on lead-out duties, and the experienced Dane showed again there's a reason why he's one of the best in the business.
Coming off Michael's wheel with around 200 meters to go, Jakobsen blasted past all the other riders as he dashed to his 45th victory in the pro ranks and his seventh of the season – a result that puts the 26-year-old Dutchman in the Danmark Rundt points classification jersey with one stage to go – the individual time trial in Helsingør.
"I am happy with my two victories here this week, which wouldn't have been possible without the help of my teammates, to whom I want to thank for their incredible work. Having such a great squad around you gives a lot of confidence and makes it a lot easier in the finale, and I am delighted I could repay their confidence and amazing effort. The fact that today's success was Soudal Quick-Step's 40th win of the season is just the icing on the cake", Fabio said after the stage that concluded in Bagsvaerd.
Photo credit: ©Danmark Rundt
Race details
1
Fabio Jakobsen
Soudal - Quick Step
4:00:36
2
Mads Pedersen
Lidl - Trek
0:00
3
Luca Colnaghi
Green Project-Bardiani CSF-Faizanè
0:00
4
Søren Wærenskjold
Uno-X Pro Cycling Team
0:00
5
Jensen Plowright
Alpecin-Deceuninck
0:00
6
Alexander Salby
Denmark
0:00
7
Tobias Lund Andresen
Team dsm - firmenich
0:00
8
Matteo Moschetti
Q36.5 Pro Cycling Team
0:00
9
Andrea Peron
Team Novo Nordisk
0:00
10
Sebastian Nielsen
Team ColoQuick
0:00
63
Tim Declercq
Soudal - Quick Step
0:13
67
Michael Mørkøv Christensen
Soudal - Quick Step
0:13
70
Martin Svrček
Soudal - Quick Step
0:13
105
Casper Pedersen
Soudal - Quick Step
2:08
127
Josef Černý
Soudal - Quick Step
13:24
1
Mattias Skjelmose Jensen
Lidl - Trek
16:31:22
2
Mads Pedersen
Lidl - Trek
0:04
3
Magnus Cort Nielsen
EF Education-EasyPost
0:49
4
Nicola Conci
Alpecin-Deceuninck
1:04
5
Florian Vermeersch
Lotto Dstny
1:07
6
Søren Wærenskjold
Uno-X Pro Cycling Team
1:09
7
Alexander Kamp
Tudor Pro Cycling Team
1:14
8
Brent Van Moer
Lotto Dstny
1:26
9
Vito Braet
Team Flanders - Baloise
1:31
10
Magnus Bak Klaris
Restaurant Suri - Carl Ras
1:31
24
Tim Declercq
Soudal - Quick Step
1:47
29
Casper Pedersen
Soudal - Quick Step
4:27
50
Martin Svrček
Soudal - Quick Step
12:04
55
Fabio Jakobsen
Soudal - Quick Step
13:09
57
Michael Mørkøv Christensen
Soudal - Quick Step
15:00
106
Josef Černý
Soudal - Quick Step
32:20
1
Fabio Jakobsen
Soudal - Quick Step
42 pt
2
Mads Pedersen
Lidl - Trek
42 pt
3
Søren Wærenskjold
Uno-X Pro Cycling Team
36 pt
4
Tobias Lund Andresen
Team dsm - firmenich
24 pt
5
Mattias Skjelmose Jensen
Lidl - Trek
22 pt
6
Søren Kragh Andersen
Alpecin-Deceuninck
17 pt
7
Magnus Cort Nielsen
EF Education-EasyPost
16 pt
8
Luca Colnaghi
Green Project-Bardiani CSF-Faizanè
13 pt
9
Jensen Plowright
Alpecin-Deceuninck
13 pt
10
Nicklas Amdi Pedersen
Team ColoQuick
11 pt
1
Nicklas Amdi Pedersen
Team ColoQuick
40 pt
2
Jeppe Aaskov Pallesen
HRE Mazowsze Serce Polski
32 pt
3
Wessel Krul
Human Powered Health
26 pt
4
Frederik Irgens Jensen
BHS - PL Beton Bornholm
22 pt
5
Mads Østergaard Kristensen
Leopard TOGT Pro Cycling
20 pt
6
Henrik Pedersen
Team ColoQuick
18 pt
7
Nikolaj Mengel
BHS - PL Beton Bornholm
16 pt
8
Emil Mielke Vinjebo Nygaard
Leopard TOGT Pro Cycling
12 pt
9
Simon Pellaud
Tudor Pro Cycling Team
10 pt
10
Jules Hesters
Team Flanders - Baloise
8 pt
1
Kasper Andersen
Denmark
16:33:01
2
Logan Currie
Bolton Equities Black Spoke
0:03
3
Tobias Svarre
Team ColoQuick
0:24
4
Matyáš Kopecký
Team Novo Nordisk
2:24
5
Robin Juel Skivild
Leopard TOGT Pro Cycling
4:47
6
Jenno Berckmoes
Team Flanders - Baloise
5:05
7
Marco Brenner
Team dsm - firmenich
7:21
8
Martin Svrček
Soudal - Quick Step
10:25
9
Tobias Lund Andresen
Team dsm - firmenich
11:25
10
Filippo Ridolfo
Team Novo Nordisk
14:20
| | | |
| --- | --- | --- |
| 1 | Lidl - Trek | 49:35:30 |
| 2 | Alpecin-Deceuninck | 2:32 |
| 3 | EF Education-EasyPost | 2:42 |
| 4 | Tudor Pro Cycling Team | 3:18 |
| 5 | HRE Mazowsze Serce Polski | 3:21 |
| 6 | Leopard TOGT Pro Cycling | 3:38 |
| 7 | Team Flanders - Baloise | 8:12 |
| 8 | Lotto Dstny | 8:51 |
| 9 | Soudal - Quick Step | 9:27 |
| 10 | Uno-X Pro Cycling Team | 13:10 |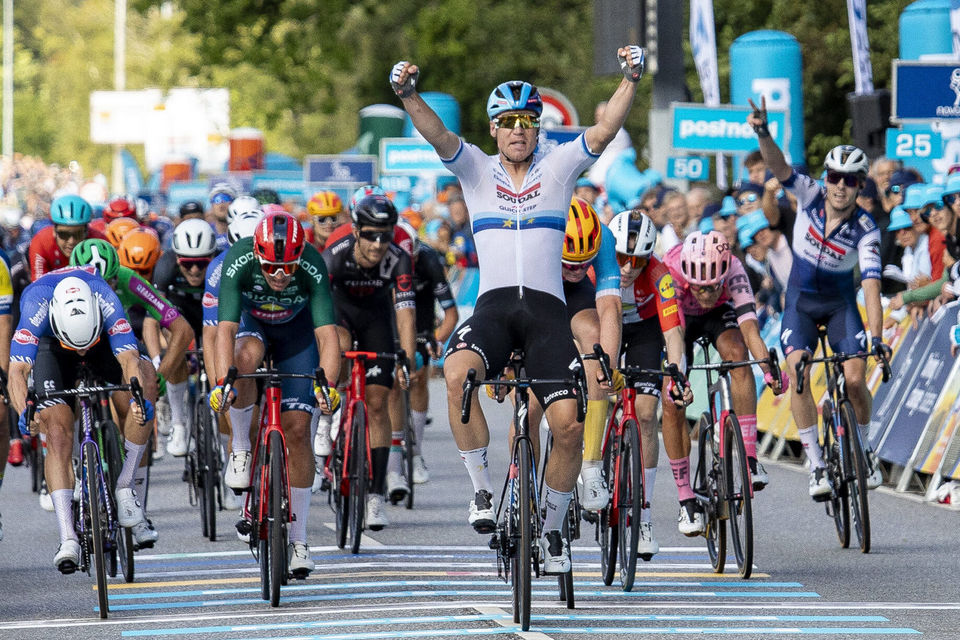 Fabio Jakobsen wins in Denmark
16/08/2023 - Race report
Link