Vejle stage reshuffles Danmark Rundt GC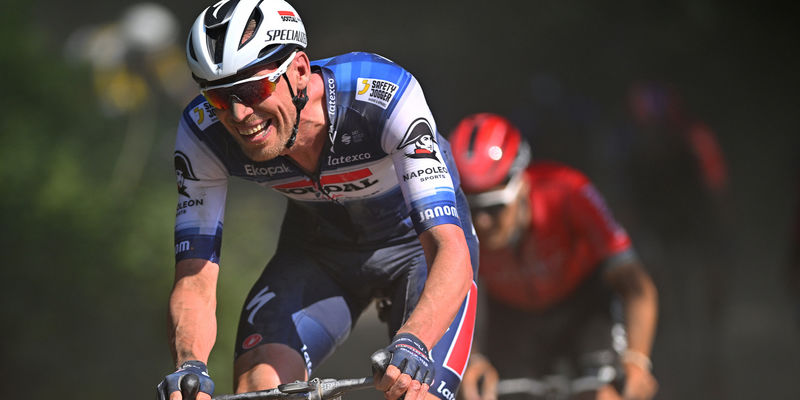 It was an action-packed day at the five-stage race, with the peloton tackling the famous Vejle stage, the very one that Remco Evenepoel used to build his success on two years ago, at his first outing in Denmark. Just like back then, the attacks began coming early, as soon as the bunch caught the breakaway that had animated the day for more than 150 kilometers.
On one of the many climbs, the group split leaving only nine men – including Casper Pedersen and Martin Svrcek – at the front, with a small gap that in the space of a couple of kilometers grew to almost 40 seconds. The Figueroa Champions Classic winner tried his luck and briefly got away, but the others responded and made sure the group remained as one ahead of the final lap.
It was there that Mattias Skjelmose (Lidl-Trek) made his move not far from the finish and soloed to victory and the leader's jersey. Around one minute later, Tim Declercq came home and concluded the stage as the best-placed Soudal Quick-Step rider, a result that puts him in the top 20 overall.
Photo credit: ©Luc Claessen / Getty Images
Race details
1
Mattias Skjelmose Jensen
Lidl - Trek
4:59:31
2
Mads Pedersen
Lidl - Trek
0:10
3
Magnus Cort Nielsen
EF Education-EasyPost
0:43
4
Nicola Conci
Alpecin-Deceuninck
0:46
5
Florian Vermeersch
Lotto Dstny
0:49
6
Alexander Kamp
Tudor Pro Cycling Team
0:51
7
Toms Skujiņš
Lidl - Trek
1:10
8
Tobias Svarre
Team ColoQuick
1:10
9
Michael Valgren Andersen
EF Education-EasyPost
1:15
10
Kristian Sbaragli
Alpecin-Deceuninck
1:15
26
Tim Declercq
Soudal - Quick Step
1:24
36
Casper Pedersen
Soudal - Quick Step
2:09
45
Martin Svrček
Soudal - Quick Step
6:48
54
Michael Mørkøv Christensen
Soudal - Quick Step
8:21
59
Josef Černý
Soudal - Quick Step
10:04
70
Fabio Jakobsen
Soudal - Quick Step
13:25
1
Mattias Skjelmose Jensen
Lidl - Trek
12:30:46
2
Mads Pedersen
Lidl - Trek
0:10
3
Magnus Cort Nielsen
EF Education-EasyPost
0:49
4
Nicola Conci
Alpecin-Deceuninck
0:56
5
Florian Vermeersch
Lotto Dstny
0:59
6
Alexander Kamp
Tudor Pro Cycling Team
1:01
7
Søren Wærenskjold
Uno-X Pro Cycling Team
1:09
8
Toms Skujiņš
Lidl - Trek
1:20
9
Kristian Sbaragli
Alpecin-Deceuninck
1:25
10
Brent Van Moer
Lotto Dstny
1:26
23
Tim Declercq
Soudal - Quick Step
1:34
27
Casper Pedersen
Soudal - Quick Step
2:19
51
Martin Svrček
Soudal - Quick Step
11:51
56
Fabio Jakobsen
Soudal - Quick Step
13:19
57
Michael Mørkøv Christensen
Soudal - Quick Step
14:47
69
Josef Černý
Soudal - Quick Step
18:56
1
Mads Pedersen
Lidl - Trek
30 pt
2
Søren Wærenskjold
Uno-X Pro Cycling Team
27 pt
3
Fabio Jakobsen
Soudal - Quick Step
27 pt
4
Mattias Skjelmose Jensen
Lidl - Trek
22 pt
5
Tobias Lund Andresen
Team dsm - firmenich
18 pt
6
Søren Kragh Andersen
Alpecin-Deceuninck
17 pt
7
Magnus Cort Nielsen
EF Education-EasyPost
16 pt
8
Nicklas Amdi Pedersen
Team ColoQuick
11 pt
9
Julius Johansen
Denmark
10 pt
10
Vito Braet
Team Flanders - Baloise
10 pt
1
Nicklas Amdi Pedersen
Team ColoQuick
40 pt
2
Jeppe Aaskov Pallesen
HRE Mazowsze Serce Polski
32 pt
3
Wessel Krul
Human Powered Health
26 pt
4
Frederik Irgens Jensen
BHS - PL Beton Bornholm
22 pt
5
Mads Østergaard Kristensen
Leopard TOGT Pro Cycling
20 pt
6
Henrik Pedersen
Team ColoQuick
18 pt
7
Nikolaj Mengel
BHS - PL Beton Bornholm
16 pt
8
Jacopo Mosca
Lidl - Trek
4 pt
9
Louis Bendixen
Uno-X Pro Cycling Team
2 pt
1
Kasper Andersen
Denmark
12:32:17
2
Logan Currie
Bolton Equities Black Spoke
0:03
3
Tobias Svarre
Team ColoQuick
0:19
4
Matyáš Kopecký
Team Novo Nordisk
2:32
5
Robin Juel Skivild
Leopard TOGT Pro Cycling
4:47
6
Jenno Berckmoes
Team Flanders - Baloise
5:00
7
Marco Brenner
Team dsm - firmenich
7:21
8
Martin Svrček
Soudal - Quick Step
10:20
9
Tobias Lund Andresen
Team dsm - firmenich
11:33
10
Filippo Ridolfo
Team Novo Nordisk
14:15
| | | |
| --- | --- | --- |
| 1 | Lidl - Trek | 37:33:48 |
| 2 | EF Education-EasyPost | 2:15 |
| 3 | Alpecin-Deceuninck | 2:18 |
| 4 | Tudor Pro Cycling Team | 2:55 |
| 5 | HRE Mazowsze Serce Polski | 2:59 |
| 6 | Leopard TOGT Pro Cycling | 3:16 |
| 7 | Team Flanders - Baloise | 8:06 |
| 8 | Lotto Dstny | 8:37 |
| 9 | Soudal - Quick Step | 9:05 |
| 10 | Uno-X Pro Cycling Team | 12:21 |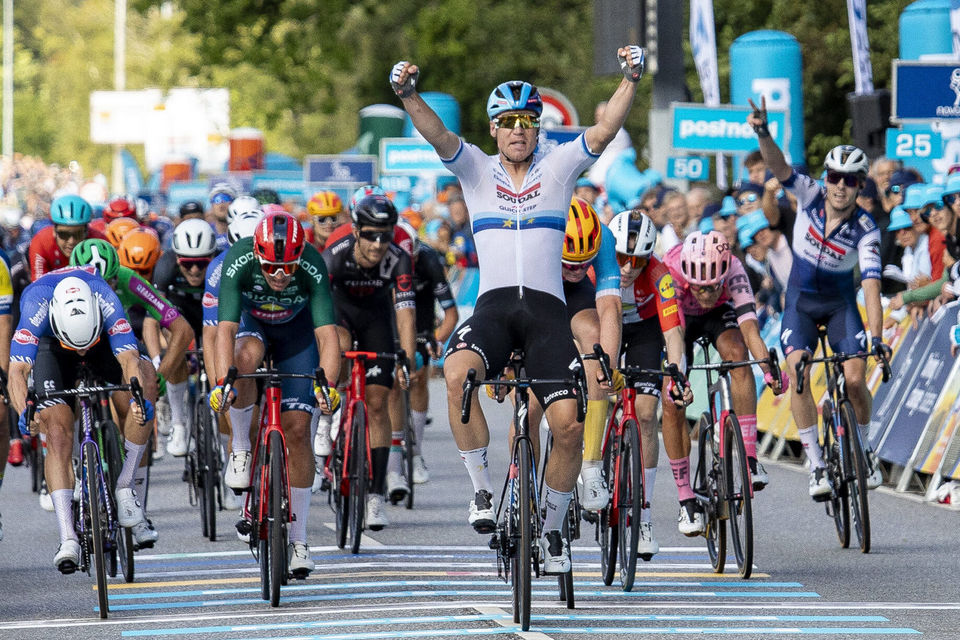 Fabio Jakobsen wins in Denmark
16/08/2023 - Race report
Link