Le Tour: Soudal Quick-Step arrives on the Champs-Élysées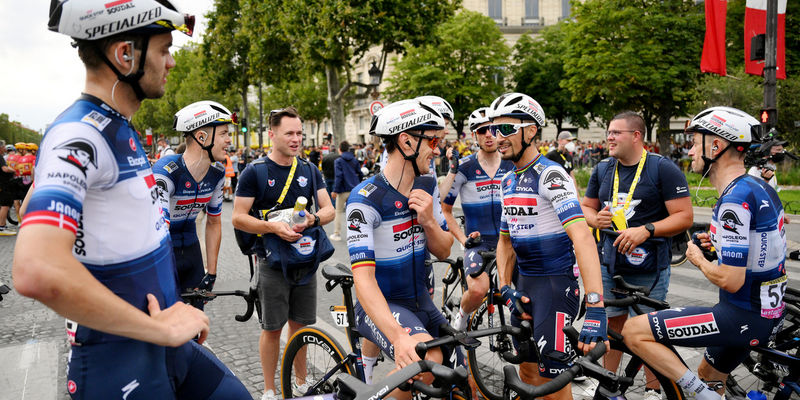 Many things can be said about the most recent edition of the Tour de France, which came to a conclusion Sunday evening in the heart of Paris – a tradition which started almost half a century ago. It was a hard, fast, and insane race, but on top of that, a very emotional one for our Soudal Quick-Step team.
Luck wasn't on our side during the past three weeks, but the Wolfpack – despite facing adversity – battled on admirably and never gave up, showing determination and a lot of grinta even in the hardest moments. The never-say-die attitude, the fantastic fighting spirit and the morale, which remained a rock-solid one even as the race was drawing closer to a conclusion and a win was missing from our palmares, eventually netted a well-deserved victory in Bourg-en-Bresse.
Kasper Asgreen producing a powerful sprint to take the win on stage 18 after a small breakaway held off an entire peloton epitomised the Wolfpack mentality, the same one that has seen the team come back from even the most difficult situations throughout the years, just as people began writing it off, rip off the script and turn the table when it looked impossible to do so.
Given everything, it's no wonder that as the Tour de France peloton made its way to Paris – the city which retains a special aura that has always inspired people to believe and dream – the feeling among the Soudal Quick-Step camp was one of satisfaction and pride.
"This Tour de France went really fast. It was like that for the riders, but also for us in the car, as I believe it was one of the fastest editions I ever saw. I could say it was a completely new experience. The team did a good race and can be content with it. After Fabio retired, we remained focused and gave our best every single time. Julian was incredible, not only did he go in a lot of breakaways, but he also kept the spirit high in the squad, Rémi did a good time trial which gave us a lot of confidence at the start of week three, while the other guys continued trying and fighting as well."
"Of course, the amazing race of Kasper – who won out of a breakaway that went from kilometer zero – stands out as our finest moment, but even after this you could see we remained determined to do something and be prominent until the finish, and even on the Champs-Élysées the boys went on the attack, showing the same spirit. The riders and the staff remained motivated the entire time, from Bilbao to Paris, and I think this is something that could be seen by everybody until Le Tour drew the curtain over this edition", said sports director Tom Steels.
Photo credit: ©Tim De Waele / Getty Images