Leuven, the host of an unforgettable edition of the World Championships back in 2021, will once again welcome the Brabantse Pijl peloton for the start of the 63rd edition, which will take place over a 205.1km course comprising an interminable succession of hills, some featuring double-digit gradients.
Cavagna close to podium in Brabantse Pijl
Rémi Cavagna came incredibly close to what would have been a well-deserved podium at a wet and spectacular Brabantse Pijl, only for a slow puncture to hinder his chances of finishing in the top-three Wednesday afternoon.
Fresh off a solid outing at Itzulia Basque Country, the "TGV of Clermont-Ferrand" put on quite a show on the up-and-down roads of the Belgian one-day race, attacking with 60 kilometers to go, catching the remnants of the early breakaway and continuing to tap put a solid rhythm even after he was joined by four men on the rain-soaked local circuit around Overijse. The new group opened up a one-minute gap over the peloton, where we had a couple of riders – including Dries Devenyns and Stan Van Tricht – to shut down the eventual counterattacks.
Cavagna was not just the main engine of the strong six-man move at the front, but also the one to kick off the series of attacks that animated the final twenty kilometers. The Frenchman rode away on a technical descent, at the end of which he carried a ten-second advantage, but the others came back and launched moves of their own. Rémi reacted twice and kept things together, showing incredible tenacity, but when another acceleration came on a short climb averaging 10%, he was distanced.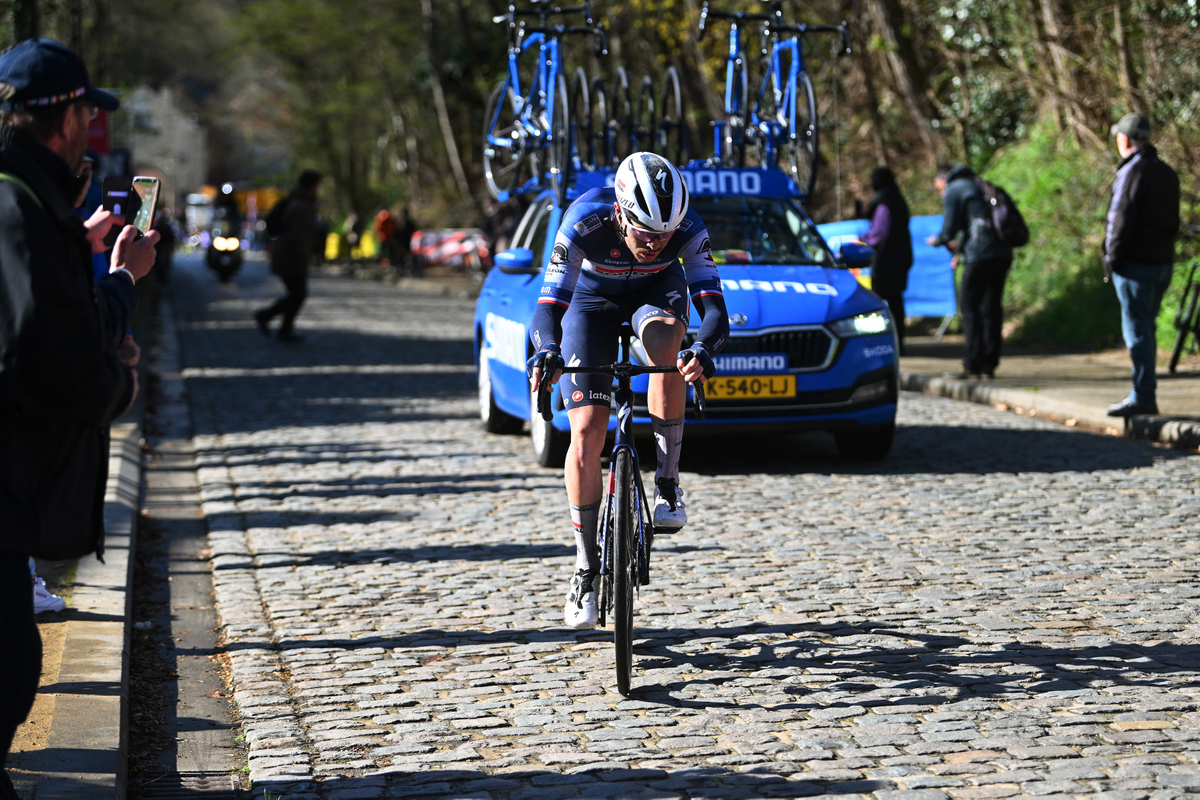 Despite losing some meters, Cavagna kept his focus and a good pace, which put him on track for a third place at this 62nd edition, but due to that incident he was caught and passed by one rider an agonizingly 100 meters from the line, concluding the race in fourth place. He was joined in the top 10 by Soudal Quick-Step teammates Andrea Bagioli, who finished eighth from the peloton.
"We weren't among the favourites today, so I tried from the distance, knowing that if it would come together, we had Andrea there. We worked well together, but on the cobbles I struggled, so at one point, after all that effort, I lost contact with the others. But I believed in my chances and was hopeful of a podium result, only for a slow puncture with five kilometers to go to put an end to my chances. It's a pity and very frustrating, but on the other hand we can be content with the good race we did in these demanding conditions", Rémi said at the finish.
Photo credit: ©Luc Claessen / Getty Images