Bredene Koksijde Classic awaits with a combination of cobbled hills – including a double ascent of the iconic Kemmelberg – pavé stretches and narrow roads.
Crash and chase ruins Merlier's chances
Tim Merlier entered Bredene Koksijde Classic – the race which he won in 2021 – as the red-hot favourite after his devastating sprint at Wednesday's Nokere Koerse, where he claimed his fifth victory of the season, but an incident that took place one hour before the finish took him out of contention despite featuring in the finale.
A crash in the peloton produced at a moment when they were riding through an exposed section saw Tim hit the ground together with Bert Van Lerberghe. The duo got up and continued the race, helped also by Josef Cerny, who stopped to wait for them, but they faced a tough job, as the bunch kept pushing a big tempo, putting a minute into the chasers. Soudal Quick-Step boys didn't give up and produced a huge effort – Merlier himself driving the chase at times – that in the end helped the Belgian Champion rejoin the group on the local circuit in Koksijde.
Going under the flamme rouge, Merlier was there in the first 15 positions, but the amount of energy spent while chasing for more than twenty kilometers to return in the peloton took his toll on him, as Tim ran out of steam with 100 meters to go. Victorious in five races this season, the 30-year-old Belgian concluded the race won by Gerben Thijssen (Intermarche-Circus-Wanty) as our team's top finisher.
Photo credit: ©Luc Claessen / Getty Images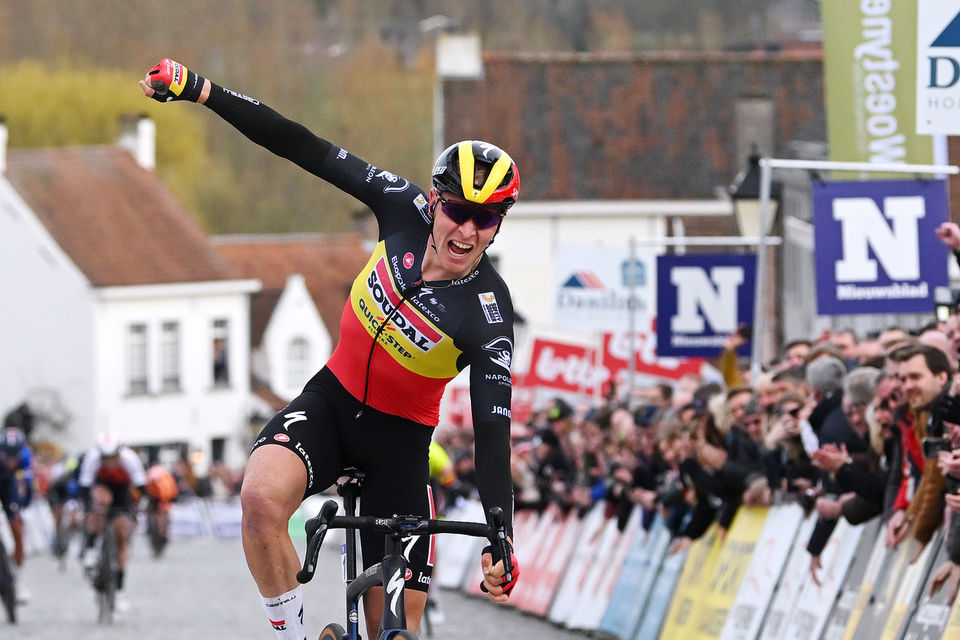 Home crowd favourite Tim Merlier wins Nokere Koerse
15/03/2023 - Race report
Link